RFsole - Fotolia
Two-pronged approach to scaling remote work infrastructure
Hastily supporting large numbers of workers who all of a sudden find themselves at home requires quick thinking on the part of IT. Just as important is what you do afterward.
Although everyone is anxious for the current global pandemic to end and for life to get back to normal, it is very likely that working remotely may become the new normal. As such, it is a good idea to take a two-pronged approach to supporting a user base that is working remotely.
The first step in this process is to come up with an immediate remote work infrastructure and tools for supporting your users' need to work remotely based on the resources you already have at your disposal. This solution might not be ideal -- and may very well mean taking advantage of the flexibility and scalability of hyper-convergence by redirecting current hyper-converged systems or repurposing older or retired hardware to the task. However, it needs to be good enough to keep your organization functional.
The second step is to make a plan for when things eventually get back to normal. You will most likely end up needing to reevaluate your traditional or hyper-converged infrastructure strategy and workloads, for example, to make sure they can handle your applications' compute and storage requirements, for example, going forward.
Here are two important questions to consider.
Do you need to purchase additional hyper-converged hardware?
If you are, for instance, currently repurposing your hyper-converged infrastructure to deal with users who are suddenly working remotely, then you may need to acquire additional hardware that can be used for running line-of-business applications or to support your remote work infrastructure.
It is also a good idea to have extra hardware on hand so you can scale the number of remote users if necessary. Having extra systems available will also help you work around a hardware failure.
Is your support contract up to date?
If the answer is no, it is time you make sure it is.
If the answer is yes, does your support contract cover you for how you are using your hyper-converged infrastructure? Will you need to purchase additional coverage for any newly acquired hardware?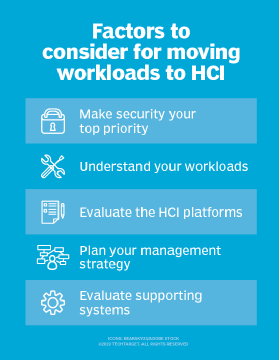 Do you have the necessary software licenses to allow your users to access line-of-business applications, virtual desktops, a VPN and other resources while staff works remotely?
To sum up
Should you find yourself, like many organizations nowadays, having to support far more remote workers than usual -- perhaps even the whole staff -- and do so quickly, first, be sure to make the most of your current (or even retired) hardware resources. This is to supplement your remote work infrastructure in the data center and help get these users up, running and supported as quickly as possible.
Then, ascertain whether you still have the necessary infrastructure resources in place to support your usual process. These include mission-critical line-of-business applications and the future needs of what will mostly likely remain a larger remote-access load going forward.