Fotolia
Mainframe software market shrinks with BMC-Compuware deal
The BMC acquisition of Compuware leaves BMC as the last major independent mainframe software company. But its new portfolio should help users transition to modern world of DevOps.
Consolidation in the mainframe software business continued this week with BMC acquiring Compuware for an undisclosed sum.
Officials from each company believe combining their respective product portfolios gives them a stronger position in the mainframe application development, delivery and technical support markets.
The plan going forward is for the two companies to build on BMC's Automated Mainframe Intelligence (AMI) offerings with Compuware's Topaz suite and ISPW technology in an attempt to modernize mainframe applications and development tools for the DevOps era.
Specifically, the company will target not just the mainframe application development market, but cybersecurity, data management and storage as a way to help large corporate IT shops transform their proprietary mainframe environments to cloud and open source environments, according to a statement by Ayman Sayed, president and CEO of BMC.
Rumors swirled late last month that Thoma Bravo, a private equity investment firm, would sell Compuware. Thoma Bravo took a majority stake in Compuware through a $2.4 billion investment in December 2014.
With the Broadcom acquisition of CA Technologies in 2018 and now BMC's purchase of Compuware, the only large independent mainframe software companies are IBM and BMC. While many IT shops still use proprietary mainframe software to run their mission-critical applications, the vast majority of those shops are in the process of migrating over to less expensive cloud applications and development tools.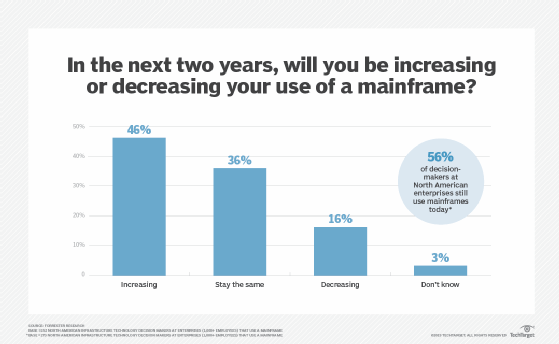 "This [deal] reflects the natural evolution of what's been going on," said Frank Dzubeck, president of Communications Network Architects, a consulting firm based in Washington, D.C. "There was a time when companies like BMC and Compuware waited for IBM to purchase them. But with IBM going in the same direction [as BMC and CA Technologies] with open source, that is no longer an exit strategy for independent mainframe software developers."
While the mainframe software market narrows, it is still profitable for the larger vendors that have held onto many of their major accounts. For instance, Broadcom bought CA in part due to its high profit margins.
"Some of these legacy mainframe software companies are highly profitable and can be milked for some time," Dzubeck said. "Marketing expenses are lower because you don't necessarily have to grow the brand to a loyal audience and you can piggyback off IBM's efforts in marketing its mainframes."
Charles King, president and principal analyst at Pund-IT, Inc., also sees the deal as the continuation of consolidation in not just the mainframe software business, but in the overall software and services markets in general. He stopped short of saying, however, that the deal marks the end of an era.
The BMC-Compuware deal follows a long-standing integration effort between the two companies, so you could describe it as a predictable marriage following a long engagement.

Charles KingPresident and principal analyst, Pund-IT, Inc.
"The BMC-Compuware deal follows a long-standing integration effort between the two companies, so you could describe it as a predictable marriage following a long engagement," King said.
King believes the traditional economic forces are largely driving deals such as the one involving BMC and Compuware. He agreed with Dzubeck that mainframe software is still a profitable venture, but because the user base is relatively narrow, it requires specialized knowledge and experience in a number of key vertical markets such as banking, finance, big-box retail and transportation.
"Mainframe customers prefer working with companies that understand their business and that are themselves solidly managed and are in it for the long haul," King said. "That requirement gives an advantage to vendors with a broad portfolio of integrated offerings, which BMC-Compuware will have after the deal is complete."
The deal is expected to be completed "in the coming months," according to a statement released by BMC, which declined to offer a more specific time frame.