juanjo tugores - Fotolia
IT salary report shows increased interest in emerging tech hubs
New report lays out the largest IT salary growth of 2019 and predictions for what 2020 has in store for technical careers.
Dice.com rolled out its new IT salary report showing the biggest increases and decreases in the tech job market in 2020 as well as growth in certain emerging tech hubs.
Nationally, annual technology industry pay averaged $94,000 in 2019 -- up just 1.3% from 2018. The highest-paying IT occupations by job title, earning over $120,000 per year in 2019, include systems architect, data architect, cloud engineer, product manager and security engineer.
The report showed that traditional tech hubs like Silicon Valley and Seattle are still growing, but the real growth over the past year can be seen in up-and-coming markets.
Emerging tech hubs
The Dice 2020 Tech Salary Report showed big salary increases in metro areas like Columbus, St. Louis and Atlanta. Columbus had the biggest growth of 14.2%, which can be credited by the fact Columbus has grown into a booming tech hub. Major companies like Accenture, JPMorgan Chase and Wells Fargo have hired in large volumes and technologist have flocked to the area because of the 38% growth in job postings and increased salary averages, according to the report conducted by Dice, a technology career hub.
"A lot of the rust belt has initiatives like this going on where the government gets involved and maybe gives some tax incentives to have a facility somewhere where venture capital can come and invest in things," said Leon Kappelman, research scientist and professor at the University of Northern Texas. Kappelman co-wrote a 2020 IT trends report for the Society of Information Management which included IT salary trends.
Technologists looking to advance in their careers are interested in these emerging hubs for multiple reasons, according to Kappelman.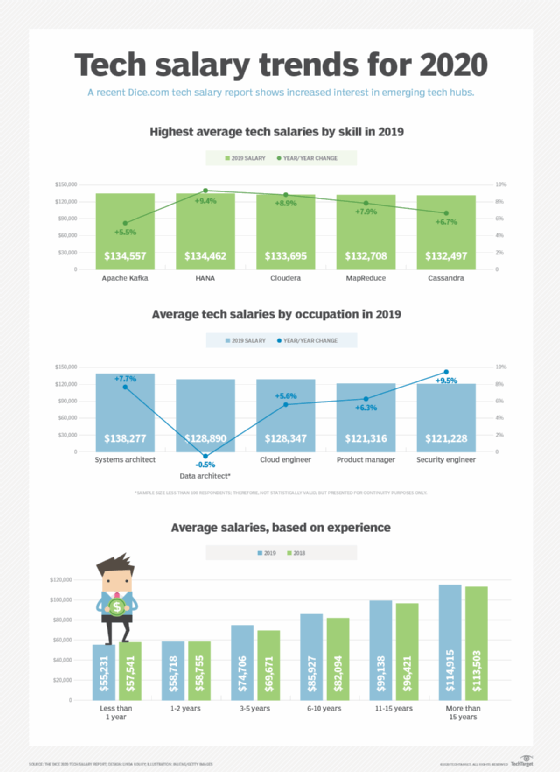 "Traditional hubs are very expensive and very high cost of living. Terrible housing shortages in California due to poor land management regulations and things," Kappelman said. "Housing is very expensive, cost of living is very expensive, taxes are very high so there is a lot of motivation to, not necessarily leave those places, but also to start new companies in [emerging tech hubs] because it is more economical."
Kappelman also said economic growth has led to increased investments in emerging hubs.
"On the one hand, there is a lot of money swashing around the economy and so there is investment money to invest in new ideas, plus people are a lot more tech-savvy now, so there are a lot of good ideas," he said. "Look at all of things that didn't exist five or 10 years ago, like Uber, Lyft and DoorDash."
Trending occupations and skills
Some occupations that stood out in 2019 focused on the changing dynamic of the tech world. Security engineering jobs saw a big uptick due to high-profile breaches and cyberattacks. Project managers' salary growth is up 4.6% from last year because of the level of organization and growing complexity of projects that create such a high demand for these managers.
Supply and demand play a big role in growth or declines of certain career paths. For example, older skills such as mainframe work or legacy programming are still in demand, but there are limited technologists who are proficient in these skills, which causes employers to pay more for them. The report showed that mainframe systems programmers' salaries increased by 2.2% this year.
"AI people are in short supply; some programming skills are in short supply. Mainframe people are in short supply," Kappelman said. "A lot of older people, baby boomers are retiring, there's nobody there to replace them and not a lot of schools teaching those skills."
There are also "hot" or emerging skills that are in high demand as well because small pools of technologists have mastered the skill and employers are trying to hire fast or the skill is just so hot that salaries are still on the rise. Some of these hot skills are Swift, used to build apps on Apple's software ecosystem, HANA and Cloudera.
What does 2020 have in store?
Dice's report shows that technologists are not reluctant to leave their jobs, especially in emerging markets. The economy is strong, which means IT salaries are on the rise. Employers just need to keep their employees' needs in mind.
"People like having more flexibility in their schedule, being able to work from home, training opportunities. So, IT people tend to be people of pretty high growth needs," Kappelman said. "Salaries and spending are up in the world of IT. [Employers are] employing more people at higher salaries and it's a changing the landscape."