WFH technologies prosper with ongoing remote access needs
The work-from-home cat is out of the bag, and many skeptical executives have now seen its benefits, boosting markets for technologies like VPN, VDI, HCI that make it all possible.
Most IT organizations have long provided the infrastructure technologies-- hyper-converged and otherwise -- to enable their colleagues to work from home. But no one could have been prepared for the instantaneous spike in demand caused by the new coronavirus pandemic. Within a short period of time, much of the U.S. went from remote work being an occasional convenience to a mandated requirement.
This sudden dislocation severely strained IT infrastructure and, in the process, highlighted the need to design scalable and resilient systems, remote access networks and virtual desktops that can rapidly adapt to changing conditions. Many industry experts believe the need for work-from-home (WFH) technologies will continue even after the coronavirus pandemic subsides, and will require long-term planning on the part of organizations.
The statistics from before and after the onset of COVID-19 illustrate the dramatic changes foisted upon office workers, educators, students and even salespeople. The data also shows just how much attitudes have changed from the top down for many enterprises, and how the new WFH reality is fostering demand for technologies that enable and streamline remote work. This durable expansion in WFH numbers will undoubtedly fuel growth in many areas of IT infrastructure, particularly in remote access VPN gateways and VDI, the latter a longtime primary use case for hyper-converged systems.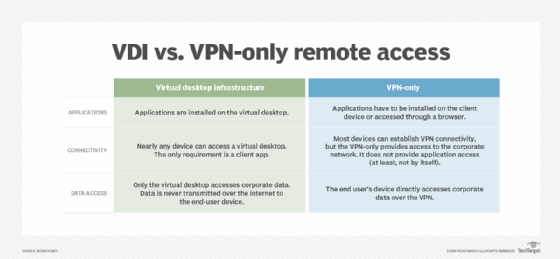 Before the crisis, the U.S. Bureau of Labor Statistics (BLS) found that approximately 30% of all employees were enabled to work from home, notwithstanding wide disparities by industry and occupation. For example, more than half of those employed in financial, professional, business and IT services sectors could work from home. By contrast, fewer than 10% of those in the leisure and hospitality industry could work remotely. Similarly, higher-paying jobs were six times more likely to have WFH-compatible positions than those in the bottom quartile of the income distribution.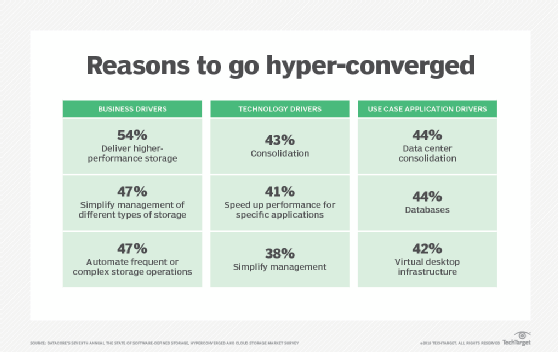 WFH after COVID-19
By the end of March 2020, these BLS statistics described a world that had rapidly changed, as COVID-19 forced businesses to close normal operations to comply with social distancing guidelines. The post-lockdown numbers paint a starkly different picture of the WFH population.
According to a March 19 Gartner survey of HR professionals, 88% of organizations either urged or insisted that their employees work from home, whether they displayed COVID-19 symptoms or not. Furthermore, the global WFH experiment appears to be creating a new set of business norms far more accepting of remote work than before COVID-19 struck.
A follow-up Gartner survey of HR executives in April 2020 found that half of the respondent organizations had more than 80% of their employees working remotely, with another 15% of organizations citing 61% to 80% of their employees working from home.
Moreover, respondents anticipated increased adoption of remote work to persist even after the crisis ends, albeit not nearly at the levels found during the height of the pandemic. HR professionals expect 41% of their employees to work remotely at least part-time post-pandemic, up 11 points from before the crisis. It's an expectation shared by many workers who plan to continue to work in a way they previously never considered, according to Brian Kropp, vice president of research for Gartner's HR practice.
Attitudes and opportunities
Indeed, a comment from Morgan Stanley CEO James Gorman on Bloomberg TV early in the pandemic crisis illustrated just how quickly executives came to suspect they might have underestimated how effective and efficient a remote workforce could be. "We've clearly figured out how to work with much less real estate," Gorman said, who added that 90% of his employees now work from home.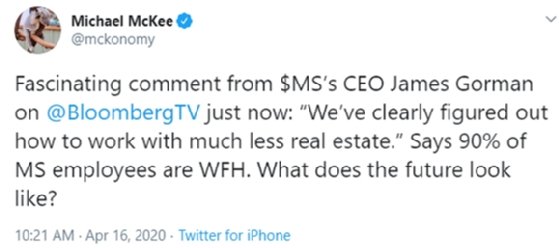 Such changes in executive attitudes could be a catalyst for making WFH the norm in more organizations. This new coronavirus pandemic should also, at the very least, drive them to be better prepared to provide WFH options for a large portion of their workforce should something similar to COVID-19 occur in the future.
The mainstreaming of WFH also provides opportunities to IT providers -- such as hyper-converged vendors that provide systems tailored to support remote desktops in a virtual desktop infrastructure -- who can ease this transition. Let's take VDI technology as an example.
The already rosy projections of the VDI market from before the crisis almost certainly underestimated the demand post-COVID-19. For example, the pre-crisis VDI forecast from Market Research Future pegged the global VDI market to reach $25.5 billion in 2025, a 16.1% compound annual growth rate over the five-year forecast period.
While it's too soon to project the long-term demand for VDI products and related public cloud-based desktop-as-a-service subscriptions, any significant uptick in the number of remote workers -- both in the short and long term -- will surely boost those estimates considerably. This will likely be true of any number of other technologies that make it easier to work from home and -- even more importantly from an IT perspective -- support those that do.
Dig Deeper on Converged infrastructure management