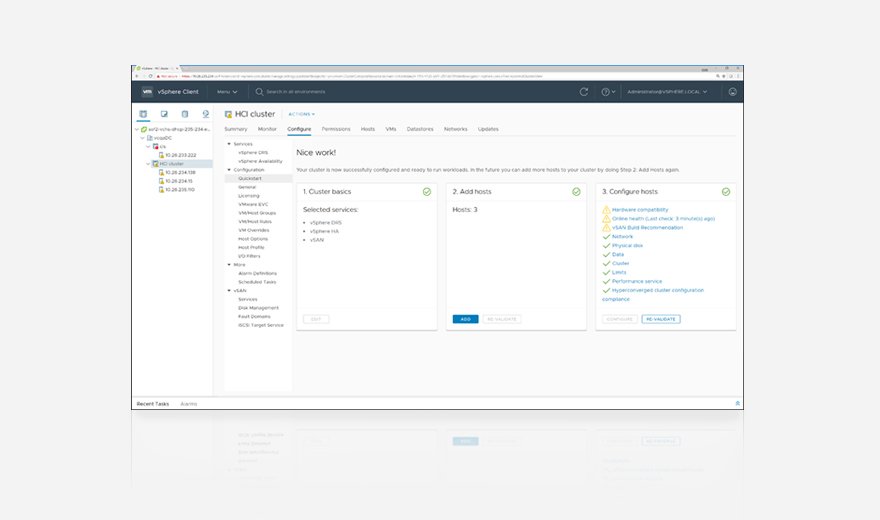 VMware vSAN HCI has risen from a simple, if not all that capable, product to one that can reliably operate even the most mission-critical enterprise workloads. With vSAN 6.7, VMware added several new capabilities, including a new management interface, support for Windows Server Failover Clustering, improved handling of failures and an enhanced data placement algorithm to improve performance. In vSAN 6.5, VMware also added the Virtual SAN iSCSI service, which enables you to expose vSAN volumes as external iSCSI targets. In essence, other services can consume vSAN storage via iSCSI.
VSAN is available in a number of different channels. You can buy your own hardware configured any way you like as long as it meets VMware's vSAN specifications. Once you have installed your hardware, just implement vSphere, add the new nodes to vCenter and enable vSAN. Of course, you will need separate support for the hardware and software.
You can also buy vSAN via the vSAN Ready Node route. VMware has relationships with several server vendors to create vSAN clusters on those vendors' hardware devices. A Ready Node is basically an appliance that is certified to run vSAN. Or you can buy VxRail or VxRack SDDC from Dell EMC. VxRail and VxRack SDDC use vSAN as the foundational storage service in their products.
View All Photo Stories