Get started
Bring yourself up to speed with our introductory content.
Building an empire around the free VMware hypervisor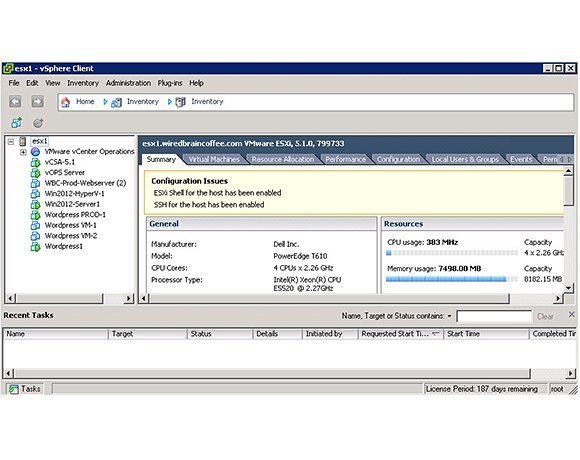 A VMware enterprise-grade Tier-1 hypervisor has been free since 2008, debuting as Free ESXi 3.5. Today, the free VMware hypervisor is called vSphere Hypervisor and includes:
Graphical management interface with the vSphere client;
Memory over commitment and memory management techniques like memory ballooning, transparent page sharing, compression and swapping;
The VMware VMFS file system;
Thin provisioning of virtual machine disks;
Snapshot and restore capabilities;
Hardened device drivers that are VMware-certified and tested for reliability and performance;
Virtual guest OS support with Microsoft OS (18 versions), Linux (54 versions), Mac OS X 10, Solaris and FreeBSD;
Virtual networking; and
Support for Fibre channel, iSCSI and NFS shared storage.
VMware limits its free hypervisor platform to a maximum of 8 virtual CPUs per virtual machine (VM) and 32GB physical RAM per server. Although you can run as many VMs as needed, the RAM limitation will keep you to about 10 to 12 VMs per host, depending on each VM's actual memory utilization.
Enterprise-grade virtualization features commonly associated with vSphere -- vMotion and Storage vMotion, High Availability, Distributed Resource Scheduler and vSphere Data Protection -- are noticeably absent from the free hypervisor.
Without centralized management, it is difficult to maintain a high number of vSphere hosts at once. You can't solve this problem by purchasing vCenter; it won't work with the free version of vSphere ESXi.
Third-party tools can help to build a more complete virtual infrastructure, keeping the $0 price tag. At minimum, a viable virtualization setup needs the hypervisor, reporting to get a consolidated view of operations, performance and capacity monitoring, and an application for backup and recovery.
View All Photo Stories