chris - Fotolia
4 essential components to edge data center maintenance
Security, connectivity and remote management are integral parts of any edge architecture. Here's how to include them in your infrastructure.
Edge computing architectures represent a new generation of smaller infrastructure and new technical maintenance requirements. However, even with their dispersed nature, factors such as reliability, security and edge data center maintenance are just as important as an on-premises data center.
Edge sites run the same types of general-purpose computing hardware as data centers and include storage and networking equipment. Organizations often deploy them in nontraditional locations, such as cell towers, factory floors or even outdoors with no environmental protection. An edge data center provides a management tier for multiple devices in the field and typically supports 50 kW to 150 kW of capacity.
The biggest change for admins is the number of sites to manage within an edge network. Consequently, it is not as practical to have a dedicated team at each data center. With on-premises data centers, admins can walk through the facility, but that's not necessarily possible -- or needed -- with edge deployments. The other issue is incorporating edge facilities into the overall data center strategy.
These two issues lead to four significant edge computing challenges admins must address: security, connectivity, remote management and heterogeneous hardware.
Bolstering security setups
Security -- both application and physical -- is one of the biggest edge computing challenges for data. Operators must invest in application vulnerability management, as well as offerings that detect security threats and prevent attacks.
Edge data centers also expand the overall attack surface because every edge site is a potential network access point. Admins must ensure that applications running on edge servers aren't a potential launchpad for attacks on other infrastructure.
As part of edge data center maintenance, think about the physical safeguards for equipment protection. Secure gateways at each edge site are a best practice, and protecting the physical ports makes it less possible for malware injection or other attacks.
Open ports could have rogue devices inserted into them for loading malware. Admins should encrypt data at rest so it cannot be stolen or copied from a physical storage device. Edge data centers should also support secure lifecycle updates that require verification to prevent hackers from hijacking data "in transit" or inserting malware into the system.
In on-premises data centers, admins don't typically have to worry about locking down spare ports because gaining physical access to the actual servers is more difficult.
Maintaining connectivity across the edge
Servers in an on-premises data center typically have a strong, reliable internet connection; that's not always the case for edge deployments, especially because lower bandwidth and intermittent connections are top edge use case characteristics. One strategy is to set up a secondary control channel. Another is to implement autonomous management capabilities that address network outages as part of edge data center maintenance.
Administrators must also think through data backup and protection workflows. Items such as data protection and availability become even more difficult with distributed data centers, which have a wider attack surface.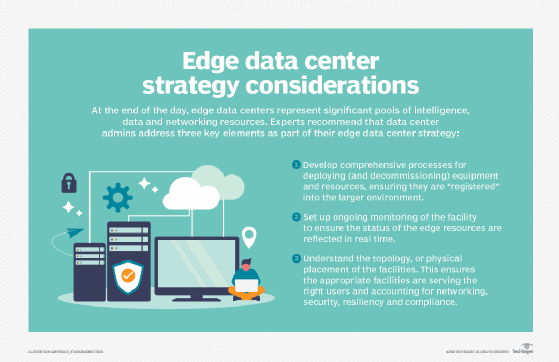 For example, lightning could hit one of these edge data centers. Admins must account for the effect of a downed site on data loss and plan failover strategies. These can become more challenging when the hardware and software are distributed because all traditional data center concerns are amplified when data loss or outages occur across a more disparate network.
Traditional data center management paradigms don't apply to the edge. Particularly for valuable data, one strategy is to send all data to the cloud or other nearby points of presence to increase resiliency. Another strategy to reduce space and power requirements is to tier data so that only hot data is kept at the edge.
Remote management and edge data center maintenance
Remote and edge data centers require the basic components of a large data center, such as a chassis or rack, a primary power source, uninterruptable power supply (UPS) to power and provide battery backup, and connectivity to make the components work together. A big difference is that it can be harder for technicians to fix a problem in the field if they don't have the right equipment or information.
Ivo Petrov, data center segment specialist with Tripp Lite, recommended that admins develop a remote access strategy to help field technicians and reduce overall repair time via built-in service modules and KVM over IP or console servers.
Components with self-healing features or keepalive probes to reboot components and UPS units with automatic and manual bypass features can ensure operability while servicing equipment. Another option to minimize on-site service is to use console servers with out-of-band access via cellular management networks.
Edge data centers' distributed nature might require hiring more maintenance support. For consistency and security, it is important to establish standards for monitoring and maintenance across these providers. These standards should include configuration governance, homogeneity assurance and comparative performance analysis.
It's also important to have a business model for the edge data center that complements the management model. Requirements such as workloads, tenancy, service-level agreements and quality of service determine the business model and directly affect the management model design.
Streamlining heterogeneous hardware and IT oversight
Another challenge is that remote equipment likely uses a wider mix of hardware, OSes and protocol choices than traditional data centers, said Jason Shepherd, CTO of IoT and edge computing at Dell Technologies.
These devices can also borrow capabilities from the programmable logic controller (PLC), PC, router and server management paradigms that traditionally have different tool sets for management. These admin responsibilities are also split across the organization and departments.
Operational technology (OT) teams typically manage industrial equipment and PLCs, whereas IT teams have usually overseen data infrastructure. Troubleshooting problems with IoT equipment in the field may involve both skill sets.
OT folks in the field don't necessarily have the skill sets for managing computing infrastructure, whereas admins do. IT doesn't typically have the necessary domain knowledge about the real-world use cases that drive the business. Edge data center workflows must ensure that both IT and OT teams have the required tools to do their jobs, Shepherd explained.
Admins should implement consistent management tools that have separation of concerns. Admins can add out mechanisms so updates aren't pushed on OT in the middle of an important process, Shepherd said. There are some efforts to decouple infrastructure from applications such as The Linux Foundation's EdgeX Foundry and VMWare's Pulse IoT Center, which organizations can use as a foundation.
Dig Deeper on Data center ops, monitoring and management