Gorodenkoff - stock.adobe.com
Snowflake expands cloud data warehouse capabilities
Snowflake is building out its platform with new integrations to enable users to more easily connect to different data sources, including Salesforce Einstein Analytics.
Snowflake added a series of new capabilities to its cloud data warehouse that provide integrations with Salesforce, as well as security, data exchange and marketplace features.
Snowflake revealed the new features Tuesday as part of its virtual event #SayHelloToTheDataCloud, which replaced the cloud data warehouse vendor's annual in-person conference.
The new features are part of Snowflake's continuing push to be a major player in the cloud data warehouse market as it attempts to differentiate against multiple rivals, including Amazon Redshift, Google BigQuery, Microsoft Azure SQL Data Warehouse and SAP Data Warehouse Cloud. The fast-growing vendor raised $479 million in a round of funding in February.
Key among the new capabilities is a Dynamic Data Masking feature, which can mask, or hide, potentially sensitive information from specific users, based on roles and access policy. Snowflake has also enhanced its ability to help users build data pipelines that integrate with third-party data sources.
Rakuten's move to cloud data warehouse
One of Snowflake's users is e-commerce vendor Rakuten Rewards, formerly known as Ebates, based in San Mateo, Calif.
Rakuten had been using on-premises infrastructure for data warehousing and began to shift to the Snowflake cloud approach in 2018, completing the transition by the end of 2019, said Mark Stange-Tregear, vice president of analytics. He spoke at a live-streamed media event before the conference.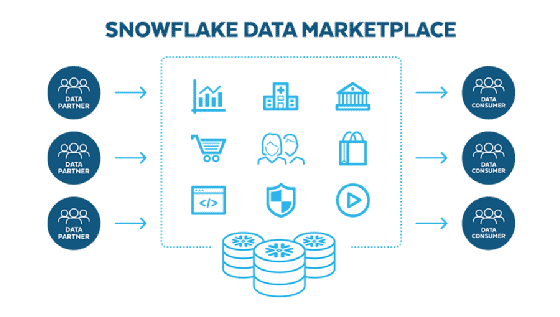 Rakuten Rewards moved to Snowflake as it had scalability challenges with its on-premises technology and needed to meet growing data demands.
Snowflake's new external functions capability, which can help users build data pipelines, will be a real benefit for his organization, Stange-Tregear said.
"The promise of external functions is it eliminates the need for us to move large amounts of data around," Stange-Tregear said.
The idea that I can just mask data without blocking people, really allows me to simplify the way that I'm trying to manage access to the data.

Mark Stange-TregearVice president of analytics, Rakuten Rewards
Rakuten has needed to pull some data from external sources, such as location information. That data is called via an API and is then stored in order to enable a query.
With external functions and a query, Rakuten will be able to get the API response without having to store the data, which will save time and improve efficiency, Stange-Tregear said.
Rakuten will also benefit from Dynamic Data Masking, which will help the company comply with data governance and privacy requirements.
"The idea that I can just mask data without blocking people, really allows me to simplify the way that I'm trying to manage access to the data," Stange-Tregear said. "We are a company that takes the rights of our consumers very, very seriously. So, anything that's going to help me do that more easily is great."
Expanding the cloud data warehous
e
The ability to more easily access and organize third-party data is also part of Snowflake's new Data Exchange effort.
Also, at the media event, Christian Kleinerman, senior vice president of product at Snowflake, said that Data Exchange helps users organize data that is found outside of an enterprise. Meanwhile, Data Exchange is complemented by Snowflake's Data Marketplace, which provides a listing of data sets and sources that users can access, he said.
"It's not me organizing my enterprise data, it's me understanding what is the data that is outside of my organization that I can bring in for my own analysis and use," Kleinerman said.
Salesforce integration expands with Snowflake
Another notable part of the Snowflake update is a series of integrations with Salesforce to help better enable data analysis.
Among the features are Einstein Analytics Output Connector and the Einstein Analytics Direct Data service. The two new services provide an integrated approach to getting data both in and out of Einstein Analytics -- Salesforce's machine learning data analytics platform -- from a Snowflake cloud data warehouse.
Without the new connectors, users previously had to manually figure out how to connect Einstein Analytics with data sources in Snowflake, Kleinerman said.
"We want to make it simpler and remove the friction of moving data from Salesforce to Snowflake," he said. "We want our customers to focus on how to analyze data, not the tool or API that is needed to bring data over."