Evaluate
Weigh the pros and cons of technologies, products and projects you are considering.
Do Try Microsoft Teams
If you're an Office 365 subscriber with a company email address enrolled, you owe it to yourself (and your company or organization) to give Microsoft Teams a try. It's the new "teamwork hub" for the Office 365 environment. It's likely to replace Skype for Business in the next year or two, too. To that, I say "Hooray!" because my experience in working with Microsoft Teams over the past couple of months has been entirely positive. So please, do try Microsoft Teams at your earliest convenience!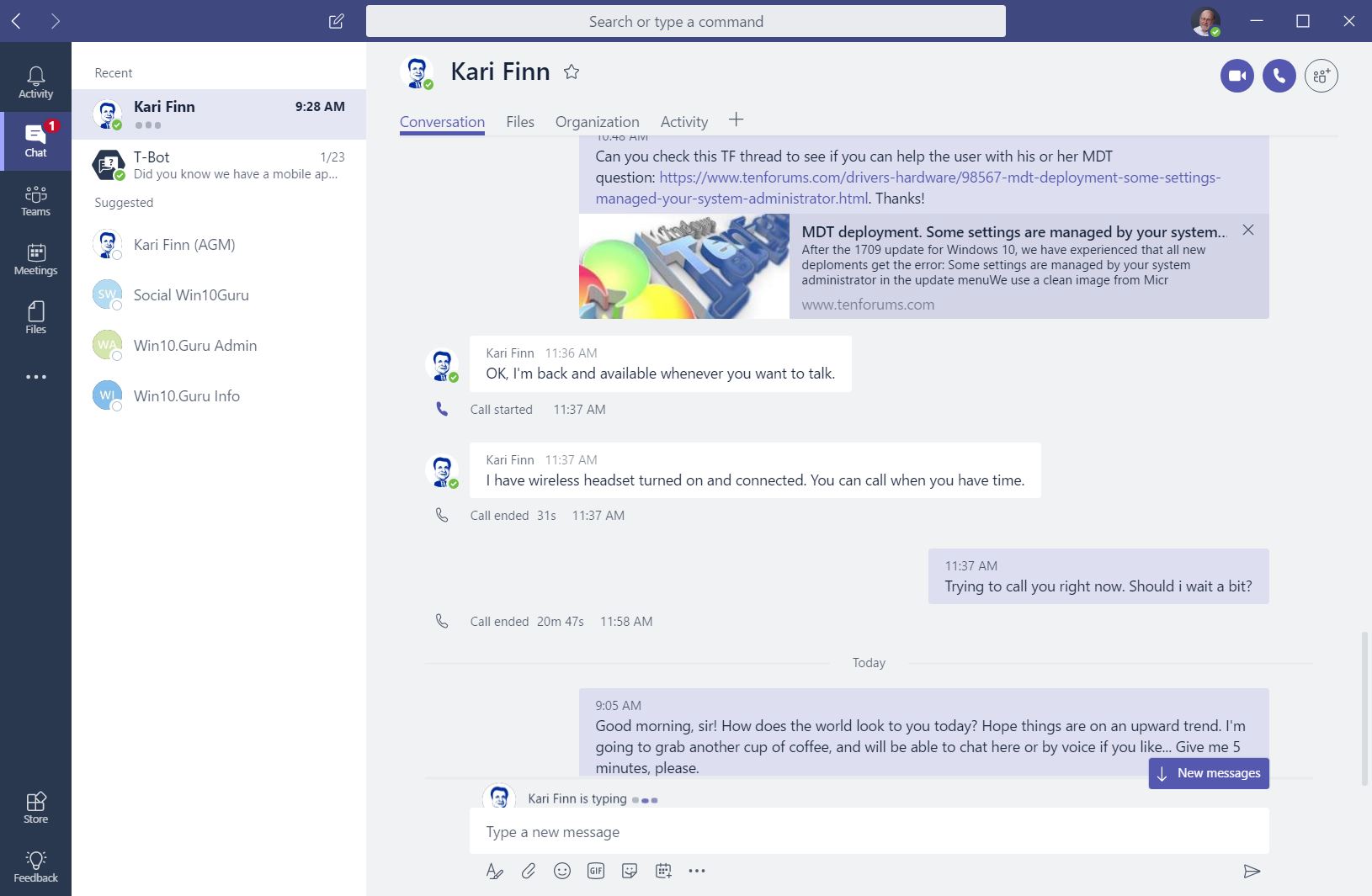 There are so many reasons why MS Teams beats Skype for Office, I'm having trouble remembering them all!
[Click image for full-sized view]
Why I Say: Do Try Microsoft Teams
The short and sweet of it is that MS Teams beats Skype for Business three ways from Sunday. Here is what Kari (my Win10.guru partner) and I agree are its most beneficial and superior attributes:
Easier to collaborate with others online, especially for sharing documents and working on them simultaneously, in parallel.
No issues (none!) with transferring files or posting screenshots/image in the chat window.
More intuitive UI that is easier to learn, understand, and use.
Starts — and runs — much faster, and is more reliable in every way. Even running over a VPN from Germany to Texas, works quickly and well.
Terrific integration with the rest of Office, especially Outlook. Automatically logs, then emails chat sessions to Outlook via "regular mail." No need to dig into Conversation History in Outlook to see old chats.
Excellent screen sharing, with the ability to jump around various session members' screens. Also easy to grant, take, and surrender control of screens for remote access. Personally, I like it better than RDP/Remote Desktop Connection.
Outstanding meeting capabilities, with full Outlook calendar, invite and management capabilities. Also supports HD video, VoIP call-in/out, and a variety of audio conferencing options (including dial-in or computer headset-based sound).
And we haven't even explored the advanced VoIP/phone management capabilities it delivers quite yet. If you like (or regularly use) Skype for Business, you'll LOVE Microsoft Teams. If you don't like (or use) Skype for Business, you'll probably still like Microsoft Teams anyway. Give it a try! Learn more at the Microsoft Teams home page.