Problem solve
Get help with specific problems with your technologies, process and projects.
KB4058258 Install Fail Fix
Lots of Win10 users are reporting issues when trying to install the Spectre follow-up Windows Update item, KB4058258. Many of those who've installed KB4056892 have reported issues when trying to add its replacement, KB4058258. A kind of "recipe" has emerged, for those who want to apply this KB4058258 install fail fix. I'll recite same in the next section of this blog post, and continue with some explanation and analysis.
How to Apply KB4058258 Install Fail Fix
This is a three step process that requires uninstalling the original update, cleaning up Windows using DISM, then manually installing the follow-up item, KB4058258. Here's how:
Open Control Panel, select Programs and Features, click View installed updates. Right-click on the entry for KB4056892, then select "Uninstall" from the resulting pop-up menu. When the uninstall process is complete, reboot your PC. Some users report seeing two different KB4056892 entries in this list. If you do too, you must uninstall both of them (and can wait to reboot until the second uninstall is finished).
Open an administrative Command prompt or PowerShell session, and enter this specific deployment image servicing and management (DISM) command:
DISM /online /cleanup-image /startcomponentcleanup
Grab the KB4056892 download for your Win10 version from the Microsoft Catalog, and install it manually. Reboot one more time.
When all these gyrations are complete, the Win10 version should be current (as I write this post, that's 16299.214) as shown here: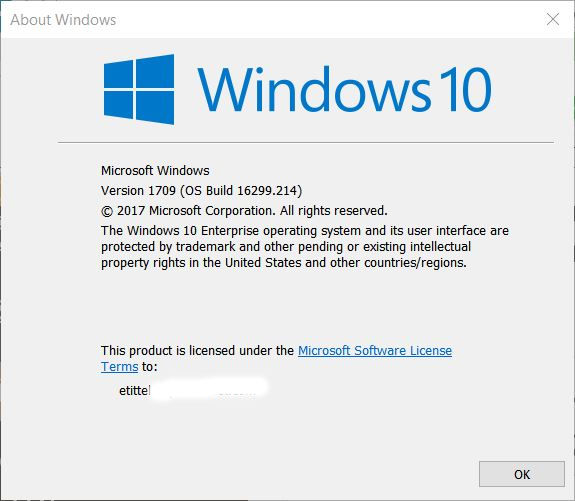 Many users with this issue report getting stuck at lower build numbers
(e.g. 16299.15, 16299.125, or 16299.192).
How the Fix Works
It seems that some of the changes that KB4056892 makes prevent the follow-up item, KB4058258, from installing. By manually uninstalling the initial item (KB4056892), we undo those changes to make way for the next item to install unimpeded. Running the DISM command sweeps away all traces of that earlier update (or updates plural, for those who find two KB4056892 items in their update histories) from the WinSxS binary store. Then, manually installing the follow up item KB4056892 makes sure that Windows 10 gets caught up to the proper cumulative build index, without having to wait for WU to deliver and install it for you. Voila! Done!
[Note: thanks to those intrepid Windows investigators and troubleshooters at TenForums. I learned about this fix from the thread entitled "Error 0x80073715 in KB4058258." Special kudos to members Ben Hastings and winactive in getting this nailed down.]