Ivanti Cloud offers device info, real-time data analytics
Ivanti Cloud hopes to break down IT siloes by combining IT operations and security teams. The platform includes key features like device prescription and real-time updates.
Digital workspace and endpoint provider Ivanti wants to unify your operations and security with their new cloud-based platform. Ivanti Cloud provides admins with updated device information, device health, warranty and software licensing with data gathered from different management clients. Ivanti boasts a wide perspective of managed systems, enabling IT to pinpoint problems and troubleshoot.
Duane Newman, vice president of product management at Ivanti, hopes that the new platform will help "siloed" IT teams "take prioritized action to improve security and user productivity," he said in the company's press release. With data collected from various third-party clients like Microsoft System Center Configuration Manager and Active Directory, Ivanti Cloud allows administrators to combine and gain insight into their systems on a single interface.
"We're trying to get that holistic view of the enterprise," said Roger Pimentel, senior manager of product management analytics and machine learning at Ivanti. "Everybody has Active Directory, [their] management platforms, purchase records. [They] have all these disparate platforms of data. [They] have to determine what [they] need to do, [they've] got to figure out which devices are the same device from all the different sources."
The platform consists of four features:
Real-Time Intelligence. Provides insights into the state of a device, and sends alerts on its data, including security health, software licensing and hardware warranties.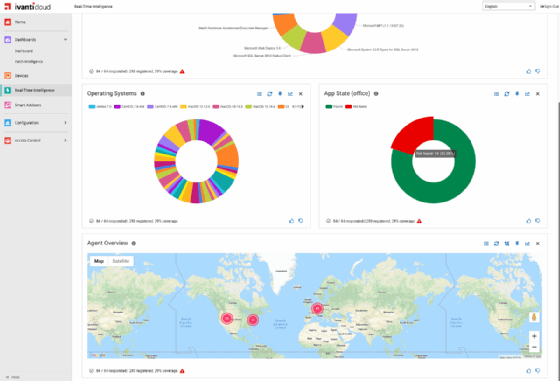 Smart Advisors. Ivanti Cloud collects data from different client systems to give analysts recommendations and steps to reduce reaction times. Ivanti Cloud can draw data from System Center Configuration Manager and Active Directory, and provide insight on that data through Smart Advisors. The feature is powered by AI and machine learning and the application of best practice knowledge.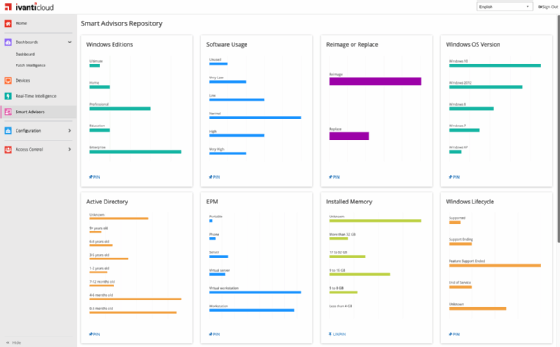 Data services and connectors. To support different data collected data services uses connectors to interpret data from third-party system management clients and reconciles it to be used by other Ivanti features, such as Smart Advisors.
Automation fabric. Ivanti RES powers this automation process, which IT can use for routine configuration changes and advanced change control.
Endpoint analytics vendors are looking for ways to better manage and integrate device data. Code42 Software, Druva Software and Carbonite also have offerings for endpoint analysis in the market. Ivanti Cloud is included as a part of its enterprise license agreement (ELA) and is also available as a per-node subscription. Ivanti's ELA includes other platforms such as their unified endpoint management and IT asset management clients.