CenturionStudio.it - Fotolia
PC sales soar as pandemic restructures the computer market
There's no question that the pandemic has bolstered PC sales. But analysts disagree on whether rising PC ownership means the computer market has reached a sustainable new height.
PC sales have risen into August as a once-moribund computer market has roared to life during the pandemic.
While some industry observers believe this bump is a temporary reversal of a long-term downward trend, others think the market may have changed permanently.
The NPD Group reported this week that notebook revenue in the U.S. was up 64% year over year for the first week of August. The seven weeks ending Aug. 8 saw year-over-year notebook revenue grow by 51%.
"These are historic numbers that we don't tend to ever see in a mature, highly developed category like computers," said NPD analyst Stephen Baker.
Remote work and distance learning accessories received similar boosts in the first week of August, the research firm reported. PC headset sales grew 127%, monitor revenue 97% and router sales 87%.
A revitalized market
The PC market was in decline until recently. After a seven-year tumble, PC shipments increased in 2019 -- a development analysts credited to users buying Windows 10 PCs in advance of the sunset of Windows 7 support in January 2020. Experts expected the trend would be temporary, though, with people increasingly turning to smartphones and tablets to meet their computing needs.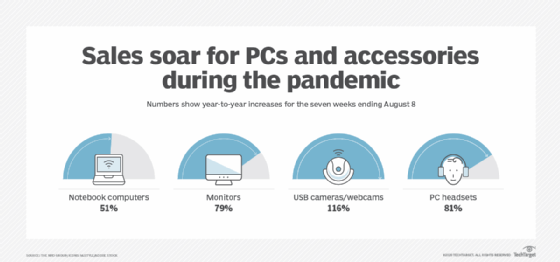 The COVID-19 pandemic altered the landscape. A sudden shift to remote work and education spurred demand for PCs, especially notebooks. The change made the PC more central to the productivity of employees forced to make it their primary means of interacting with coworkers and doing daily tasks.
"We are seeing organizations having to budget for, upgrade and improve their end-user computing capabilities significantly for the next year or two," said Dion Hinchcliffe, an analyst at Constellation Research.
We are seeing organizations having to budget for, upgrade and improve their end-user computing capabilities significantly for the next year or two.

Dion HinchcliffeAnalyst, Constellation Research
The back-to-school shopping season has also contributed to the computer market's strength. Many schools are opting for virtual learning or hybrid instruction models, making distance-learning technology a must.
As such, multiple school districts are accelerating PC purchases to ensure that every student is capable of participating in remote learning, IDC analyst Linn Huang said. A transition that some schools had planned to do over several years may have to be accomplished within a couple of semesters.
Looking to the future of the computer market
It is a matter of debate whether this uptick represents a short-term blip or if there has been a long-lasting change in the way people buy technology.
Some analysts believe continuing economic uncertainty would eventually drive a decline in sales. That's because businesses and consumers would tighten their belts after purchasing the necessary technology to keep them productive over the short term. In July, Gartner research director Mikako Kitagawa said the PC market would probably slow in 2021 in the face of a recession.
But Baker said the pandemic might have taken the market to a new sustainable height.
"The question everybody has is, 'What is the real level of demand?'" he said. "We just don't know that."
The pandemic has boosted PC ownership, Baker said. It is now more common than before for everyone in the household to own a computer. Since parents and children need to use computers throughout the day for work and school, they will also need to be upgraded or replaced in time.
"Longer term … this kind of shift in demand is likely going to mean a larger business in general," he said.
Dig Deeper on Desktop management