State HIE list from the HITECH Act
The HITECH Act allocated nearly $550 million to develop a health information exchange in each U.S. state and territory. This tip lists each state's HIE and who's in charge.
In the winter of 2010, the U.S. Department of Health & Human Services awarded nearly $550 million through the State...
Continue Reading This Article
Enjoy this article as well as all of our content, including E-Guides, news, tips and more.
Health Information Exchange [HIE] Cooperative Agreement Program. The grants, funded through the Health Information Technology for Economic and Clinical Health (HITECH) Act, aim to expedite the development of the capacity and infrastructure to exchange patient health data among health care organizations within and across state borders.
All 50 states, plus the District of Columbia and five federal territories, have received HIE funding. The group responsible for HIE development -- whether an official state agency or a state-designated entity, typically a nonprofit organization or a public-private partnership -- must develop strategic and operational plans and track their performance according to metrics defined in their award notices. The grants cover a four-year period.
The map below indicates which group is responsible for each state HIE, and who leads that group. Links to additional resources are provided for states that have made them available. Many resources come courtesy of the e-Healthcare Marketing blog. (Note: Some of the resources, especially the strategic and operational plans, are large PDF files that may take a while to load. Please be patient.)
The map is divided into regions as defined by the U.S. Census Bureau. (It should be noted that, according to the eHealth Initiative's 2010 Survey on Health Information Exchange, state HIEs in Alaska, Arizona, Montana, Nevada, New Hampshire and New Mexico, as well as HIEs in the five overseas territories, are not in operation yet.)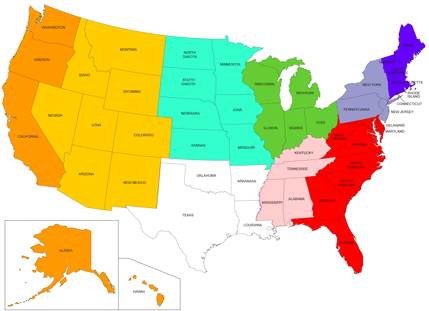 New England

[back to top]

Agency

Leader

Resources

Connecticut Department of Public Health
Warren Wollschlager, chief, Office of Research and Development
Conn. state HIE strategic plan, draft version
State of Maine, Governor's Office of Health Policy & Finance, Office of the State Coordinator for Health IT (Augusta)
James Leonard, program coordinator
Maine state HIE strategic and operational plans and Project plan 2010-2014
Massachusetts eHealth Institute, a division of the Massachusetts Technology Collaborative (Boston)
Dr. Richard Shoup, state health IT coordinator
Mass. state health information technology strategic plan
New Hampshire Department of Health and Human Services (Concord)
Nicholas Toumpas, commissioner
N.H. state HIE project narrative
Rhode Island Quality Institute (Providence)
James E. Purcell, chair
R.I. state HIE strategic plan executive summary and R.I. HIE: Learn about the process
Vermont Information Technology Leaders Inc., on behalf of the Vermont Agency of Human Services (Montpelier)
Dr. David Cochran, president and CEO
Vt. state HIE policies and procedures

Mid-Atlantic

[back to top]

Agency

Leader

Resources

New Jersey Health Care Facilities Financing Authority (Trenton)
Dr. Poonam Alaigh, chair
N/A
New York eHealth Collaborative Inc. (Manhattan)
Carol Raphael, chair
N/A
Governor's Office of Health Care Reform, Pennsylvania Health Information Exchange (PHIX) (Harrisburg)
Ann S. Torregrossa, director
PHIX strategic plan

East North Central

[back to top]

Agency

Leader

Resources

Illinois Department of Healthcare and Family Services (Springfield), in conjunction with Illinois Office of Health IT (Chicago)
Julie Hamos, director, HFS; and Laura Zaremba, director, OHIT, state health IT coordinator
Ill. state HIE strategic and operational plan
Indiana Health Information Exchange Inc. (Indianapolis)
Vincent Caponi, chair
Quick facts, Background information and Overview and benefits
Michigan Health Information Network, in conjunction with the Michigan Department of Community Health (MDCH) and the Michigan Department of Information Technology (Lansing)
Beth Nagel, health IT coordinator, MCDH
Mich. Health Information Network Shared Services strategic plan and Operational plan
Ohio Health Information Partnership LLC (Columbus)
Amy Andres, chair
N/A
Wisconsin Department of Health Services (Madison)
Karen Timberlake, secretary
Wisconsin Relay of Electronic Data (WIRED) for Health

West North Central

[back to top]

Agency

Leader

Resources

Iowa Department of Public Health, Office of Health IT (Iowa e-Health) (Des Moines)
Leslie Grefe, e-Health program manager; and Kory Schnoor, e-Health program coordinator
Iowa state HIE strategic and operational plan and HIE: A public/private collaboration
Kansas Department of Health and Environment (KDHE), Kansas Health IT Initiative (KanHIT) (Topeka)
Roderick L. Bremby, secretary, KDHE
Kan. state HIE grant project narrative
Nebraska Department of Administrative Services, Office of the Chief Information Officer (Lincoln)
Brenda Decker, CIO
Neb. state HIE strategic plan and Operational plan
North Dakota Information Technology Department (Bismarck), in conjunction with the North Dakota Health IT Advisory Committee and the State Office of Rural Health (Grand Forks)
Sheldon Wolf, Health IT director
N.D. state HIE hybrid model
South Dakota eHealth Collaborative (Madison), in conjunction with the Department of Health (Pierre)
Doreen Hollingsworth, secretary of health
S.D. eHealth Collaborative roadmap and Strategic and operational plans
Minnesota Department of Health, Minnesota e-Health Initiative (St. Paul)
Walter Cooney and Dr. Jennifer Lundblad, e-Health Advisory Committee co-chairs
Minn. state HIE strategic plan and Operational plan
Missouri Statewide Health Information Organization, in conjunction with the Department of Social Services and Office of Health IT (Jefferson City)
Ronald J. Levy, DSS Director and Health IT Coordinator
Mo. state HIE strategic plan and Operational plan

South Atlantic

[back to top]

Agency

Leader

Resources

Delaware Health Information Network (Dover)
Robert J. White, chair, Board of Directors
N/A
Florida Agency for Health Care Administration, Florida Health Information Network (Tallahassee)
Christine Nye, director, Florida Center for Health Information and Policy Analysis
Fla. state HIE executive summary
Georgia Department of Community Health, Office of Health IT and Transparency (HITT) (Atlanta)
Patricia Lavely, chair, HITT Advisory Board
A snapshot of the state HIE
Maryland Health Care Commission, Center for Health Information Technology (Baltimore)
Kathy Francis, chief, Health Information Exchange
Md. state HIE strategic and operational plans (approved by the Office of the National Coordinator for Health IT [ONC]) and HIE project documents
North Carolina Department of State Treasurer, Health and Wellness Trust Fund Commission, in conjunction with the NC HIT Collaborative (Raleigh)
Dr. Laura Gerald, executive director
N.C. state HIE strategic plan
South Carolina Department of Health & Human Services, South Carolina Health Information Exchange (Columbia)
Emma Forkner, director
SCHIEx: Transforming HIT in the Palmetto state
Virginia Department of Health, Office of Health IT, in conjunction with the Health IT Advisory Commission (Richmond)
Kim Barnes, director of health IT
Va. state HIE strategic and operational plans
Government of the District of Columbia, Department of Health Care Finance (DHCF) and Department of Health (Washington, D.C.)
Dr. Julie Hudman, director, DHCF; and Dr. Pierre Vigilance, director, Department of Health
N/A
West Virginia Department of Health and Human Resources, in conjunction with the West Virginia Health Information Network (WVHIN) (Charleston)
Dr. Julian Bailes, chair, Board of Directors
WVHIN's privacy and security framework

East South Central

[back to top]

Agency

Leader

Resources

Alabama Medicaid Agency, Alabama Health Information Exchange Advisory Commission (Montgomery)
Carol H. Steckel, chair
Ala. state HIE draft strategic plan
Kentucky Cabinet for Health and Family Services, Governors Office of Electronic Health Information, Kentucky Health Information Exchange (Frankfort)
Jeff Brady, chair, HIE Coordinating Council
Overview and FAQ
Mississippi Department of Information Technology Services (ITS), in conjunction with the Mississippi Department of Information Technology Services (Jackson)
David L. Litchliter, executive director, ITS
N/A
State of Tennessee, Office of e-Health Initiatives (Nashville), in conjunction with the Health Information Partnership for Tennessee Inc. (Nashville) and the Tennessee HIT Regional Extension Center, managed by QSource (Memphis)
Will Rice, executive director
Tenn. state HIE strategic plan and Operational plan

West South Central

[back to top]

Agency

Leader

Resources

Arkansas Health IT Task Force, on behalf of the Department of Finance and Administration (Little Rock)
Dr. Joe Thompson, task force chair and state surgeon general
Ark. state HIE strategic plan (draft) and Track the progress of the Arkansas HIE project
Louisiana Health Care Quality Forum, Health Information Technology Committee (Baton Rouge)
Cindy Munn, executive director
La. state HIE draft strategic and operational plans
Oklahoma Health Care Authority (Oklahoma City)
Lyle Roggow, chair
Project narrative and Abstract
Texas Health and Human Services Commission, Office of e-Health Coordination, in conjunction with the Electronic HIE System Advisory Committee (Austin)
Stephen Palmer, director
N/A

Mountain

[back to top]

Agency

Leader

Resources

Arizona Governor's Office of Economic Recovery (Phoenix)
Jan Brewer, governor
N/A
Colorado Regional Health Information Organization (Denver)
Joan Henneberry, chair
Community HIE toolkit and Roadmap (preliminary)
Idaho Health Data Exchange Inc. (IDHE) (Boise)
LaDonna Larson, executive director
IDHE privacy policies
HealthShare Montana (Billings)
Kristin Juliar, chair
N/A
Nevada Department of Health and Human Services, Office of Health IT, in conjunction with the HIT Blue Ribbon Task Force (Carson City)
Lynn O'Mara, HIT project manager
N/A
New Mexico Health Information Collaborative, managed by Lovelace Clinic Foundation (LCF) Research (Albuquerque)
Dr. Margaret Gunter, president and executive director
N.M. strategic and operational plans v2 (ONC-approved)
Utah Department of Health (UDOH) (Salt Lake City), in conjunction with the Utah Health Information Network (UHIN) (Murray)
Dr. David Sundwall, executive director and state HIT coordinator, UDOH; and Dr. Jan Root, CEO and president, UHIN
Utah statewide clinical HIE strategic plan and Operating plan (both ONC-approved)
Wyoming Department of Health (Cheyenne)
Dr. Brent Sherard, director and state health officer
N/A

Pacific

[back to top]

Agency

Leader

Resources

Alaska Health Care Commission (Juneau)
Deborah Erickson, executive director
N/A
Cal eConnect (San Francisco), on behalf of the California Health and Human Services Agency (Sacramento)
Dr. Carladenise Edwards, president and CEO
Calif. state HIE strategic and operational plan, as well as Cal eConnect FAQs, Overview and Technology and architecture
Hawaii Health Information Exchange (Honolulu)
Christine Sakuda, executive director
Overview of the Hawaii state HIE
Oregon Health Authority, Health IT Oversight Council (Salem)
Dr. Steve Gordon, chair
Ore. state HIE draft strategic plan and Appendices
OneHealthPort (Seattle), on behalf of Washington State Health Care Authority (Olympia)
Richard Rubin, CEO
Wash. state HIE strategic and operational plans

US Territories

[back to top]

Pacific e-Commerce Development Corp. (American Samoa)
Office of the Governor (Guam)
Department of Public Health (Northern Mariana Islands)
Oficina del Gobernador La Fortaleza (Puerto Rico)
Department of Health (U.S. Virgin Islands)