Omicron extends uncertainty about return to office
For firms with immediate plans to return to the office early in the new year, the new COVID-19 variant, omicron, may prompt delays and reassessments about the future.
The new normal is increasingly elusive for firms like The Hartford. Its senior leaders were to return to the office Dec. 6 but are now delaying those plans thanks to the new COVID-19 variant, omicron.
The Hartford's decision comes out of "an abundance of caution," said Matthew Sturdevant, a spokesman for the financial services firm in Hartford, Conn. "We are delaying the return of senior leaders to the office as scientists and medical experts work to understand the new virus variant."
But The Hartford is sticking with its plan to have employees return to the office Jan. 18, Sturdevant said Thursday in an email statement. "We will continue to make decisions and take action based on guidance from public health experts."
Similar to The Hartford, many employers want more information about omicron before changing their plans for early next year, said Kim Fulton, a principal for the global management consulting firm Kearney's leadership, change and organization practice.
"Most companies right now are monitoring the situation closely and looking to learn more," Fulton said. She said they want to know more about the variant's means of transmission and the efficacy of COVID-19 vaccines against it.
The brain craves certainty.

David RockCEO, NeuroLeadership Institute
COVID-19 variants have added a lot of uncertainty to office return plans, and this is hard on workers, said David Rock, co-founder and CEO at the NeuroLeadership Institute, a research consultancy that advises firms on leadership strategies and is based in New York.
"The brain craves certainty -- we crave certainty like we crave food when we are hungry," Rock said.
"The one big lesson from the last 18 months is that this is bigger than all of us," Rock said. For managers, the best advice might be to "imagine we are doing work from home for another two years" and "what would you invest in now to make it really productive?"
HR management tool
Since COVID-19 emerged about two years ago, HR has been getting more tools to manage it either through their existing HCM platform vendors or from third parties. The need for vaccine management might continue for some time, said Chase Feiger, M.D., advisor of medical informatics at ReturnSafe Inc., in Dallas.
"We are on the endemic side of this virus, meaning we are going to continue to see new variants of this virus arise as long as we have a huge part of the world that remains unvaccinated," Feiger said.
"Every time we think that we've gotten ahead of this, there is a new variant that comes up," he said. ReturnSafe is a startup with an HR platform for vaccine management, testing and case management.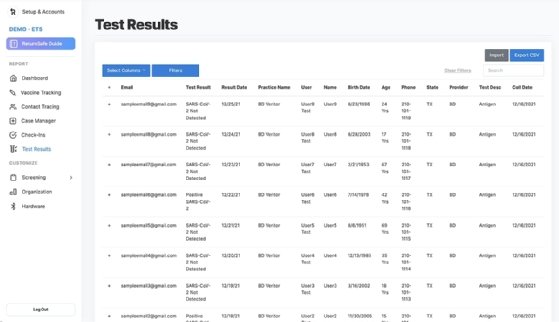 ReturnSafe's platform includes functions such as a daily screening app for employees to uncover systems. The platform has a notification system and contract tracing features if a COVID-19 test comes back positive. Even firms that aren't requiring employees to be vaccinated will still need a vaccine management system to know who is vaccinated, Feiger said.
President Joe Biden's administration requires firms of 100 or more employees to be vaccinated or tested regularly. This rule, set by the Occupational Safety and Health Administration, was due to take effect Dec. 6, requiring that employees either be fully vaccinated by Jan. 4 or undergo regular testing. But the mandate has been successfully challenged in court and is on hold pending the outcome of a preliminary injunction.
Still, employers should prepare for the possibility of a vaccination requirement, said John Ho, a labor and employment attorney in New York who heads Cozen O'Connor PC's OSHA practice.
The Dec. 6 deadline has several requirements, including determining employees' vaccination status, whether they are fully or partially vaccinated or not vaccinated.
By asking for this information, employers aren't implementing a mandatory vaccine policy, but they are addressing a record-keeping burden, Ho said.
The OSHA rule doesn't address booster shots, and Ho said he hasn't seen any employer mandate them. But if the new variant takes hold in the U.S., he suspects employers may start.
Patrick Thibodeau covers HCM and ERP technologies for TechTarget. He's worked for more than two decades as an enterprise IT reporter.