daniilvolkov - stock.adobe.com
How IT can enable long-term hybrid remote work
Hybrid work is here to stay. To keep employees happy and productive, CIOs should partner with stakeholders companywide to design a hybrid remote program suitable for the long term.
Remote work has been a reality for decades, although often limited to a few employees in select roles. But the pandemic forced organizations across the world to rapidly scale up remote work and, in many cases, introduce remote work for the first time. The result of this radical shift in working conditions has been that many employers are reporting an increase in overall productivity and improved employee experience.
Now, as regions look forward to the reopening of offices, hybrid remote work is emerging as the model of choice for organizations that want to reap the benefits of remote work but still retain some in-office presence. In fact, Gartner predicted that, by 2022, 45% of the workforce will be working from home two to three days per week.
As organizations look to institute a hybrid remote work model, IT must lead the charge in shifting from the hurried, often unorthodox approach to remote work that the pandemic required to a formal, scalable policy that will support employees -- no matter where their workspace is located.
Here are the steps that CIOs and IT leaders can take to institutionalize hybrid remote work and ensure efficiency and productivity for all employees.
Design the remote work program
Given technology's significant role in enabling remote work, the CIO often leads, or co-leads along with HR, the development of the remote work program. However, this should not be an IT-only exercise. IT leaders must work with a cross-functional team of stakeholders to design a long-term, scalable remote work program through the following steps:
Start with a clear charter. Outline why a remote work program is needed, who is responsible for making it happen and what executive sponsorship has been secured. Having executive buy-in from the chief HR officer, COO or other business leaders helps resolve potential roadblocks and demonstrates the program's importance.
Develop the program framework. Develop a formal remote work policy that defines which employees/roles are eligible, general expectations for remote staff -- i.e., common working hours or working environments -- and what technical and financial support the organization will provide. The framework should also outline the process for becoming an official full-time or hybrid remote worker, including how to submit a request, get required approvals and change one's official place of work.
Outline remote connectivity technology and standards. With the onset of the COVID-19 pandemic, some enterprises had to make a rushed decision regarding how employees connect to digital resources when working remotely. The two dominant connection models are VPN access from a corporate laptop and accessing a virtual desktop from a corporate or personal laptop through virtual desktop infrastructure or desktop as a service. It's important to consider which model is scalable for the long-term success of the remote work program and outline the technology support needed to enable connectivity.
Ensure the remote work program is formalized through official documentation that has executive support and sign-off from all relevant stakeholders in IT, HR, finance, legal and other lines of business.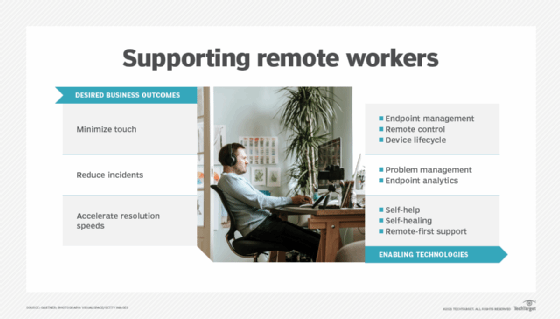 Onboard remote employees
Once the employee has been approved as a fully remote or hybrid remote worker, IT can support their onboarding and the setup of their remote office space.
Deploying technology to remote employees requires new tactics. The goal of a remote work onboarding program is to create a zero-touch approach to deployments by using automation and enabling users to self-serve when possible. Best practice is to issue a remote work kit, including a laptop for new hires. The kit usually includes basic accessories, such as an external monitor, keyboard, mouse, docking station, headset and web camera.
Some companies are deploying all-in-one computers to minimize the complexity of connecting accessories. Providing money for employees to acquire accessories themselves is an option but one that often leads to a support burden to get the self-procured accessories working properly with all corporate applications. Providing IT equipment that fits the company budget and remains organizational property circumvents this issue.
Provide support for remote work
Once a user has an operational endpoint and access to corporate services, support is a key challenge for IT leaders. With users distributed, traditional face-to-face support options are no longer workable. Gartner's "2021 Digital Worker Experience Survey" found that 46% of workers chose a non-IT support channel as their first choice. To address this imbalance, design support processes to ensure the contact channel has low friction for the user.
When redesigning support processes and tools to meet the needs of the hybrid remote workforce, consider these three requirements for successful remote support:
Endpoint management works and is dependable in managing the policy on devices. Most incidents can be avoided through appropriate endpoint configuration.
Technicians can interact with remote devices. Remote control tools must be configured securely to avoid being used as attack surfaces. Attended remote control sessions where the employee is present should be the norm, and unattended sessions should be allowed only for specific use cases. Remote control tools must also work within and beyond the corporate network; do not design a remote control tool set that has a VPN requirement.
Endpoint analytics are in use. The data gathered can be used at a macro level to identify common failure modes, such as identifying an application or driver that is crashing on many endpoints. When a user requests support, the use of endpoint analytics at a device level can help the technician identify the root cause of incidents quickly and even predict failures before the end user's experience is impacted.
Even with remote control and analytics, effective remote support requires a focus on self-help. Incidents are only half of the remote control challenge, so deploy self-service to fulfill requests.
When remote support fails, a rapid replacement program must be in place, either through the organization's own resources or in cooperation with a logistics partner. A replacement unit can be shipped overnight, and the same box can be used to return the defective unit. A remote upgrade process must also be in place to ensure that remote workers can receive upgraded equipment on a regular schedule and return or recycle old equipment.
With these considerations in mind, CIOs and their IT teams can design or redesign a hybrid remote work program that is suitable for the long term. As companies continue to shift their models to account for new digital workplace norms, taking these steps now will prepare organizations for whatever future of work emerges in the coming years.
About the author
Leif-Olof Wallin is a research vice president at Gartner Inc., researching all aspects of mobile and IoT technology and services. Gartner analysts will discuss the latest trends in hybrid remote work and IT leadership at Gartner IT Symposium/Xpo, taking place October 18-21 in the Americas.
Dig Deeper on Digital transformation