lassedesignen - Fotolia
The history of Docker's climb in the container management market
When the concept of containers became stale, Docker brought containers back to the forefront by creating container management software, and the company continues to evolve.
Container technology has seen an increase in interest in recent years -- despite having roots as far back as 2008 -- and Docker has become a large part of this dialogue. March 2019 marks the sixth anniversary of the company, and the history of Docker is one that explores its evolution from a newly emerging startup to an established and credible name in the tech industry.
Docker didn't become the well-known company that it is overnight. Over the span of six years, Docker has seen several changes to its software and organization, such as the overhaul of its Enterprise suite as well as collaborations with Amazon and Microsoft. To better understand Docker's rise in popularity, here is a comprehensive timeline from the company's beginnings to its most recent accomplishments and acquisitions:
Docker emerges in 2013
Docker was first released as an open source platform in March 2013, under the name dotCloud, which wasn't changed until September 2013. Within only a few months, Docker saw a large amount of interest -- showing more than 10,000 test runs by developers following the launch of an interactive tutorial in August 2013 -- and obtained a partnership with Red Hat on Sept. 19, 2013.
With a well-established company at its side and several Linux distribution implementations, Docker saw more support from commercial companies such as Amazon and Microsoft, further bolstering its credibility in the container management market.
2014 sees a rise in Docker popularity as issues are revealed
By the time Docker announced version 1.0 in June 2014, the software had been downloaded a staggering 2.75 million times. But that didn't mean Docker was the be-all-end-all of container management platforms. Many users were quick to point out Docker's lack of security because of its use of a central Docker daemon, which companies such as CoreOS took as a cue to provide their own competing container management software that assured users a more dependable and secure platform.
Users also found issues with Docker's lack of orchestration tools, which prompted the integration of Kubernetes. Despite its drawbacks, Docker managed to forge ahead with the help of Amazon, which announced Amazon's Elastic Compute Cloud (EC2) container service. This enabled users to better run Docker containers across a managed cluster of Amazon EC2 instances.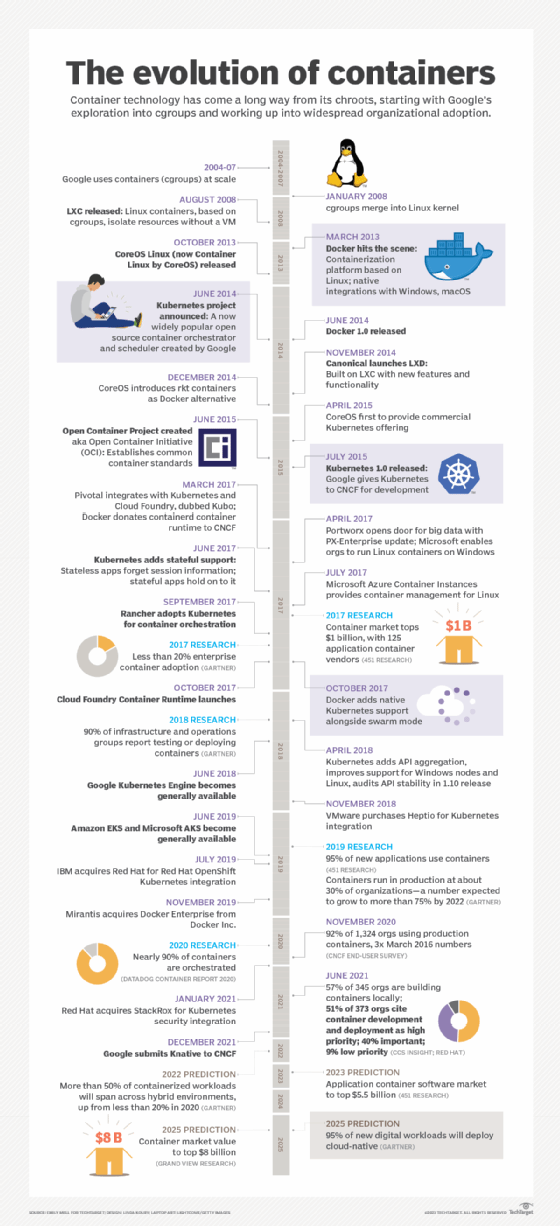 2015 marks Docker's largest fundraising rounds
In 2015, Goldman Sachs led a group of investors to back Docker, raising $95 million in its fourth round of funding. This investment round raised Docker's value to an estimated $1 billion, which saw the company initiated into the unicorn club but also put into question Docker's ability to provide a paid offering for organizations. Considering its open source status, Docker had to show organizations and developers that its product was worth the money it sold for once it hit the market.
In the year following, Docker had several acquisitions -- such as SocketPlane, Kitematic and Tutum -- and introduced a group initiative with CoreOS, Google, Microsoft and Amazon to create a new standard for software containers with the creation of the Open Container Initiative.
Microsoft comes into the fold in 2016
As of 2016, Microsoft had yet to provide a recent version of its software to support native Docker containers. In the interim, a competing company introduced its own software to appeal to the needs of Microsoft users: WinDocks 1.0. WinDocks provided users with the features they were waiting for from Microsoft, such as the ability to support .NET and SQL Servers in containers while running Windows Server.
Not long after, Microsoft announced the first public preview of Windows Server Containers, and Docker regained support from Microsoft users. On Sept. 26, 2016, Microsoft officially made Windows Server 2016 -- powered by Docker -- available to the general public, enabling users to run Docker containers natively on Windows Server. This was also the year Docker added to its arsenal of acquisitions, bringing Unikernel Systems, Conductant and persistent storage startup Infinit into the fold.
Docker Enterprise Edition releases in 2017
Docker started off 2017 with a vision to see both its company and software become the most used container management platform in the market. In March 2017, Docker announced the Docker Enterprise Edition (EE) at its DockerCon user conference, hoping to appeal to large organizations with business-critical deployments.
Docker EE was the company's first commercially supported product, which addressed the needs of organizations that required a flexible and resilient container management platform to run with their current workloads. Docker then renamed its open source project -- known as the Moby Project -- to differentiate it from its commercially supported product, sparking confusion for many users familiar with the platform. In October 2017, Docker announced an addition to Docker EE: support for Kubernetes as an orchestrator option.
Docker's history continues to evolve in 2018 and 2019
In early 2018, Docker made major changes to Docker EE, introducing version 2.0 in April and 2.1 later that year. Those updates brought support features for hybrid environments built with different technology stacks and gave users the choice between Kubernetes and Swarm for orchestration. Docker announced its most recent version, Docker 3.0, in April 2019. Docker 3.0 offers users the ability to build multiservice container-based applications that can run from any environment and eliminates the need to create these applications anywhere other than their desktop.
With changes to Docker EE pricing in May 2019, many users wonder how Docker will juggle its relationships between small companies and large organizations that rely on vast amounts of server hardware to host containers, and whether or not they'll be able to meet the demands of both.
Dig Deeper on Containers and virtualization