Fotolia
In Google Hangouts Chat, DevOps pros see ChatOps latecomer
Google Hangouts Chat could lead to interesting AI chatbot technology eventually, but G Suite users are already loyal to competitors, such as Slack.
Google Hangouts Chat became generally available last week, but the initial release is too little, too late for IT pros interested in ChatOps.
Google Hangouts Chat, first released in beta in 2017, is integrated into Google's G Suite productivity and collaboration software, which has a strong following among DevOps shops. The product roadmap includes plans for unique AI features that could enhance IT collaboration.
But Google Hangouts Chat's general availability comes a full five years after the launch of Slack, the most popular ChatOps platform, and six years after Atlassian acquired Slack competitor HipChat. Last year, Atlassian launched Stride as a HipChat successor, and Microsoft introduced a ChatOps competitor in Microsoft Teams as well.
This means Google Hangouts Chat faces an uphill slog into the hearts and minds of even G Suite loyalists, such as Favro, an IT workflow software maker in Sweden.
"G Suite is a key platform for us, including Google Sheets, Google Docs, Google Drive and Google Authenticator," said Patric Palm, CEO and co-founder of Favro. "Slack is still a better experience, and much more polished -- it has eliminated almost all of our internal emails, helps with planning and managing the flow of work, and interacts with our build environment through GitHub and Terraform."
Favro has used Slack for ChatOps since before Favro was spun out of a larger Swedish company, Hansoft, in March 2017. In January 2018, Favro launched an Agile planning and collaboration tool that competes with Atlassian's Trello, and integrates with Slack although there is no sales partnership between the two companies, Palm said. Favro previously evaluated Google Hangouts for video conferencing, but went with Microsoft's Skype instead.
Some startups are trying to do [AI in ChatOps], but Google has the data scale and is ahead of the rest of the world on AI innovation.

Patric Palmco-founder, Favro
Still, Palm said he'll track the Google ChatOps product to gauge its AI features. The platform's initial GA release includes automatic conference room booking and file search based on chat conversation, but Palm hopes to see development of an "AI bot on tap" that could be used with other ChatOps interfaces.
"Some startups are trying to do that as well, but Google has the data scale and is ahead of the rest of the world on AI innovation," he said.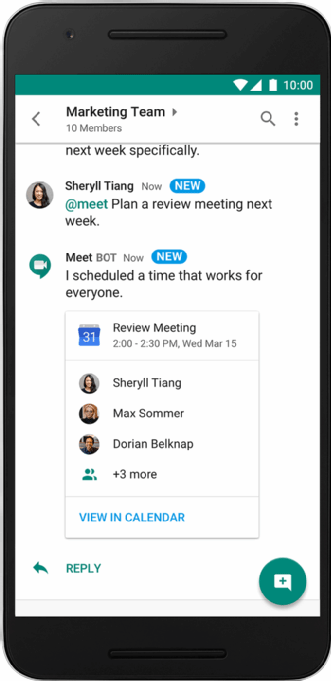 IT pros shop a crowded, noisy ChatOps market
As larger enterprises evaluate ChatOps tools, initial responses suggest that Google Hangouts Chat will take a backseat to more established alternatives on product review shortlists.
"Many teams in the company are using the free version of Slack for alerts, but concern is growing at the corporate level around privacy -- the free version of Slack provides no centralized control where the company can govern its use," said Richard Fong, senior software engineering manager at Mitchell International, an auto insurance software company in San Diego.
Slack Enterprise provides message export to governance and compliance tools, but other paid ChatOps products have drawn Mitchell International's attention, and there is no plan to evaluate Google Hangouts Chat, Fong said.
"There's talk right now about integration using Jabber, which we are already using for internal messaging, or moving to Microsoft Teams, since we are [an] 80% Windows shop," he said.
Some prospective Google Hangouts Chat users, however, will appreciate Google's opportunity to learn from earlier players' mistakes, IDC analyst Stephen Elliot said.
"Google Hangouts Chat will make it easy to set up video conferences and appointments, and there's something to be said for it being easier to use than some other tools," Elliot said.
Analytics and AI features are also fertile ground for Google, as is potential integration into other Google products and development tools, such as Kubernetes for container orchestration, he added.