Fotolia
Red Hat OpenShift Container Platform adds CoreOS automation
Red Hat plans to swiftly integrate technology recently acquired from CoreOS into its current product line, but the CoreOS name will stick around.
SAN FRANCISCO -- Red Hat's acquisition of CoreOS early this year bolstered its container management portfolio,...
Continue Reading This Article
Enjoy this article as well as all of our content, including E-Guides, news, tips and more.
and customers won't have to wait long to see results, as the company moves to reconcile competing products.
The latest release of Red Hat's OpenShift Container Platform, unveiled at Red Hat Summit 2018 here this week, includes the ability to automate over-the-air Kubernetes cluster upgrades -- the hallmark capability of CoreOS's Tectonic.
"A couple years ago, we saw [Red Hat] aggressively and deeply integrate Ansible. And now, we're seeing the same thing with CoreOS," said Jay Lyman, analyst at 451 Research. "They're completely merging Tectonic into OpenShift."
Automated operations -- the name of the feature within Container Platform -- will be available to OpenShift Container Platform customers with the product's 4.1 release. Red Hat said it plans to further integrate Tectonic technologies in subsequent releases, with the ultimate goal to completely merge the two Kubernetes distributions. However, Red Hat won't force current Tectonic customers off the platform any time soon, said Joe Fernandes, senior director of product management at Red Hat, based in Raleigh, N.C.
"We'll continue to support both current versions of OpenStack for our existing customers and Tectonic, because Tectonic customers are running these platforms in production," Fernandes said. "Our goal is to be finished by the end of this calendar year, so we can focus next year on bringing those customer bases together on a common platform."
Commercial Kubernetes consolidation
The January 2018 acquisition of CoreOS for $250 million helped Red Hat both absorb a competitor and enhance its own portfolio in a growing market, as more companies seek supported container orchestration platforms, Lyman said. While CoreOS Tectonic attracted a lot of early attention from shops that wanted to customize their Kubernetes deployments without straying far from the upstream project, OpenShift Container Platform represents an approach to add capabilities important to enterprises, Lyman said.
"I think organizations really want both," he said. "We're seeing more companies head toward this approach of providing their enchantments, but making sure the Kubernetes they support is aligned with the open source community. There certainly will be some challenges to integrating [the products], because these are two different approaches."
Red Hat's additions to OpenShift come as Kubernetes distribution competition heats up, said Twain Taylor, a technology analyst and author at Fixate IO in Livermore, Calif. In recent years, the top cloud providers have introduced managed Kubernetes services, such as Google Kubernetes Engine, Azure Container Service and Amazon Elastic Container Service.
"CoreOS was one of the leading contributors to Kubernetes, after Google," Taylor said. "In that sense, they had a lot of authority in the space and the open source community. I think that was a real reason behind this acquisition."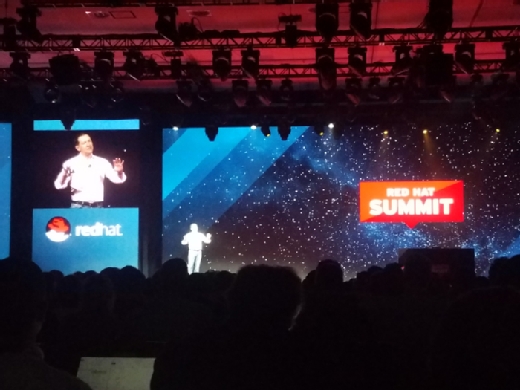 Quay sold separately
Quay was certainly a big draw of business for CoreOS ... Red Hat is certainly looking to take advantage of that drive by enterprises to maintain their own registries and connect with public registries.

Jay Lymananalyst, 451 Research
While OpenShift already includes an integrated container registry, Red Hat will soon sell CoreOS's Quay container registry as Red Hat Quay, rather than integrate its capabilities. Red Hat will sell Quay under current CoreOS pricing structures for organizations that want enterprise-level support with features such as automated replication, integrated security scanning and version management.
"Quay was certainly a big draw of business for CoreOS," Lyman said. "Red Hat is certainly looking to take advantage of that drive by enterprises to maintain their own registries and connect with public registries that are out there."
Red Hat grounds rkt, CoreOS name lives on
While Red Hat plans to integrate many CoreOS technologies, the company won't further develop or launch commercial support for the rkt container runtime, Fernandes said. CoreOS rkt emerged as an early alternative to the Docker container runtime. However, rkt was never widely adopted, and Docker remains the de facto industry standard. Rather, rkt's legacy will be in how it influenced the evolution of Docker, Lyman said.
"Docker is a primary component of Kubernetes deployments, and we didn't really see disruption from rkt," Lyman said. "Probably its biggest impact is influencing the way Docker was operating, looking at how Docker approached security."
Red Hat will also drop one of its own projects as part of the integration, as it plans to replace its Atomic Host operating system as the foundation for OpenShift Container Platform with the CoreOS Container Linux distribution. Container Linux is a minimalist Linux operating system designed to host containers. Red Hat will continue to develop and support the operating system and rename it to Red Hat CoreOS.
"This idea of a slim, immutable operating system is where the company got its name, so CoreOS will live on," Lyman said.