Fotolia
An overview of Xen Cloud Platform components, features
Xen's open source product, XCP, enables admins to perform various virtualization operations, such as live migrations and VM lifecycle management.
The Xen Cloud Platform is an open source virtualization product that provides both virtualization and cloud computing capabilities. The Xen Cloud Platform includes VM lifecycle management, resource pools, event tracking, Open vSwitch support, real-time performance monitoring and Storage XenMotion.
Similar to alternative open source virtualization products, the Xen Cloud Platform (XCP) relies on a hypervisor to perform virtualization operations in the data center. XCP enables IT administrators to consolidate server workloads, save power, increase cooling and improve management. Xen licenses XCP under the GNU General Public License, and it comes in two variants: XCP ISO for installing XCP onto admins' hosts from an ISO, and XCP toolstack packages for building an XCP-like system from specified packages distributed via admins' host OSes package manager.
Understand the difference between XCP and XenServer
Xen and Citrix have a long history of collaborations, which eventually led to Citrix's acquisition of XenSource in 2007. Following this acquisition, Citrix used the Xen brand for many of its proprietary products, such as XenDesktop and XenApp, that Xen had no part in designing. For this reason, it can be difficult for admins to differentiate exactly where Xen starts and stops with Citrix. It's not just that Xen and Citrix share some of the same technologies; they also share similar names, which can make things a bit confusing.
XCP might sound familiar to admins if they've previously used Citrix, because Citrix provides a commercial distribution of XCP, known as XenServer, based on the Citrix Hypervisor. But XCP relies on the Xen Project hypervisor, meaning the two products rely on completely separate hypervisors and offer somewhat different features.
Digging into the Xen Cloud Platform
The original release of XCP had a rich set of features, including VM lifecycle for monitoring VM implementation, delivery and operation; resources pools for flexible storage and networking; and event tracking for monitoring progress and notifications. XCP also offers more advanced features, such as live migrations, Open vSwitch support and real-time performance monitoring.
As XCP evolved, it shifted closer toward a general virtualization, cloud, security and embedded approach. This can be a little challenging for someone new to find what they require, but once admins dig into XCP, it presents itself well.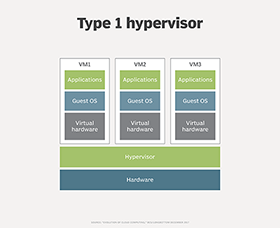 When digging into the features of XCP, the first piece to look at is the Xen Project hypervisor, which is a Type 1 hypervisor at the core of the virtualization stack. The hypervisor contains all the features admins would expect, such as hot add of CPU and RAM, memory management, and high availability and Fault Tolerance -- though, HA and Fault Tolerance are still in the experimental stage. The hypervisor also has the ability to support paravirtualization drivers for Windows guests for those applications that require additional support.
Despite some of these features being in the experimental stage, admins must take this with a grain of salt. Many features in VMware were stable but listed as experimental as their products matured, so this is par for the course.
In addition to the Xen Project hypervisor, admins have the Xen Project Management API (XAPI), which extends the abilities of some of XCP's core features, such as VM lifecycle management, snapshots and migrations. The XAPI also extends advanced capabilities, such as Open vSwitch and Storage XenMotion. The XAPI is less of an add-on and more of a requirement for most admins looking to use virtual infrastructures from other vendors. Admins can also use the XAPI with third-party vendors to provide more extensive and GUI-based management interfaces.
XCP-ng makes its debut
In 2018, Xen introduced an evolution of its XCP product known as XCP-ng, which is the Xen Cloud Platform-next generation. This release related to the original XenServer, but the XCP-ng and XenServer split in 2018 due in part to pricing and feature restrictions. Though it might not seem ideal on the surface to have a product branch into software development, it helps to address many of the issues with open source software.
Before the XCP-ng, the XCP was a collection of multiple distributions and products that, while feature-rich, required a large amount of assembly on the admins part. The XCP-ng did what a lot of open source products failed to do: bring every product under a pair of umbrellas. It's how Xen packages XCP-ng that stands out.
Many open source projects often struggle with fractured deployments and confusing installations that require most admins to have a deeper level of Linux knowledge to even attempt to use the product. And Xen addressed this issue with the release of XCP-ng and its web and automation component Xen Orchestra.
That's not to say everything is perfect with XCP. Compared to other open source virtualization products on the market, XCP might be up to snuff depending on admins' requirements. But with XCP-ng, admins have the ability to request paid professional support that has enterprise time frames for response, which is a huge plus.
It's clear that XCP has evolved over the years from ISO and toolstack packages to what it is today, and it will continue to grow. Though open source software continues to garner concerns from admins, such as lack of support and ease of use, XCP-ng is a clear example that the open source community is listening to what admins and other IT people are saying. XCP-ng is helping to move open source projects from things only the Linux guru could understand to more mainstream applications that have a solid place in the IT market and the SMB to the enterprise.
Dig Deeper on IT systems management and monitoring