Fotolia
Optimize platform costs, use with an IT asset management strategy
Without a thorough asset management plan that accounts for the complexities of today's IT environments, organizations risk cost inefficiencies and suboptimal support for the business.
IT asset management is hardly a new concept. However, most organizations carry out these management practices ineffectively -- particularly when evaluating and optimizing the overall financial worth of their IT platforms.
As part of an IT asset management (ITAM) strategy, organizations maintain a detailed inventory of hardware and software resources to optimize their lifecycles and associated costs.
Businesses must know what their IT platforms are worth -- a task that has become increasingly difficult as IT environments grow in complexity. It can be a struggle to keep track of all the IT platform components in use, let alone their true worth. What's more, the worth of a platform isn't based simply on the potential value of its individual assets -- it is far more complex than that.
How to assess IT asset value
Hardware has some value on its own, which is its intrinsic value. But how do you measure that? Many organizations have a book value, wherein the value of an asset, for accounting purposes, is depreciated in a straight line over a specific period of time; this value varies between asset types. However, the true market value is different. As soon as a piece of IT equipment is unpacked, it loses a certain percentage of its value. Over time, that loss in value levels off and, even after many years, the item maintains residual value.
Any IT item, whether hardware or software, has zero business value unless it is in use. The asset must actively create data the organization can use to better carry out its business. Therefore, the data value of the item is also important. As the amount of useful data increases, the item's overall data value will also increase.
The combination of these values results in an overall business value. An example can be seen in Figure 1 below.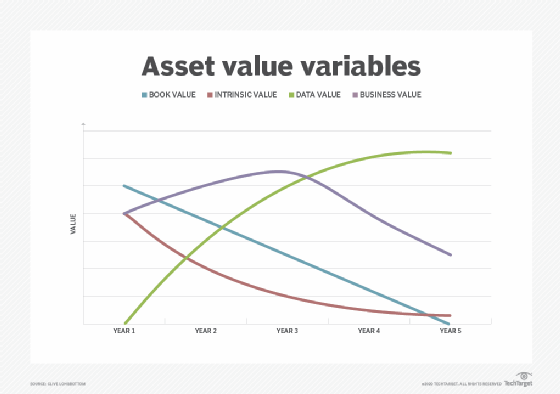 This model assumes a straight-line book depreciation of five years, with the item's actual cash value dropping off through to the fifth year. The data value climbs strongly at the start of the asset's use, with that growth slowing as it continues to age. This leads to an overall business value that peaks somewhere around the third year of the lifecycle.
This is where an IT asset management strategy affects the business. Financial decision-makers must understand this model: When business value starts to drop, the asset becomes a constraint on the processes dependent upon it.
It's tempting for IT and finance to sweat assets under the belief they can get extra value from them: Avoid this at all costs.
Instead, IT admins should use ITAM tools to identify the sweet spot between peak performance and depreciation. At that time, swap out equipment and software to provide the business with an optimized platform that works for, and with, the business.
What to look for in an ITAM tool
In evaluations of ITAM tools, emphasize the following capabilities:
Full discovery and cataloguing. IT teams can only analyze assets in full if there's established knowledge of existing inventory. The inventory must capture existing hardware, the OS that runs on that hardware, as well as the current version and patch levels. The same goes for software: What is it, and what is its version and patch level? A tool should also help identify dependencies, such as whether an application that runs on a particular server depends on a certain storage system.
Detailed workload stresses. Look for an ITAM tool that can determine if a server runs well below possible maximum loads or struggles to support workloads. If so, maybe IT teams can offload some workloads to other systems within the overall platform. This particular challenge has subsided as cloud computing, VMs and microservices enable the stateless movement of workloads through orchestration.
Advance an IT asset management strategy
Be sure to apply all starting values to IT assets. Document how much was paid for them upon the initial investment. Factor in book-value depreciation and -- if possible -- actual market values.
Then, model and evaluate individual workload performance on different parts of the IT platform to gauge how effective those platform components are in terms of business support. Replace or change any components that show suboptimal performance and implement new systems to provide the required support.
This ITAM approach makes sense for BizDevOps organizations. Teams can plan and test for performance, rather than blindly hoping the target IT operations platform will support new workloads. For example, an IT admin can transition old workloads away from high-performance servers or storage, or turn off old applications to free up resources for new workloads. And orchestration becomes far easier, since management is based on desired outcomes instead of best efforts.
As machine learning and AI continue to develop, this IT asset management strategy will become more mainstream. Business and IT leaders can see reports on the financial health of the platform -- both from a base value and a business value perspective.
Dig Deeper on IT systems management and monitoring