Best practices for better server lifecycle management deals
A buyer's playbook with granular forecasts of server refresh, upgrade, maintenance and precedent discount details strengthens your negotiation position with your server supplier.
Server customers often feel like they are at the mercy of hardware vendors when it comes time to negotiate server refreshes, renewals and maintenance agreements. It doesn't have to be that way. Explore these server lifecycle best practices to be better prepared for negotiations with suppliers.
The five stages of the server lifecycle -- net new purchase, optimum performance, end of OEM warranty, device becomes legacy and end of life -- form what IT consultant firm ClearEdge Partners refers to as the "hamster wheel." Server hardware vendors are well aware that you are going to be faced with decisions at each stage.
"They have these pitches [and] sales tactics in place to get you to buy more throughout the lifecycle," noted ClearEdge analyst Danilo Milevsky, who, along with colleague Atish Patel, presented the webinar Moments of Truth in the Server Lifecycle.
The first part of this series described the five stages of the server lifecycle in detail, while the second part presented specific real-world sales pitches server customers received at each stage. Now, it is time to delve into the two main server lifecycle best practices you can use to prepare for renewal negotiations and execute better on these sales deals: a buyer's playbook and forecast.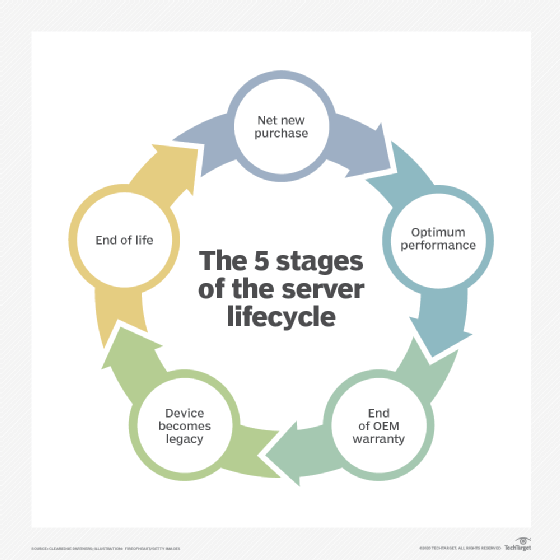 The buyer's playbook breaks down server supplier strategies during the lifecycle with ways to counteract them and take control of the negotiation timeline through transparency, demand modeling and configuration. It is, in essence, a cheat sheet you can have in front of you when you start your server deals.
Forecasting, from 12 to 18 months out, goes hand in hand with the buyer's playbook. It is the foundation upon which the buyer's playbook is built.
"If you do these things very, very well, I can guarantee you'll get better results, because that's what we've been seeing from our server deals," Milevsky said. "Successful deals have these two things: a forecast and a buyer's playbook."
If you do these things very, very well, I can guarantee you'll get better results, because that's what we've been seeing from our server deals.

Danilo Milevskyanalyst, ClearEdge Partners
The buyer's playbook
The buyer's playbook component is a checklist of what you need to do at the start of a server deal, Milevsky said. Its three pillars are transparency, demand modeling and configurations, which are designed to counter the sales tactics -- bundling, rushed purchases and early upgrades -- used by sales vendors throughout the five stages of the server management lifecycle.
For the transparency/bundling component, you want to have line-item breakdowns, SKUs, list pricing and the offer's discount detailed and ready to go before negotiations even start, he said. This lets you break a bundle offer down so you can understand the real cost of each component and real amount you're receiving on discounts.
"You can push back on that bundle. You can push back on the software, push back on the hardware," because that data is in front of you, Milevsky added.
Demand modeling/rushed purchases requires knowing defined quantities, what your architecture looks like, and what your fleet and spend sizes are, he said. It is information you can use as leverage so as not to be rushed into a purchase.
For example, a sales representative from a server vendor insists you have to sign a new deal this week or you will lose your discount. Demand modeling enables you to respond with, "I don't need this upgrade right now. I only need it in three months. I only need it in six months," whatever it may be, since you have the data in front of you to make an informed decision, he noted.
This lets you control the timeline and "not the rep because of their commissions," he added.
Regarding configurations/early upgrades, it's important to know your server processing power, memory and storage capacities, and your relationship history with your server vendor -- likely, an incumbent who already knows your environment well. That's because they are going to try and sneak something in that you might not really need, such as extra memory.
Say you receive an offer for a really good deal on an early upgrade. With detailed knowledge of your current server configurations at the ready, "You can say, 'No, I don't need it. I have a forecast. It needs to meet my forecast,'" Milevsky explained.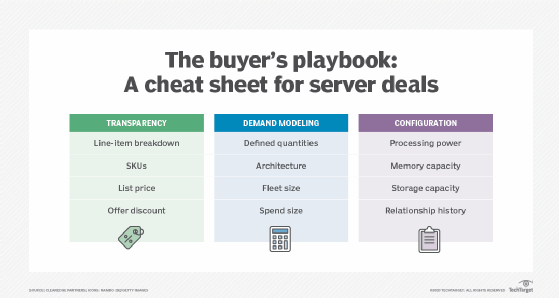 Forecasting
Which brings us to the 12- to 18-month forecast. Forecasting supports the buyer's playbook and is, according to the ClearEdge analysts, the most essential tool you can have when negotiating a server deal.
Your server refresh and renewal lifecycle forecast should include the following, Milevsky said:
Quarterly breakdowns. Most forecasts cover the next 12 months. But you need to get granular with timing, down to the quarter, so you know when you need to purchase new servers by and stretch the timeline if needed.
By doing so, "you can use those pieces and really understand, 'When do I need this server purchase by? Can I move it ahead? Can I stretch the timeline here so that the sales rep feels the uncertainty?' You can use that [quarterly forecast data] to your advantage," Milevsky said.
Server refresh, upgrades and maintenance. Forecasts often don't include all three of these important aspects of the sever lifecycle, according to Milevsky. But having these in a spreadsheet is to your advantage during negotiations with your supplier.
Most of the time you know when your maintenance renewal is, but you may not know how many machines need refreshing or upgrading or how many upgrades will be needed in the next six months, he said. Or, perhaps, your renewal date isn't handy.
"There's a lot of confusion there. If you have those three things [server refresh, upgrades and maintenance] in one spreadsheet, you're able move the pieces around as you wish and force the other side to give you a better deal on it," Milevsky said.
For example, you might say, "I have this $2.4 million renewal, but I can bring in an upgrade that was only going to happen next year. I can do it this year, if you give me a really good deal on it."
Precedent discounts. It is essential you keep track of what discount percentages you're already receiving from your server vendor. That way you will know when your supplier isn't offering you comparable discounts during your current negotiations.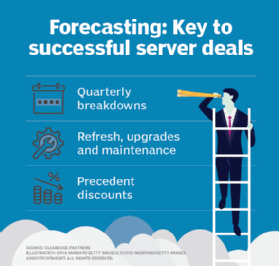 You should also know the list price and line-item breakdowns offered during server refresh and renewal negotiations the previous year, as suggested by the transparency component of the buyer's playbook. That way, "you can bring that quote back and show that to the rep and say, 'I want the same discount I got last year. Nothing's changed here,'" Milevsky explained.
By way of example, he added, "'Wait, why am I only getting 40% off here when, last year, I got the same exact server, the same exact memory, the same exact storage capacity for 60% off.'"
"If you're able to do those three things in your forecast" quarterly breakdowns; server refresh, upgrades and maintenance details; and precedent discounts in concert with the buyer's playbook, "I can absolutely guarantee you'll have better results in your server deals," Milevsky concluded.
About ClearEdge Partners
Founded by senior sales executives from large IT suppliers and informed by current market analytics, ClearEdge enables CIOs and their teams to make more competitive IT investments. By combining rigorous inspection and IT financial expertise, they identify risk and opportunity, align internal teams, and maintain leverage throughout the lifecycle of supplier relationships. As a result, their clients maximize the value of their investments by unlocking millions of dollars from legacy spending and redirecting funds toward IT modernization, digital and cloud transformation with confidence and speed.