COVID-19 jolts tech spending, spurs more flexible vendor terms
IT spending by companies in the early days of COVID-19 quickly turned to cost-cutting. Learn how vendors responded with new terms and aggressive discounting for new business.
Six months into the COVID-19 pandemic, the initial burst of tech spending by companies racing to support remote work has given way to cost-cutting in many organizations. IT services, hardware and software vendors -- including those benefitting from the early boom -- have responded to the decrease in IT spending by offering flexible financial terms rarely seen in previous downturns. That is according to ClearEdge Partners, a consulting firm specializing in IT contract negotiations.
"There's been a change in some IT supplier behavior and strategy due to both the clients' business challenges with the pandemic, as well as some of the economic impacts on those suppliers' business models," said Chris Powers, managing partner in charge of the cloud ERP, professional services and outsourcing practices at ClearEdge.
Vendor responses to the belt-tightening range from deferring payments and holding unit prices steady at pre-COVID-19 levels regardless of volume, to flooding customers with offers of free product trials. Meanwhile, companies that have the wherewithal to increase their tech spending enjoy significant leverage with vendors scrambling for new business, Powers and other ClearEdge analysts said.
How long these changes last, of course, remains uncertain. And some of the offers that appear to favor customers in fact carry hidden risks, the analysts warned.
In a recent webinar on the impact of COVID-19 on IT buying decisions and vendor terms, Powers and his colleagues gave detailed accounts of the changes they've seen over the past six months. Here is a recap of their major findings in the IT services, hardware and software markets.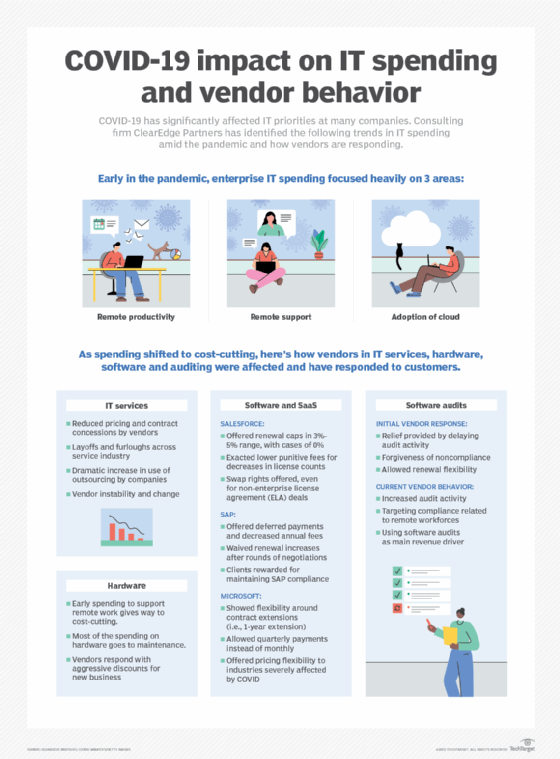 3 trends rocking the IT services industry
The lockdowns and mandatory distancing guidelines that have upended airlines, restaurants and other industries in the service economy did not spare the IT services industry.
"I will tell you that the IT services market, whether it be outsourcing, professional services, consulting or staff augmentation, has also been significantly impacted," Powers said, "and probably impacted more than any other IT category." Layoffs and furloughs across the IT services industry have increased. The sector's traditionally healthy profit margins are not enough to sustain firms beyond a few months, he added. Three trends have emerged as a result:
Reductions in vendor pricing. Many vendors have reduced IT labor rates and others have also reduced what they charge overall for professional services projects. Professional services firms like McKinsey and Boston Consulting Group are offering "dramatic reductions" in consulting costs in order to keep their employees working, Powers said, noting that the staff at such companies is typically highly recruited, highly trained and highly paid. "They can't have them idle," he said. ClearEdge has seen smaller firms deliver projects at cost just to keep the revenue stream going. Customers who have the resources to do competitive bidding can "really start to realize some of these reductions," he said.
Dramatic increase in use of outsourcing services. Companies have upped their use of both IT outsourcing and business process outsourcing to not only reduce labor costs, but also improve labor flexibility and free up internal staff to focus on the core business, Powers said. COVID-19 has underscored the need for companies to quickly adapt to changing conditions: "Outsourcing solves some of that problem." In turn, outsourcing providers are "making significant concessions to capture new business, [such as] waiving startup fees and offering initial service discounts," he said. However, there are risks. Outsourcing contracts can be very complex, and in the race to push more work to outsourcing providers, companies must be careful to fully vet contracts and avoid incurring risk.
Vendor instability and change. COVID-19 is driving "shrinkage and consolidation" in the IT services industry, Powers said. That means buyers must look at vendor viability as part of their due diligence. Adding to the volatility, consulting and professional services firms whose business has been negatively impacted by COVID-19 are venturing into other areas that are in demand, such as outsourcing and IT transformation, and pricing their services competitively to get new business.
Powers advised companies to take advantage of the turmoil in the IT services market -- but be mindful of the risks.
"You have good leverage position. As you plan and renew service agreements, you want to try to [have vendors] compete where possible andunderstand and operate in this position of strength," he said. "You really have an opportunity here."
In COVID-19's wake, hardware spending shifts to maintenance
As lockdown orders went into effect, enterprises opened their wallets, bolstering networks, buying laptops and adding other computer equipment to enable remote work. But the buying spree did not last long, according to ClearEdge principal analyst Corinne Boyles.
"We're really settled in now, and the focus has turned to cost-reduction activities," she said, adding that companies positioned to spend on brand new projects "can count on extra attention from their sales reps."
Most hardware spending by companies today is going to maintenance, Boyles said. On the customer side, ClearEdge is seeing three changes in customer behavior.
Taking careful stock of inventory. This was not always the case, with customers and their OEMs often not in sync on what was deployed or on the products that needed support. As companies take stock of their inventory, Boyles advised they take careful note of products currently getting priority support that could safely be on a lower level of support.
Using third-party support providers for noncritical infrastructure. The reluctance to use third-party maintenance support is waning as companies look for ways to cut costs, Boyles said. At minimum, a serious look at third-party providers often prompts OEMs to offer better terms in order to keep your business, she said.
Asking to open contracts early to revise terms. Alas, this is a customer trend that is not bearing much fruit. "We're not seeing a lot of willingness from vendors to open these contracts and consider changing the cost structure, whether that's extending [contracts] or reducing payments," she said. Companies whose current financial performance has changed because of the pandemic are typically stuck with the terms they negotiated prior to the pandemic. "The best outcome we've seen is the ability to delay payments, if folks really need to do that, but the total cost is not going down."
For new business, the picture is different.
"Because vendors are so desperate for net new dollars, they're quicker to jump to these aggressive discounts in order to try to win over clients and get their spend dollars," Boyles said. She cited the example of a ClearEdge client interested in upgrading a significant portion of its storage hardware and software to a more current technology.
"While Dell EMC hasn't shown a lot of flexibility for customers doing a maintenance renewal without any other activity going on, in this case they showed a lot of willingness to lower the customer's annual maintenance bill in order to guarantee the new net hardware/software business [involved in] the storage refresh," she said.
Software and SaaS vendors make concessions
Spending on software and SaaS followed the same trajectory as IT services and hardware, with an initial buying spurt quickly replaced by cost-cutting. In the wake of the pullback, software vendors have demonstrated a flexibility "we haven't seen from them in the past," said ClearEdge analyst Matthew Gowing. For example:
Salesforce has offered renewal caps of 3% to 5% on price increases, whereas pre-pandemic the CRM vendor was "very reluctant" to budge from its standard 7% renewal cap.
SAP reduced a client's annual spend by $50,000 contingent upon getting a meeting with the client's CFO.
While Microsoft has largely benefited from the COVID-19 era's move to remote work, it has also made allowances, letting companies make quarterly instead of monthly payments, for example, and offering more flexible terms to industries such as healthcare that have been hit hardest by the pandemic.
Not all the major software vendors, to be sure, have changed their practices, Gowing said, singling out Adobe and ServiceNow as examples. Adobe told a ClearEdge client early on in the crisis that it would not be making concessions, Gowing noted, and he expects that posture to continue for the duration of the pandemic. ServiceNow communicated to customers that changing contracts midstream presented too many legal and accounting risks for the cloud-based IT services company. It has been more lenient on renewal caps when clients present a strong business case or plan to upgrade to new products, Gowing said.
Like their counterparts in IT services and hardware, software vendors are also "extremely hungry to get net new business," Gowing said. One strategy that vendors are using to maintain or increase their customer footprints is to offer free trials of products. But the free stuff is not risk free, he added.
"Free trials come with hidden terms that can result in purchase premiums down the line," Gowing said.
Another caveat: "While we're seeing a lot of flexibility right now, it's very possible that we see an uptick in audits down the line, as suppliers attempt to recoup come of this lost revenue," he warned.
COVID-19 bright spot: IT transformation, alignment
What the ultimate fallout of the coronavirus pandemic will be on the business world is an open question. What's clear is that the pandemic has forced many businesses to reevaluate their IT priorities and their reliance on legacy systems, Powers said. "COVID has acted as an IT transformation accelerant."
He said transformation-related IT investments have focused on three primary areas.
Remote productivity. The need to support remote productivity spurred investment in everything from laptops and mobile devices to productivity platforms like Teams, Slack and Zoom and the security platforms required to protect employees in the new digital workplace.
Remote support. As customer use of call center services rose to all-time highs in the wake of COVID-19 lockdowns, organizations beefed up their call centers and IT support teams -- and had to figure out the licensing needed to handle the increase in activity.
Cloud adoption. The shift to remote working environments turbocharged the adoption of cloud services, including migrations to the public cloud and the use of SaaS platforms.
The intense push to transform enterprise IT environments to support employees and customers during the pandemic should continue to pay dividends, helping companies compete in an increasingly digital economy.
The drive to transform IT environments has come with another positive change, according to Powers. "It's brought down a lot of organizational barriers and led to improvements in alignment among business stakeholders" and the IT, sourcing and financial teams that support them, he said. The result is a more transparent -- and smarter -- IT buying decision process.
"If there's anything positive to come out of the pandemic from an organizational perspective," said Powers, "it's that organizations can now see how much can be accomplished if they align."
To register for and view a recording of the full webinar, which also includes a section on auditing and compliance, go to "Continuing Impact of COVID-19 on IT Spending."
About ClearEdge Partners
Founded by senior sales executives from large IT suppliers and informed by current market analytics, ClearEdge enables CIOs and their teams to make more competitive IT investments. By combining rigorous inspection and IT financial expertise, we identify risk and opportunity, align internal teams and maintain leverage throughout the lifecycle of supplier relationships. As a result, our clients maximize the value of their investments by unlocking millions of dollars from legacy spending and redirecting funds toward IT modernization, digital and cloud transformation with confidence and speed.