Improve your IT contract negotiations by focusing on 5 factors
When buying technology, a bare-knuckle approach rarely succeeds. To get a good IT deal, CIOs should pay heed to five transformations driving businesses, ClearEdge's CEO says.
IT contract negotiations require CIOs to factor in a host of variables, from integration costs and user adoption to business growth. Indeed, getting a good IT deal won't happen without a solid understanding of these myriad dependencies. Yet, according to Jack Garrahan, president and CEO of consulting firm ClearEdge Partners, many CIOs default to a negotiating tactic that works only for the most powerful companies: leaning on a price times quantity equation.
"I hear it all the time: 'If I buy a certain quantity, then I should be able to get my number,'" Garrahan said. That strategy, coupled with the commonplace view that it pays to "rough up the supplier," typically is not an effective formula for getting a good IT deal -- from what he has seen.
"My experience is that the bare-knuckle approach rarely works in the market of IT solutions because you need overwhelming pricing power to pull it off," he said.
To get a good IT deal, Garrahan said CIOs should instead pay heed to the following five major transformations driving today's businesses: mergers and acquisitions activity; cost transformation; migration to the cloud; digitization of business operations; and the changing relationship between business and IT.
ClearEdge Partners, founded by senior sales executives from large IT suppliers, specializes in IT contract negotiations. According to Garrahan, the firm works with CIOs and their teams on thousands of IT deals each quarter from a pool of more than 1,400 vendors.
In a webinar titled "What Makes a Good Deal?" that's posted on the ClearEdge website, Garrahan laid out why using a price times quantity (P x Q) strategy for buying technology is ineffective and offered CIOs a new perspective on how to wring up to 30% more value from their IT deals.
Pricing and quantity only one aspect of IT contract negotiations
The first obstacle CIOs face in IT contract negotiations is that vendor pricing systems "don't mean much," Garrahan said. Three of the top 30 vendors ClearEdge works with, for example, don't even have list prices. "How do you benchmark something that doesn't have a price?" Of the remaining vendors, over half have pricing systems that allow for more than 90% off the list price, he said. Others offer over 80% off, and still more will go north of 70% on discounts.
"Add it all up -- 90% of the top 30 suppliers have absolutely no pricing integrity. It's that simple," Garrahan said. He ran through the discounts from three of the 30 vendors -- Nos. 22, 14 and 1 (pictured) -- to make his point, comparing costs with their maximum discounts vs. ones that are three percentage points less.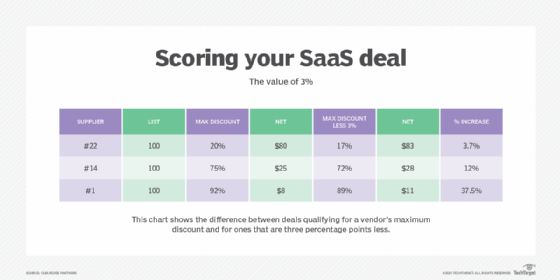 Vendor No. 22, with the lowest discount rate of the three, offers up to 20% off. In a hypothetical purchase of an item list-priced at $100, the 20% discount puts the cost at $80. If the buyer only qualified for a 17% discount, the cost is $83, or a 3.7% difference over the fully discounted price -- "not much," Garrahan said. Vendor No. 14's discount is up to 75%. The full discount on a $100 item puts the cost at $25; a 72% discount comes out to $28, a 12% price difference. Vendor No. 1's maximum discount of 92% is in the realm of most vendor discounts, according to Garrahan. The full discount applied to the same hypothetical $100 item comes out to a cost of $8; an 89% discount seems close, but the resulting $11 price is 37.5% higher.
"So, are you fighting for 3.7% or 12% or 37.5%? Having a focus on the P part of our equation can get pretty risky," he said.
The quantity part of a P x Q approach is not any more straightforward. IT contract negotiations are complex, Garrahan said, due to the "long shelf life of issues" CIOs must consider in order to truly understand what they're buying.
"Quantity can be many different things over time," he said.
When figuring out quantity, CIOs must consider explicit risks, such as usage and audit rights, price holds and disaster recovery, as well as implicit risks, such as deployment, security, data control and service levels. At the end of the agreement, there are license rights, maintenance fees, renewal rights and reduction rights to consider.
"That's why our agreements become complex collections of terms, as we try to predict all the permutations of the risks associated with the investments we're making," Garrahan said.
Finally, CIOs also have a "pressing need to satisfy internal stakeholders -- the folks that are driving our businesses forward," Garrahan said. Technology deals must support business objectives and enable corporate strategy. "That urgency is the other major dimension that must be factored into our calculations" when buying technology, he added.
5 major transformations affecting IT contract negotiations
Online powerhouses, like Amazon, Netflix and Uber, have radically changed how customers interact with businesses in nearly every industry, Garrahan said. Traditional companies are responding to the digital disruption of their industries by changing their business models.
Returning to the five major transformations he pointed to, he detailed the challenges that IT leaders face as companies adapt to this new business environment:
Mergers and acquisitions. Mergers and acquisitions are a major way companies are modernizing their business models for a digital age, Garrahan said, citing the 18,000 mergers and acquisitions deals in the U.S. in 2018. (North American mergers and acquisitions totaled 15,776 in 2019, according to the Institute for Mergers, Acquisitions and Alliances.)

"Repositioning for the future through buying and selling businesses challenges dealmakers, as you've got to rationalize the IT solutions to the suppliers through contract changes," Garrahan said.
Cost transformation. Companies that can't grow their market share have to take cost out, Garrahan said. IT is a both a big cost center and a necessity. "Squeezing costs out of legacy IT solutions to make your P&L [profit-and-loss] number and to help fund the innovation you need is a very tough row to hoe," he said.
Cloud transformation. "Boards are being told to get to the cloud because it is faster and cheaper," Garrahan said. The "big knock" on IT is that migration to the cloud is happening too slowly.
Digital transformation. Companies are under pressure to offer customer- and employee-friendly tech. "The success of the iPhone and its app stores made it clear that the future required much more friendly solutions that are ubiquitous," Garrahan said. "This requires innovation -- and fast."
Business-IT relationships. As the urgency to transform increases, the "pace of play has sped up," Garrahan said, with many vendors selling directly to business owners. Many of these business owners lack a technology background and need support. "This transformation needs leadership at the deal level," he said, to ensure business owners get value when buying technology.
In times of business model transformation, business-IT alignment is critical. To be successful, CIOs need to see their IT deals in the context of these five major transformations, according to Garrahan. The IT deals they make -- and the ones their business partners execute -- must support their company's new business strategies.
Many companies leaving 30% on the table in IT contract negotiations
Securing an IT deal that supports these transformations versus one that mainly benefits the vendor is not easy, even for what seems like a relatively straightforward P x Q deal: a SaaS contract. To illustrate his point, Garrahan ran through all the variables associated with a SaaS deal involving a leading provider of CRM software -- e.g., security, data ownership, service levels, termination rights and intellectual property rights.
"The seemingly simple model of paying a monthly rate for [one of the vendor's products] is anything but," he said.
To help companies think through their IT contract negotiations and put a plan in place to achieve a good deal, ClearEdge has developed a scoring system that focuses on five areas: price, demand modeling, product rights, growth and reduction rights, and contract structure. Each area is awarded points based on best practices observed across recent deals with the vendor.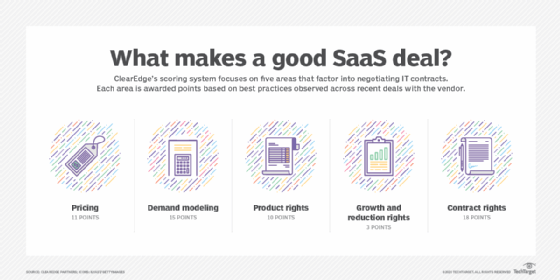 "Over time, we've learned contract terms are significantly more important than price, and capturing the terms that are really important, like growth and reduction clauses, have become more difficult to obtain from vendors," Garrahan said. By doing the scoring, ClearEdge can "show clients what's possible and also help them navigate the difficulties that arise as they're changing their IT models."
A chart of client results shows a wide range of performance for clients A-S (pictured), with some clients capturing as much as 70% of the available points and others in negative territory. Garrahan pointed to a SaaS deal put together by "client R," whose score of 14% was particularly low, especially considering the price this company was able to negotiate. "They achieved the absolute lowest price we've ever seen," Garrahan said. "They also signed one of the four worst deals we've observed over hundreds of deals [with this SaaS vendor]."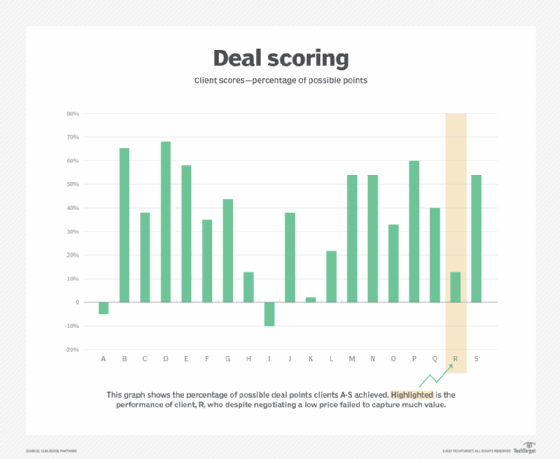 "Their singular focus on P, or price, left them wide open to the [software vendor's] sales team, who knew how to manipulate a buying process [and] define the terms and conditions which benefit the seller and end up costing the client many times more than they would have had to pay had they focused on all of the dimensions of what goes into a good deal," he said.
ClearEdge estimated that companies leave up to 30% of their technology spending budgets on the table due to poorly structured contracts -- money that, if saved, could be used for other purposes or to buy more products from their vendors, Garrahan said.
For more on how to improve your IT contract negotiations, check out Garrahan's webinar here.
About ClearEdge Partners
Founded by senior sales executives from large IT suppliers and informed by current market analytics, ClearEdge enables CIOs and their teams to make more competitive IT investments. By combining rigorous inspection and IT financial expertise, they identify risk and opportunity, align internal teams and maintain leverage throughout the lifecycle of supplier relationships. As a result, their clients maximize the value of their investments by unlocking millions of dollars from legacy spending and redirecting funds toward IT modernization, digital and cloud transformation with confidence and speed.