Gartner forecasts near 20% growth for public cloud services
Gartner's latest research predicts an uptick in cloud spending, spurred by demand for public cloud services and cloud-based communications; more channel news from the week.
New research from Gartner adds to what's becoming a consensus view regarding the COVID-19 economy: The cloud offers the greatest near-term growth potential for IT providers.
The market research firm is forecasting an 8% year-over-year drop in worldwide IT spending in 2020. Public cloud services, however, are on track to grow 19% this year, according to Gartner's projections. Cloud-based conferencing will experience 24.3% growth, while cloud-based telephony and messaging will grow at 8.9% clip, the company reported.
The anticipated expansion of public cloud services and cloud communications stands to benefit channel partners invested in those areas. Managed public cloud services have become an important offering among partners. On the cloud communications front, IT services providers are helping clients deploy Microsoft Teams, RingCentral and Zoom, among other products, to support remote work.
Cloud consultancies have expressed confidence in continued cloud demand during the pandemic, with companies making strategic acquisitions and launching new services.
Factors driving cloud growth
The rise in remote working, an immediate response to the pandemic, drives near-term demand for public cloud services and cloud communications, according to Gartner's projections. Other factors contribute to cloud demand, however.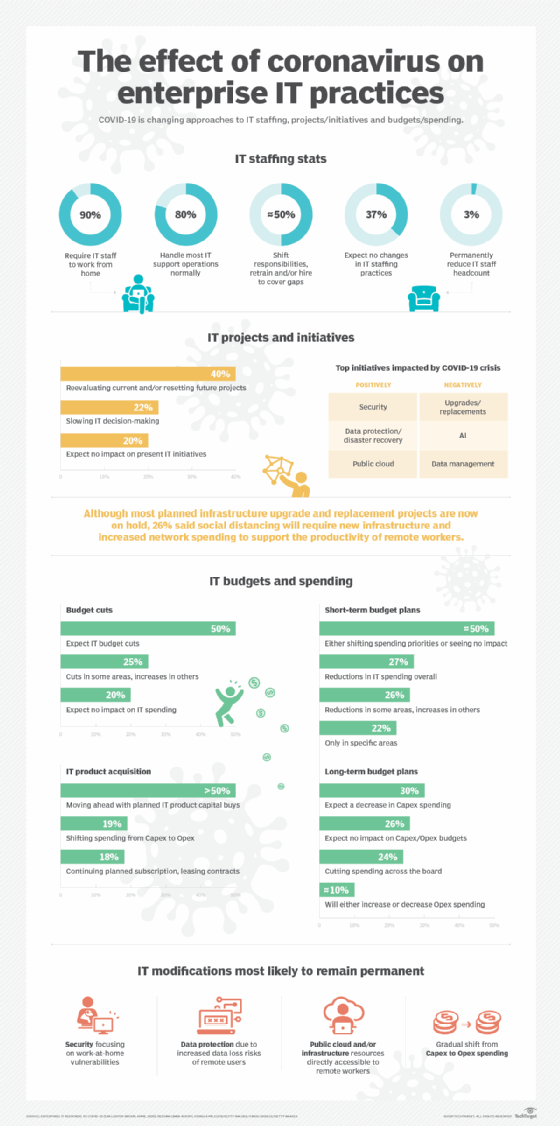 John-David Lovelock, distinguished research vice president at Gartner, predicts a likely shortage of servers and data center equipment later in the year. Physical IT resources could become harder to find in late 2020 due to lags in the supply chain, a drop in semiconductor production, tariffs and borders between trading partners remaining closed. Cloud services would provide an alternative for customers in need of compute capacity.
Over the longer term, Lovelock said he anticipates an acceleration of cloud spending as companies seek to retool their business approaches in the aftermath of the COVID-19 pandemic. The cloud spending levels Gartner had been expecting to appear in 2023 and 2024 could start appearing in 2022. "It's bringing the future forward," Lovelock said, noting that digital business will be further along in 2020 than it would have been without pandemic-influenced spending.
Lovelock likened the pandemic-driven economic crisis to the Great Recession, when businesses needed to change direction to get out of the downturn. As companies exit the lockdown phase of the pandemic, they will similarly need to change how they do business. With limited cash to do so, they will look to the cloud, Lovelock said.
Cloud forecasts
Gartner's projections are in line with other market watchers.
Forrester cited cloud infrastructure services as one of the few bright spots in its tech spending forecast, which projects a 5% to 9% decline in 2020. Statista, meanwhile, cited the cloud as propelling the growth of the infrastructure sector, which it forecasts to expand at 3.8% rate in 2020.
"Thanks to cloud, currently the infrastructure market is the only segment in the global IT industry to still show growth in 2020," Statista noted in its forecast.
Other news
Maven Wave, an Atos company based in Chicago, said it is the first Google Cloud partner to roll out a partnership with Snowflake's cloud data platform. Snowflake in February kicked off its general availability on Google Cloud.
Digital Defense Inc., a cybersecurity company in San Antonio, said it is working with managed service providers to offer healthcare organizations free ransomware assessments, collectively valued at $1 million. Healthcare organizations new to Digital Defense can sign up for the free assessments over the next 60 days. Digital Defense said it is offering the assessments on a first-come-first-served basis or until the $1 million offer is exhausted, whichever comes first.
An insurance industry study from DXC Technology, an IT services company based in Tysons, Va., suggests changes in consumer expectations are opening opportunities for insurers to "adopt and strategically deploy digital technologies." Among other findings, the survey of more than 2,000 U.S. consumers revealed that 87% of the respondents would feel comfortable sharing personal and lifestyle-focused data in order to obtain lower insurance premiums.
2nd Watch, a professional services and managed cloud company based in Seattle, has launched a cloud disaster recovery service. The service uses the AWS cloud platform as the recovery site.
Managed services industry association MSPAlliance has teamed up with cybersecurity vendor PC Matic to launch an MSP security awareness program. The program aims to promote security best practices and the adoption of security technologies among MSPs, the companies said. After an MSP demonstrates cyber risk protection practices, the MSP can achieve the MSPAlliance's Cyber Verify assurance ratings.
Softchoice, an MSP and technology solutions provider based in Toronto, said it has obtained the VMware Cloud on AWS Master Services Competency.
Peak-Ryzex, a Columbia, Md., solutions provider focusing on the digital supply chains and mobile workforces, unveiled a partnership with FarEye, a predictive logistics platform.
D&H Distributing added Vade Secure, a predictive email defense software vendor, to its Cloud Marketplace. The latter company provides Vade Secure for Microsoft 365.
Cloud distributor Pax8 said it is offering StorageCraft's ShadowXafe and OneXafe Solo.
Distributor Synnex Corp. will offer Bitdefender's Cloud Security for MSP product suite on the Synnex Stellr Marketplace. Cloud Security for MSP provides email security, endpoint detection and response, and patch management among other security technologies.
Liongard, which offers an automation platform for MSPs, closed a $17 million funding round. The latest round brings Liongard's total funding over the last three years to nearly $23 million, according to the company.
Gtmhub, a strategy execution management software vendor, launched a channel partner program. The company said the program will be led by vice president of business development David Stadulis. Stadulis joined Gtmhub in February from Atlassian, where he was a global alliances manager.
Onapsis, a Boston company that specializes in mission-critical application cybersecurity and compliance, expanded its Business Risk Illustration assessments to include operational resiliency, audit efficiency and cyber risk assessments. The company is offering the complimentary assessments to system integrators, managed security service providers, technology alliances and VAR partners.
Hyper-converged infrastructure vendor Nutanix promoted Christian Alvarez to senior vice president of worldwide channels. Alvarez joined Nutanix in September 2019 as its vice president of Americas channel sales.
Market Share is a news roundup published every Friday.
Additional reporting by Spencer Smith.