Gartner: Global IT services market to grow 7.9%
Market research firm suggests MSPs and consultants will find the fastest-growing opportunities at the low and high ends of the $1.3 trillion market; other IT channel news.
Technology spending is on the rise, and the IT services sector ranks among the top growth segments.
Gartner's worldwide spending forecast, released this week, anticipates 7.9% year-over-year growth for IT services in 2022. The global IT services market is expected to reach $1.3 trillion this year. IT services' growth lags behind only enterprise software, which Gartner forecasts to expand by 11%. That increase also bodes well for IT services firms, which often find themselves called upon for advisory and implementation services around enterprise software.
IT investment, overall, is pegged to grow 5.1% year-over-year in 2022, reaching $4.5 trillion, Gartner reported. Channel partners can expect to encounter CIOs in transition amid the market's expansion. Tech managers are moving beyond urgent, short-term IT projects -- typical of the early months of the COVID-19 pandemic -- to more forward-thinking, innovative efforts.
"Planning is going long-term," said John-David Lovelock, research vice president at Gartner.
Against that backdrop, MSPs and consultancies will find the highest growth opportunities at either end of the services spectrum. Demand is growing for lower-end services such as traditional IT outsourcing, colocation and application management, Lovelock noted. CIOs will tap service providers to offload repetitive tasks from internal IT staff and free up time to train them on higher-value activities. Meanwhile, high-end services such as cloud strategy and business transformation will also see solid uptake, he added.
Gartner expects the vast majority of large organizations to use external consultants to develop their cloud strategy over the next few years.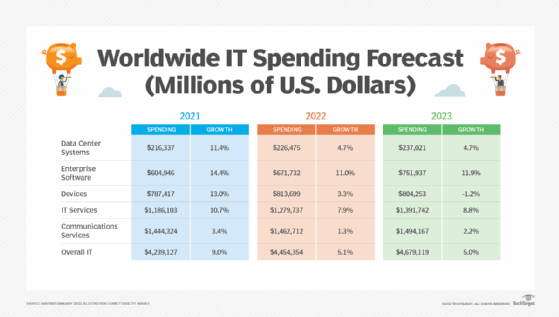 Digital business projects such as cloud adoption, coupled with the IT skills shortage, will bolster the services sector going forward. Organizations through 2025 will boost their reliance on outside consultants as digital initiatives accelerate and the resource gap endures, according to Gartner.
Planning is going long-term.

John-David LovelockResearch vice president, Gartner
Other news
Datto Holding Corp., an MSP technology vendor in Norwalk, Conn., has acquired Infocyte, a threat detection and response company. Infocyte, based in Austin, Texas, focuses on endpoint detection and response (EDR) technology and managed detection and response services. The company also provides a security operations center. The deal follows Datto's 2021 purchase of BitDam Ltd., a cyberthreat detection company. Other MSP software companies in recent years have also acquired security vendors to augment their technology stacks. ConnectWise, for example, made a double swoop in 2020 for Perch Security and StratoZen. Perch Security provides threat detection and response offerings, while StratoZen focuses on security information and event management.
Rackspace Technology, a multi-cloud technology services company based in San Antonio, has agreed to acquire Just Analytics, which provides cloud-based data, analytics and AI services in the Asia-Pacific region. Just Analytics, founded in 2011, employs more than 100 people in its Singapore headquarters with additional employees in Vietnam and India. In other news, telecommunications provider BT will deploy Rackspace technology in its data centers to offer hybrid cloud services.
Netrix, an MSP and professional services company in Chicago, has acquired BTB Security, a cybersecurity and digital forensics company. The deal expands Netrix's ability to provide cybersecurity consulting services to SMBs, according to the company.
Deloitte will include CrowdStrike and Exabeam products in its managed cyberthreat detection and response offering. CrowdStrike, an EDR vendor, will contribute its endpoint and cloud security, zero trust, threat detection and intelligence, incident response, vulnerability management and threat hunting technologies. Exabeam, an extended detection and response vendor, will provide its user behavior analytics and automation capabilities.
SoftwareOne Holding AG, a software and cloud technology solutions provider based in Switzerland, and AWS have agreed to combine their efforts to support customers' cloud migration and modernization projects. SoftwareOne said it will also expand its Cloud Center of Excellence with certified AWS resources and train new AWS cloud professionals in its SoftwareOne Academy.
Position Imaging, a package logistics and asset-tracking company in Stratham, N.H., launched a channel program that lets partners offer its package management products. The company's product line includes Smart Package Room, which is geared to multiunit residential properties and campuses, and iPickup Room, the entry-level version of Smart Package Room.
TD Synnex has added SentryBay, a cybersecurity software company based in London, to its vendor roster. TD Synnex will distribute SentryBay's Armored Client and Data Protection Suite to its channel partners in the U.S. and Canada. The relationship will eventually expand globally.
Onapsis, an application cybersecurity and compliance company in Boston, appointed Rocco Donnino as senior vice president of global strategic alliances and channels. Donnino joins Onapsis from Unbound Security, where he was executive vice president of strategic alliances.