WavebreakMediaMicro - Fotolia
How can the Samsung Knox Service Plugin help mobile admins?
The Knox Service Plugin helps Samsung smartphone admins roll out security features through EMM tools more quickly. The program lowers the programming burden for EMM vendors as well.
Many organizations adopt Samsung Knox-enabled smartphones to increase security for their Google Android users.
The latest versions of Android OS offered increased security with new additions to the Android Enterprise program and OS features, but Samsung Knox provides an even higher level of security.
Some of the benefits that Knox provides aren't automatically enabled, so organizations still need an enterprise mobility management (EMM) suite to take advantage of Samsung Knox's enhanced security features. The Samsung Knox Service Plugin provides an easy way for both enterprise organizations and EMM vendors to support Knox-enabled devices.
How does the Samsung Knox Service Plugin work?
In the past, EMM vendors had to program a different interface for each smartphone model. This was a burdensome process and created a delay in getting complete management capabilities for new devices.</
EMM vendors that support the Knox Service Plugin capability in Android no longer need to build specific programs for each device model. This method allows for a simple 'plug and play' capability as Samsung provides EMM vendors with the required programming for each new smartphone. This eliminates the programming burden for the EMM vendors and also makes it possible for IT pros to provide instantaneous support for new smartphone models as they become available. This way, organizations don't have to restrict which smartphones their users can choose from.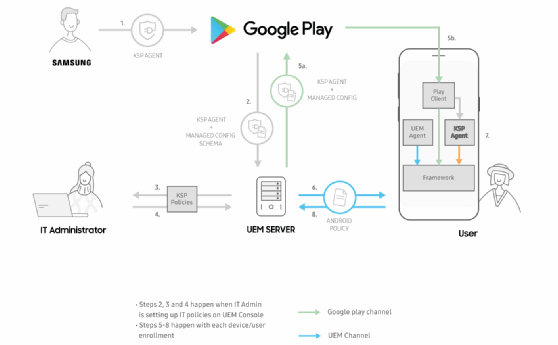 The service essentially works by creating a Knox policy in the EMM tool that IT must upload to the managed Google Play Store.
Knox Service Plugin builds on the capabilities available in Android's Managed Play Store and OEMConfig. With these programs, organizations can create policies and manage devices that include Samsung Knox from any supported EMM tool.
The service creates a Knox policy in the EMM tool that IT must upload to the managed Google Play Store. From there, IT professionals can set up a private download area that's only available to authorized users. Users then download the policy settings information to their smartphone, where the local Samsung Knox agent can then set the required Knox policies on the device.
Dig Deeper on Mobile security
With the Android Enterprise Essentials program, organizations get simple and basic device management. However, this approach isn't a great fit for ... Continue Reading
To simultaneously tackle the issues of mobile user privacy and security, IT can deploy Android Enterprise Recommended devices and partition them with... Continue Reading
Project Mainline promises to make the Android update process more segmented. This new structure allows IT to push out critical updates without ... Continue Reading