Definition
Multimedia Messaging Service (MMS)
What is Multimedia Messaging Service (MMS)?
Multimedia Messaging Service (MMS) is a communications technology developed by 3GPP (Third Generation Partnership Project) to enable the transmission of multimedia content via text message.
An extension to the Short Message Service (SMS) protocol, MMS defines a way to send and receive, almost instantaneously, wireless messages that include images, audio, and video clips in addition to text.
A common application of MMS messaging is picture messaging, which is the use of phone cameras to take photos for immediate delivery to a mobile recipient. Other possibilities include animations and graphic presentations of stock quotes, sports news and weather reports.
How MMS works
The process of sending and receiving an MMS message in a typical phone-to-phone MMS transaction works this way:
The sending phone triggers a data connection that provides TCP/IP network connectivity, typically over GPRS (General Packet Radio Service).
The sending phone performs an HTTP POST to a Multimedia Messaging Service Center (MMSC) of the MMS message encoding in the MMS Encapsulation Protocol as defined by the Open Mobile Alliance. The encoded MMS message includes all of the content of the MMS message, along with header information that includes a list of intended recipients for the message. (The HTTP POST will be routed through a proxy server in most environments. Some devices will use WP-HTTP (Wireless Profiled HTTP) and TCP through a WAP 2.0 proxy server, while other devices will use the Wireless Session Protocol through a conventional Wireless Application Protocol [WAP] proxy server/gateway.)
The MMSC receives the submitted MMS message and validates the sender of the message.
The MMSC stores the content of the MMS message, making it available as a URL link that's dynamically generated.
The MMSC generates an MMS notification message, which is sent via WAP Push over SMS to the recipient(s) of the message. This MMS notification message contains a URL pointer to the dynamically generated MMS content.
The recipient receives the MMS notification message and initiates a data connection that provides TCP/IP network connectivity (usually over GPRS).
The recipient phone performs an HTTP (or Wireless Session Protocol) GET to retrieve the MMS message content URL from the MMSC.
Best practices for MMS
To optimize MMS messages for the best user experience, use the following best practices:
Ensure the image layout is vertical, as most mobile devices display vertically.
Use JPEG format for images.
File size of images should be under 500 KB.
The best aspect ratio for images is 9:16.
The resolution of the image should be 72 pixels.
The subject line is 64 characters.
Keep additional text to fewer than 500 words for better readability.
Use GIF format for animated images.
GIF format file size should be under 500 KB.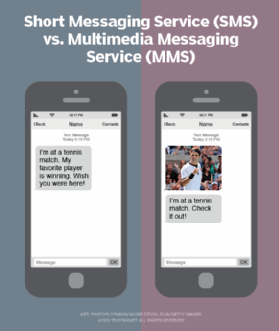 Differences between MMS and SMS
Although MMS and SMS are built using the same underlying technology, there are some key differences between the two, including the following:
Amount of space. SMS messages have a maximum limit of 160 characters for all messages sent between devices. Messages over the 160-character limit are split into multiple segments of 160 characters each. Most carriers automatically link these messages together so that they arrive in the order they were sent. MMS messages offer users many more characters, providing them an almost unlimited amount of space to type messages and send various forms of media. Most wireless carriers limit the number of characters per message, although limits differ across carriers. However, MMS still provides much more space than SMS.
Media in messages. MMS enables users to embed media into messages, including videos and GIFs. The recipients don't have to click on links to websites to see images, and it's easy to send audio clips. SMS, on the other hand, is limited as it's unable to send or receive multimedia material. It can only send or receive links to the material.
Pricing. MMS messages cost a bit more because more data is transmitted. However, since texts can carry information and call recipients to action effectively (in the case of marketing), images may not always be necessary. SMS may be the way to go for companies that need to communicate quick messages and have customers follow certain links. But MMS may be the right choice for companies that really want to grab the attention of consumers, send images and that can afford the additional cost.
Business uses of MMS
Retailers can use MMS in several ways, including the following:
sending discount codes, vouchers, images of new products, invitations to sales and other events;
conducting text-based contests, for example, by using MMS along with a dedicated number (or virtual number), enabling people who receive the message to text images to the number to enter and win a specific contest;
sending customers animated multimedia messages instead of standard electronic direct mail for holidays. Consumers are more likely to open and respond to multimedia messages;
using MMS to send instructional product videos with audio or videos to promote products; and
reducing shopping cart abandonment by sending images of the items in customers' abandoned carts with links encouraging them to complete their purchases.
Other business uses of MMS include the following:
Tour operators or destination locations could send multimedia messages to former clients enticing them to vacations. For instance, a hotel in Hawaii could send an MMS of a breathtaking beach scene to its former guests just before the winter sets in.
Companies in the entertainment industry could send customers multimedia messages with brief excerpts from their movies, television shows and exhibits, for example, to get customers excited about their projects.
Ticket sellers can use MMS technology to deliver mobile tickets to customers. The images of the digital tickets can be saved, forwarded or scanned from any device or messaging application.
This was last updated in
January 2023
Continue Reading About Multimedia Messaging Service (MMS)
Dig Deeper on Mobile infrastructure