reborn55 - Fotolia
Printing from mobile devices evolves with EMM market, GDPR
With many organizations using EMM to keep track of devices, apps and data, the information that users must share with printers can sometimes be forgotten.
Most organizations still rely on paper for certain workflows, and the printing industry has evolved to keep up with mobile workers' requirements.
The latest example is ThinPrint Mobile Print, software that integrates with an organization's existing enterprise mobility management (EMM) technology to control printing from mobile devices in Apple iOS and Google Android. ThinPrint is part of the Cortado Holding group of companies. Cortado Mobile Solutions offers its own EMM software, Cortado Server, but most customers purchase ThinPrint products as an add-on for the EMM they already use, rather than buy Cortado EMM and ThinPrint together, said Henning Volkmer, CEO of Cortado.
Here, Volkmer discusses what's changed in printing from mobile devices and how he views the future of the EMM market. Plus, he shares what organizations need to know to prepare their printing strategies for when the European Union's General Data Protection Regulation (GDPR) takes effect.
What's the benefit of printing from mobile devices as opposed to using a tool like DocuSign, where you don't have any paper involved?
Henning Volkmer: I'm totally a DocuSign fan, but there's a bunch of workflows that ultimately need a piece of paper. Any kind of interaction between an organization and a group of people, or where people may not be as proficient with IT, they feel safer when they have a piece of paper in their hand.
There's a large benefit in enabling that. That doesn't mean that 10 years from now that couldn't change. But for the moment, we've actually seen a lot of requests for that type of feature.
What technology advancements have there been in the past few years that have made printing from mobile devices easier?
Volkmer: The availability of [Apple] AirPrint and Google [Cloud] Print -- almost any kind of printer these days will have both of those technologies built in.
But as soon as you put that on your network, it's kind of a free-for-all. Whoever's on your network can connect to it [and] can print whatever. What we wanted to do is to provide a secure and managed way to bring those printers to the mobile devices so that the organization maintains some control over how and what is being printed. A profile that gets pushed out to, say, an iPhone contains information on what printers are available to the user of that phone. It will show you exactly those printers the organization has assigned to you.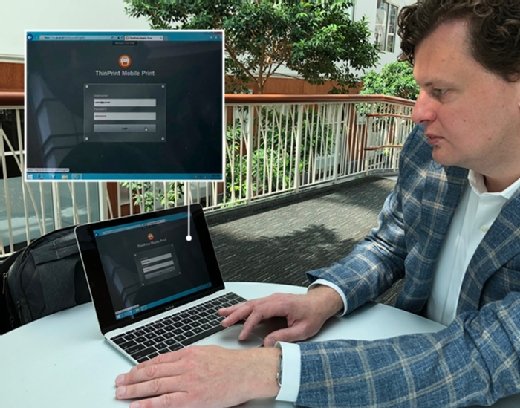 What sets Cortado's EMM apart from other products?
Volkmer: The way that Cortado EMM started was always more focused on productivity. We always had that file-access part and then added file sharing, and we actually started that when BlackBerry was still a thing. With the advent of the iPhone, the whole industry took a very different turn and ... became much more security-focused. That turned into a market that was really, really, really competitive and, ultimately, a race that we didn't quite win.
But there are certainly customers that appreciate the simplicity of Cortado Server. They like the productivity focus; they like the file sharing, the collaboration features [and] the integration with existing on-prem systems. As much as we end up talking about cloud, not every application turns into a Salesforce-type of application. When we talk to organizations that are highly regulated, for example, or have a lot of proprietary, very valuable information, they like this approach of keeping it a little closer to the vest.
Where do you see the EMM market headed in the next couple of years?
Volkmer: We wrote about iOS 11.3 and this change to how contacts are treated. To me, that's kind of an indicator of how far the space has come and how good a lot of the security implementations on Android and iOS have become, where a contact-handling change is something that's noteworthy all of a sudden, [because] so much has been covered.
It will be interesting to see if even more of this becomes more commoditized than it currently is. I think we'll see a lot more of that moving into the cloud ... where you have your admin interface in a web browser.
There's a lot of unencrypted data in printing.

Henning VolkmerCEO, Cortado
We're in a generational shift in the workforce, so we'll probably see much more of a focus toward, 'OK, let's see if we can figure out how people can work from a phone, an iPad.' There's a lot of value in those devices, and for the most part, they're really not tapping it quite yet. Not that that means computers will fully go away.
Do you think iPads will transition into more use cases for desk jobs?
Volkmer: It depends a little bit how exactly the operating systems evolve. You can do split-screen at this point. One of my co-workers' daughters works for an organization ... and they have ripped out the entire cubicle infrastructure, and the whole thing looks more like a co-working space. If that happens more and more, I can see people being more inclined to figure out if those mobile devices are something they can use for at least part of the job. I don't think we'll necessarily get to ... 100%. The price point of those devices is also much more affordable.
What are you doing to get customers prepared for GDPR?
Volkmer: Our headquarters are in Germany. It's definitely something we are extremely aware of. It's super complex, but we are trying to make sure that we're giving people some tips, especially around printing -- there's a lot of unencrypted data in printing -- to make sure that they can understand how they could change that.
Follow Me printing is a big part of that, but also encrypting the data as it waits to be printed, encrypting the data as it travels to the printer, helping people make sure that it gets easier to connect printing into the infrastructure.
We have a surprisingly large number of organizations that are talking to us because the only reason they are still maintaining VPNs [virtual private networks] to branch sites is to print. A small device that we call a ThinPrint Hub can establish a connection ... and serves as a decryption endpoint so that the data that travels to the [main site] is encrypted.