Lenovo launches AR for the workplace with ThinkReality
Lenovo announced ThinkReality A6, its new head-mounted AR product. It was designed specifically with the workforce in mind to increase time and cost efficiency.
Lenovo is hoping to bring its own AR tech into the workforce with its new product, ThinkReality A6.
ThinkReality is an augmented reality head-mounted display designed to help the workforce use AR applications to receive expert assistance, reduce repair times, eliminate errors, streamline complex workflows, improve training quality and save costs, according to Lenovo.
The device will work with Lenovo's ThinkReality platform, which is software that enables enterprises to build, deploy and manage AR and virtual reality applications from hardware devices. According to Lenovo, the ThinkReality platform is hardware-agnostic, cloud-agnostic and environment-agnostic.
ThinkReality A6 uses Lumus Waveguide optics, which enables 1080p resolution and a 40-degree field of view. It is powered by the Qualcomm Snapdragon 845 system-on-a-chip processor and the Intel Movidius vision processing unit (VPU) -- both of which, Lenovo claims, make the device highly power-efficient.
Interacting with the A6 can be done with voice, gesture and gaze control or with a three-degrees-of-freedom hand controller. It is built with a depth sensor, VPU, 13 megapixel RGB camera, two fish-eye cameras and an intertial measurement unit, which Lenovo said will enable 3D visualization, spatial mapping, digital information overlay and object recognition.
As for the physical product, it weighs less than a pound and has a removable 6,800 milliamp-hour battery, which enables up to four hours of power.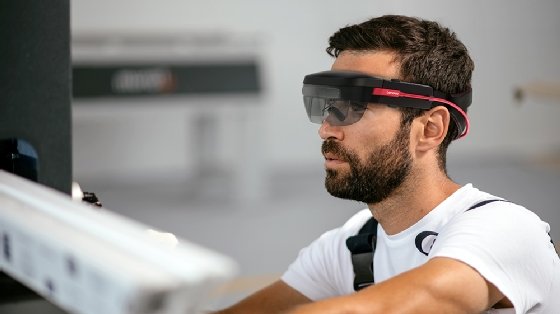 The A6 appears to be an answer to Microsoft's HoloLens 2, another AR headset designed for the workplace announced in March. The HoloLens uses a Qualcomm Snapdragon 850 processor and Microsoft's own holographic processing unit. This enables it to display holograms in 2K in each eye.
The HoloLens 2 uses Azure Sphere and Azure IoT, which enables users to save projects to the cloud and across all devices. It also has a specially designed version of Dynamics 365 for businesses.
There is no pricing or release date for the ThinkReality A6 yet.