Google Glass Enterprise Edition 2 resurrects AR for Google
At $999, the Google Glass Enterprise Edition 2 for businesses promises better performance, battery life, camera quality and style than its consumer-focused 2013 edition.
Nearly six years after the release of its first augmented reality headset, Google has unveiled Google Glass Enterprise Edition 2, a wearable Google first pitched two years ago. The AR smart glasses aimed at businesses promises to improve on its predecessor in performance, camera, compatibility and style.
The first notable spec of Google's Glass Enterprise Edition 2 is that it's built on the Qualcomm Snapdragon XR1 platform. Featuring a four-core CPU and a new artificial intelligence engine, the 1.7 GHz chip based on 10nm architecture saves on power, while increasing performance, according to Google.
Google has also added a USB-C port intended to support faster charging and overall increased battery life; the headset lasts eight hours between charges. Glass 2 also features Bluetooth 5 and Wi-Fi 5 support.
The camera quality was bumped from 5 MP to 8 MP in Glass 2, yet with the same display specs -- 640 x 360 pixels -- as the first Glass model.
The new edition of Google's augmented reality headset is also easier to develop for, according to Google. Glass Enterprise Edition 2 is built on Android Oreo, making it easy for users to integrate services and APIs they already use. Glass 2 now also supports Android Enterprise Mobile Management, so users can manage their headsets remotely, particularly useful for disabling the device if it gets lost or stolen.
And, the most noticeable change to Glass 2 is its appearance; Google now offers the AR headset in a thick, black "safety frame" -- developed with Smith Optics -- that appears more conventional than the original thin, wire-rimmed frames, and house most of its hardware in the right stem of the glasses. Google still offers a style similar to the original -- a thin, wire frame that appears rimless.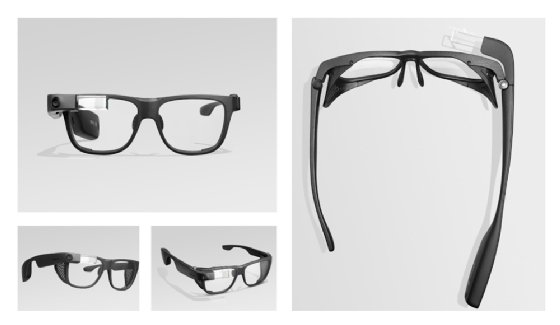 The first edition of Google Glass released in 2013 was intended to eventually be available to consumer-level users. However, the $1,500 price tag and slew of complications prohibited the product from reaching that level, and it was discontinued in 2015. In 2017, Google teased its eventual resurrection of Glass.
Glass 2 is explicitly aimed at businesses -- particularly medical, manufacturing and logistics fields -- and comes with a more accessible $999 MSRP. However, the product is only available through third-party partners, and pricing can vary depending on partners' installment plans or supplementary services.
In February, Microsoft unveiled HoloLens 2, a headset that displays information across a user's entire field of vision, unlike the Glass 2, which only projects in front of one eye. While the HoloLens 2 is more powerful than the Glass 2, it is significantly bulkier and starts at $3,500; the HoloLens 2 is also used by manufacturing businesses, as well as the U.S. military.
Lenovo also recently announced wearable AR technology, the Lenovo ThinkReality A6, also aimed at enterprise-level workers. The A6 is not yet generally available and the vendor has not released pricing information.
Dig Deeper on Mobile operating systems and devices