Lower prices could bolster declining global smartphone sales
Lower prices, the buildout of 5G networks and the eventual need for device replacement could help pull global smartphone sales out of their current funk.
Weak global smartphone sales have forced manufacturers to lower prices after failing to convince customers that new features justified paying more for the latest devices.
The smartphone market has been declining for the last three years because many people see no reason to rush to buy new phones, industry observers said. The COVID-19 pandemic influenced recent low sales, but high prices and a lack of compelling new features have played a more significant role in the market's downturn.
"The latest, greatest phone is not compelling enough to make me want to drop my current phone," Gartner analyst Tuong Nguyen said. He noted that the last time there was an immediate need to upgrade was during the transition from feature phones to smartphones.
Second-quarter numbers released in August show demand remains weak. Gartner reported a 20% drop in year-over-year sales, while IDC found a 17% decline. The latest findings continued a trend from the first quarter of the year, when sales plummeted 20%.
These flagging sales figures have placed pressure on smartphone manufacturers to lower prices that had been moving ever higher in recent years. "[Manufacturers and carriers] have to figure out how to make compelling use cases that are actually beneficial to the user, and not just a gimmick," said Eric Klein, an independent analyst.
For example, Samsung launched its $1,000 Galaxy S20 phone at the start of the pandemic in March but had to cut prices within weeks.
"[Samsung] took the chance of upping the price pretty significantly, and they sold a fraction of what they had planned to," said Ryan Reith, an analyst at IDC. "They took a gamble ... and it didn't pay off."
Apple saw the need for a lower-end alternative to its top models in 2016, when it introduced the iPhone SE. Within the last two years, Huawei and Xiaomi launched phones in the $300 to $500 range that still had rich feature sets.
By 2022, IDC expects smartphone sales to increase as prices fall even further, and consumers replace older phones with new models. Manufacturers will also gain sales in regions of the world where smartphone penetration is low.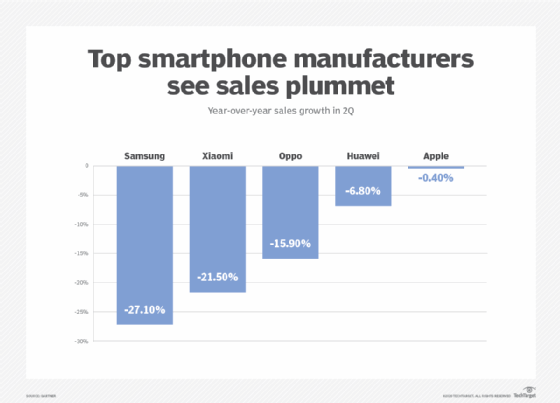 The impact of 5G
The next-generation wireless technology 5G could play a significant role in upping U.S. smartphone sales. However, that's unlikely to happen until carriers improve the service dramatically, industry watchers said. Today, consumers are unwilling to pay more for something that's only marginally better than their current 4G LTE service.
Opensignal rates U.S. 5G speeds among the lowest in the world's leading markets. The average American 5G user only has the service available about 20% of the time.
"We have to keep in mind that the networks aren't quite there yet," Nguyen said.
IDC predicts that makers of 5G phones will continue to lower prices to attract consumers. By 2023, the analyst firm expects the global average price for 5G phones to fall from roughly $600 today to $495.
An Apple 5G iPhone, expected this year, could nudge its customer base to the latest wireless service. In the past, Apple has been able to sell new technologies to its loyal customers.
"I would never discredit Apple's ability to really highlight the benefits of a technology," Reith said.
Apple did not fare as poorly in second-quarter sales as its competitors. Per Gartner, the manufacturer's year-over-year sales were down only .4%, compared with a 27.1% drop for Android phone maker Samsung.
Dig Deeper on Mobile operating systems and devices