Sergey Nivens - Fotolia
Microsoft adding voice commands to Outlook mobile app
Voice commands built into the Outlook mobile app will speed up writing emails, scheduling meetings and calling colleagues, Microsoft said at Ignite this week.
Microsoft has built voice controls into its Outlook mobile app, eliminating the need for a separate digital assistant to write emails, schedule meetings and initiate phone calls.
The company announced the feature for Android and iOS devices during this week's virtual Ignite conference. Currently, people use the virtual assistant Cortana and Outlook to perform email and scheduling tasks hands-free through the Play My Email feature in Outlook. In October, Microsoft will make the same features available in Outlook without requiring users to download the Cortana app separately.
Microsoft expects the voice commands to speed up routine tasks without adding the hassle of multiple app downloads. A Stanford University study showed that dictating a message or email on a computer was three times faster than typing on a keyboard.
Voice controls in business apps benefit people working from home, said Forrester Research analyst Andrew Hewitt. Remote workers corralling children or doing household chores in their off hours would likely appreciate a method for responding to an email that required less manual input.
"There's a lot of stress, and there's a lot of burden on the employee" in the remote work environment, Hewitt said. "The more a technology provider can help to remove that extra weight, the more likely they are to unleash productivity."
Voice interaction
People will access the Outlook commands by tapping a mic icon in the app's keyword search box. The new features will let workers compose emails with voice and provide information like the recipient, subject and content. When there are several people with the same name in an address book, the Outlook app will provide options based on context and how frequently communication occurs with each individual.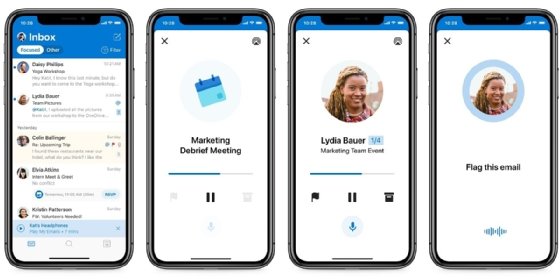 People can also use voice commands to schedule meetings. If the order includes participants and a possible subject, Outlook will fill the relevant fields with that information, Microsoft said. Outlook will then select the next 30-minute time slot when all participants are available. Users can change the selection anytime.
Microsoft plans to expand Outlook's Play My Emails feature, as well. The Android version will have features previously available in only the iOS version, such as adding actions suggested in an email to a task list.
Play My Emails is currently available only in the U.S. Microsoft said it will release the feature in Canada, Australia, India and the U.K. over the coming months.
Dig Deeper on Mobile infrastructure