adimas - Fotolia
Colorado believes autonomous vehicles technology can save lives
Edge computing, take the wheel. The Colorado Department of Transportation is deploying roadside network devices to support connected and autonomous vehicles technology.
When autonomous vehicles hit the blacktop, the Colorado Department of Transportation intends to be ready. In late...
Continue Reading This Article
Enjoy this article as well as all of our content, including E-Guides, news, tips and more.
2017, CDOT recruited Bob Fifer -- a 25-year IT and network engineering veteran -- to help drive the transformation of the state's transportation system into a next-generation information system.
"What appealed to me was an opportunity to shape our future," said Fifer, who previously held network engineering, network operations and disaster recovery roles in the private sector. "Colorado is trailblazing in this area, because we genuinely believe that technology can save lives."
The stakes are high. According to national estimates, more than nine in 10 car crashes in the United States happen because of human error. In Colorado, first responders see an average of two traffic-related deaths per day.
"We believe we can bring that number down to zero," Fifer said.
As a two-term city council member in the Denver suburb of Arvada and vice chair of the Denver Regional Council of City Governments, Fifer has long argued that technology can radically improve local and state infrastructure. At a conference, a CDOT official heard Fifer describing his vision for connected, intelligent roadways -- what he refers to broadly as highway automation -- and offered him a job.
"I negotiated my pay cut and jumped on over," Fifer said. He now serves as manager of infrastructure and business development in CDOT's transportation systems and technology branch, which he described as the department's "mini-telecommunications arm."
Fifer's team plans, builds, operates and maintains network infrastructure throughout the state, ranging from fiber optic cabling and network gear to intelligent transportation system devices -- such as analytical roadside cameras, smart traffic signals and highway message boards.
"The devices we're deploying on fiber now will all support connected, autonomous vehicles technology," he said.
Autonomous vehicles technology in action
A six-seat autonomous shuttle, called EZ10, has started operating along a short, fixed route between a Denver commuter rail station and a bus station near the city's designated smart-city testing ground, Peña Station Next. The vehicle uses hardware and software from French autonomous vehicle company EasyMile and operates at around 15 mph.
Vehicle-to-infrastructure ecosystem supports connected cars
Although self-driving cars have yet to take American roadways by storm, Fifer pointed out that many new vehicles today boast a significant degree of automation, with features like adaptive cruise control, lane-departure correction, obstacle detection and collision avoidance. And a growing number of models -- from manufacturers like Tesla, Cadillac and Audi -- can already communicate with smart infrastructure and each other.
Denver was one of the first U.S. cities to test Audi's Traffic Light Information connected cars application, enabling traffic lights to share real-time signal phase and timing data with select models via the cars' built-in 4G LTE connectivity.
"On your dashboard, you can see how long that light is going to stay green, or if it's red, when it will turn green," Fifer said.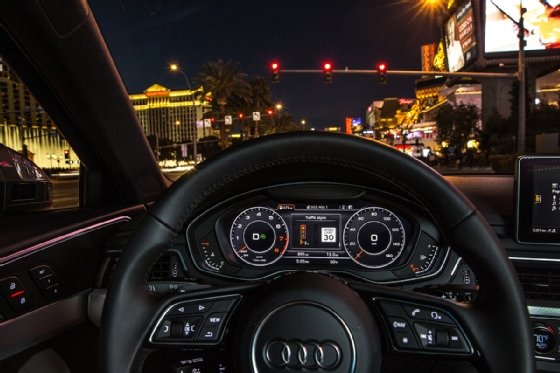 A vehicle-to-infrastructure (V2I) ecosystem that supports today's connected cars will serve as a foundation for tomorrow's autonomous vehicles technology and artificial intelligence, he added.
"We want to have technology on the road that will eventually detect if a car is running a red light and make all the other cars stop to prevent a T-bone accident from happening," Fifer said.
Drivers of eligible Audi models must subscribe to the manufacturer's Connect Prime service to see time-to-green information at connected intersections. On the infrastructure side, however, the technology is vendor-agnostic -- any V2I-enabled vehicle with a 4G LTE connection could theoretically communicate with the smart traffic lights, regardless of make or model. CDOT also plans to deploy V2I infrastructure that communicates via dedicated short-range communication protocol, the main alternative to 4G LTE.
Fifer predicted that, by 2022, the vast majority of new cars will possess V2I and vehicle-to-vehicle capabilities, while drivers of older models can add them by affixing puck-like IoT devices to their dashboards. CDOT's infrastructure will ultimately need to support as many as 4 million connected cars at any given time, Fifer said, adding up to a massive amount of data.
"A typical vehicle coming off the assembly line today has seven separate local area networks bundled up in its walls," he said. "These vehicles are going to give us millions and millions of messages per second."
Edge computing paves road for autonomous vehicles technology
Colorado has tapped Panasonic in a $72 million contract to build a V2I ecosystem, helping state officials to collect and filter data so CDOT can use it to make highway infrastructure safer and more efficient. The state has now begun deploying 100 intelligent, roadside sensors along a 90-mile stretch of Interstate 70, between Denver and Vail.
A typical vehicle coming off the assembly line today has seven separate local area networks bundled up in its walls.

Bob Fifermanager of infrastructure and business development at CDOT
"We're one of the first states to even think about, 'How do we take data, create intelligence and then create a reaction?'"
For example, Fifer said, if ice or snow triggers a vehicle's tire-traction alert, the network devices could forward its GPS location to CDOT, which would then send a snowplow to treat the road.
In another possible use case, if a connected car's airbags deployed in an accident, the vehicle could automatically forward its location to first responders -- critical moments before those on the scene could reach 911.
"Every minute we can shave off is a life we can save," Fifer said.
The devices are currently in listening mode, gathering information from connected vehicles and relaying it to the Panasonic cloud via CDOT's existing fiber optic network, using Ciena packet optical transport systems and Ethernet switches.
"Ciena is helping us understand how we get the data off the devices and backhaul it through our switch and transport network and back into the cloud," Fifer said. "We have to think about security at the application, physical and network layers to make sure the data coming off the roadway is accurate and reliable."
In the next phase of the V2I project, CDOT plans to use an edge computing topology to let devices respond back to connected vehicles and initiate reactions. If a car detects heavy fog on the road, for instance, it would share that information with the nearest edge computer device -- which would, in turn, warn approaching drivers, either via legacy variable-message boards or directly on their dashboard displays.
"This is where we're getting into artificial intelligence," Fifer said. "That will all be automated between the vehicles and infrastructure, with no humans interacting."
Fifer predicted autonomous vehicles technology will transform American highways and save lives.
"One day, we'll all be in driverless cars," he said. "We'll have platoons of self-driving semi-trucks operating together in harmony, going down the highway, just inches apart."