Getty Images/iStockphoto
NaaS use cases include hardware refreshes, pop-up sites
NaaS is an Opex-based consumption model that simplifies deployment, policy configuration and purchasing. The model is beneficial for small and large enterprises alike.
As with most emerging technologies, it's difficult to pinpoint an exact definition of network as a service, or NaaS.
Enterprises have grown familiar with the Opex-based consumption model that SaaS provides for applications and cloud services. While networking has traditionally been a Capex-driven industry, users increasingly want the flexibility, simplicity and scalability of as a service for their network infrastructure. NaaS holds the potential to provide those features, but standardization and adoption are still slow, as discussed in multiple sessions during the recent ONUG Fall 2023 conference in New York City.
According to the ONUG NaaS Working Group, NaaS is a "cloud-enabled, usage-based consumption model that allows users to acquire and orchestrate a network without owning, building or maintaining their own infrastructure."
NaaS simplifies configuration, introduces more programmability and enables on-demand connectivity, said Steve Wood, distinguished engineer at Cisco, during the NaaS Working Group session. Ultimately, it should provide outcome-based services. These services support modern business requirements around security policies, connectivity to application workloads -- whether in the cloud or on premises -- and UX.
"It's a different way of thinking, where you consume network services like you consume services in the cloud," Wood said. "That's the key thing that's changing."
Chris Moretti, vice president of global technology and cloud transformation at Cigna, agreed that NaaS is a complete paradigm shift, which has slowed enterprise adoption. During a session on NaaS use cases, Moretti explained how NaaS evolves from traditional network concepts because it moves farther up the IT stack and expands what a network does. This change challenges organizational department structures that are horizontally aligned because NaaS inherently involves applications, cloud and security, among other elements.
How is NaaS delivered?
The ONUG NaaS Working Group outlined three current models available for NaaS delivery:
Managed service.
PaaS.
IaaS.
It's a different way of thinking, where you consume network services like you consume services in the cloud. That's the key thing that's changing.

Steve WoodDistinguished engineer, Cisco
With a NaaS managed service, an MSP packages the turnkey services a customer wants into a managed service. This option enables enterprises to take advantage of service provider expertise, while maintaining the control and contracted outcomes they want, said Ken Patel, associate fellow for NaaS at Verizon Business Global Solutions.
"You can ramp up or ramp down service components associated with the managed service," he said. This bidirectional scalability is what points toward true NaaS.
In a PaaS model, a provider -- likely a cloud provider -- offers a cloud-enabled NaaS platform to the enterprise customer for a more on-demand model. Finally, an IaaS model targets enterprises that want a DIY approach. The customer owns the network service stack and controls policy more closely, said Robert Wysocki, CTO at Microland Limited.
NaaS also relies on colocation data centers to distribute its primary services, such as multi-cloud connectivity, software-defined WAN, programmable transport, cloud security and application service-level agreements, Wood said. Vendors and service providers are eyeing this kind of colocation architecture to ramp up their on-demand services, he added.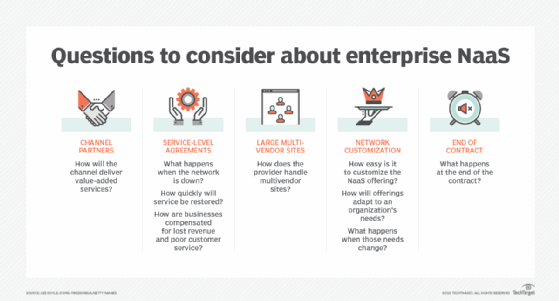 NaaS use cases
Service providers handle most of the technical complexity for NaaS deployments, while enterprise customers maintain the level of control they desire, said Luc Boivin, managing director of 5G and enterprise solutions at Verizon. As a result, this model is appealing to many industries.
Moretti described how Cigna used NaaS to connect a network of rural clinics that didn't need to be on the corporate network. NaaS can also help during M&A, he added, because it simplifies policy configurations, firewall rules and integrations with a point-and-click approach for control.
Ricky Tsui, senior director of business development and go-to-market execution at AT&T Business, said he worked with a customer who used NaaS to deploy pop-up COVID-19 testing stations more quickly. NaaS also provides flexibility and cost-effective options for hardware refreshes, especially as inflation increases equipment prices, he said.
"Customers are traditionally Capex, but they want to go as a service to pay as they go so they don't overbuild their networks," Tsui said.