Riverbed tailors SteelCentral AppResponse for the cloud
Riverbed has launched SteelCentral AppResponse Cloud. The latest version of the application monitor troubleshoots problems found in business applications running on the AWS cloud.
Riverbed Technology has introduced an AWS version of SteelCentral AppResponse, providing companies with the ability to troubleshoot performance problems in applications running on the infrastructure-as-a-service provider.
Riverbed unveiled AppResponse Cloud this week, along with other technologies added to SteelCentral, a collection of application performance management tools and software.
SteelCentral AppResponse, one of three core components comprising SteelCentral, provides packet analysis to troubleshoot low-level problems degrading application and network performance. The latest version of the software makes deep packet inspection available for applications running on AWS.
"AppResponse Cloud is able to capture, analyze and store packets as they transit AWS," said Shamus McGillicuddy, an analyst at Enterprise Management Associates (EMA), based in Boulder, Colo.
SteelCentral AppResponse delivers those features from a virtual appliance that runs as an instance in an AWS Virtual Private Cloud (VPC). Developers use the VPC service to create a virtual network that serves resources running on an isolated section of the public cloud. The VPC service provides developers with more granular control over their networks to deliver an extra layer of security for workloads and data.
A recent EMA survey of 250 enterprises found a demand for tools that collect traffic data from business applications running in a public cloud. Thirty-seven percent of the respondents in the EMA study were collecting traffic data in the cloud, and 32% were deploying tools to do so.
AppResponse Cloud customers can use an updated version of the SteelCentral Agent to capture packets. They also have the option of using a network packet broker from Big Switch, Cisco, Gigamon or Ixia.
NetProfiler upgrade
Riverbed also introduced an updated version of NetProfiler, the flow-based monitoring module in SteelCentral. The NetProfiler upgrade can report on overall traffic volume and patterns originating from AWS.
"This gives network managers less granular visibility into AWS than AppResponse, but it's a more affordable approach," McGillicuddy said. "Flow-based monitoring is always cheaper to implement than packet-based monitoring."
The updated version of NetProfiler also collects AWS billing information, which will help network managers track AWS costs. Other makers of monitoring tools have also added cloud-cost tracking, McGillicuddy said.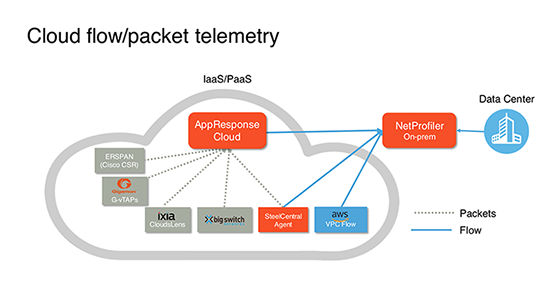 Changes to AppInternals
Finally, Riverbed added cloud-focused enhancements to AppInternals, the second core component of SteelCentral. While AppResponse monitors packets, AppInternals helps troubleshoot application performance problems at the code level. The latest version of AppInternals performs code-level monitoring of cloud-native applications that are based on microservices and containers.
Riverbed did not announce changes to SteelCentral's third core component, SteelCentral Portal. The software provides operational teams with a single interface for monitoring and troubleshooting network and application performance.
The latest improvements arrive a year after Riverbed launched its last significant upgrade to SteelCentral. Prior enhancements included integration with the company's SD-WAN product, SteelConnect.