Rawpixel - Fotolia
Extreme launches autonomous network strategy at Extreme Connect
Extreme unveils its building blocks for an autonomous network, called Elements. The company also introduces at the Extreme Connect show an IoT security tool.
NASHVILLE, Tenn. -- Extreme Networks has unveiled a marketing strategy that highlights the integration work it has done across the many products it has acquired over the past three years, while also emphasizing its efforts in developing the infrastructure for an intelligent network.
At the Extreme Connect conference on Wednesday, the company introduced its Elements approach to networking, which will lean heavily on machine learning and artificial intelligence within software to reduce the amount of manual labor required to perform routine tasks in network management.
Elements are integrable products that are the building blocks for what Extreme calls an autonomous network in the data center, campus and wired and wireless LAN. The mostly acquired technology includes a centralized management console, network orchestration software, a variety of appliances and switches, network analytics and software for securing IoT devices.
"What [Extreme is] trying to do is add more features and functionality to give them feature parity with Cisco," said Alan Weckel, an analyst at 650 Group, based in Portola Valley, Calif.
Indeed, Extreme's autonomous network is similar to what Cisco calls Intent-based networking, and Juniper Networks calls a self-driving network. Whichever name the vendors use, none of them has the infrastructure to deliver a fully automated network.
"I think a lot of vendors in the networking space are in the early days of creating platforms that are going to be fully autonomous," said Brandon Butler, an analyst at IDC. "We're starting to see the beginnings of these products come to market and enterprises starting to adopt them."
However, enterprise adoption is slow and cautious, Butler said. "The enterprise market isn't quite ready to hand off the reins of letting their networks be completely autonomous yet."
Meanwhile, Extreme has much work to do on developing its next-generation networking software and hardware. Extreme CEO Ed Meyercord told investors this month the company was in the early stages of an 18-month refresh of 70% of its product portfolio.
While updating products, Extreme plans to make its Elements technology and autonomous network approach a "theme that you will hear from us again and again and again and again moving forward," said Nabil Bukhari, the executive vice president of Extreme products, in a pre-conference interview.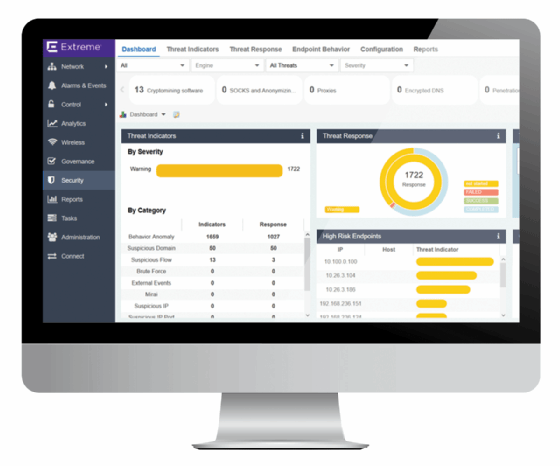 Extreme launches ExtremeAI Security
The Elements software and hardware introduced at Extreme Connect included one new product, ExtremeAI Security. The software gathers data from a variety of sources to detect errant network traffic and report the anomaly to network operators. Extreme runs on its servers the security algorithms that analyze network, application and device data to identify malicious traffic.
ExtremeAI Security gathers traffic flow data from NetFlow-enabled switches and routers. The software also draws IoT device data from Extreme's Defender for IoT and application data from Extreme Analytics. The fourth source of information is third-party threat feeds that provide continuous updates on blacklisted URLs and malicious IP addresses.
Defender for IoT identifies IoT devices and assists network managers in setting security policies for groups of connected hardware, which could include medical devices, surveillance cameras or point-of-sale systems. Extreme Analytics draws application telemetry from a sample of network traffic flow to monitor application performance and notify managers when it falls below a set baseline. Extreme includes both in its list of Elements products.
Many of the products Extreme sells today stem from acquisitions that began with wireless LAN vendor Zebra Technologies in 2016, followed by Avaya's and Brocade's campus and data center networking businesses, respectively, in 2017.
Since then, Extreme has yet to deliver on the revenue growth expected from the acquisitions. For the fiscal third quarter ended in late April, Extreme revenues fell 4% year over year to $250.9 million. Meyercord said in a statement he expected revenue in the current quarter to be affected by a "weakening economic environment in EMEA [Europe, Middle East and Asia], lengthening sales cycles in our wireless business reflecting the introduction of Wi-Fi 6, and a lower backlog entering Q4."