Tierney - stock.adobe.com
Small vendors that stand out in network automation
When incumbent vendors fall short, enterprises should consider these small vendors for new approaches to analytics and network automation.
Incumbent vendors are typically behind in providing cutting-edge features in network management tools. So, enterprises looking for advanced analytics and network automation will more likely find them in small vendors' products.
More advanced tools are critical to enterprises switching to software-based network management in the data center from a traditional hardware-centric model. Driving the shift are initiatives to move workloads to the cloud and digitize more internal and external operations.
In a study released this month, almost half of the 350 IT professionals surveyed by Enterprise Management Associates said they wanted advanced analytics for anomaly detection and traffic optimization.
Small vendors are addressing the demand by incorporating machine learning in network monitoring tools that search for potential problems. Examples of those vendors include Kentik and Moogsoft.
Besides more comprehensive analytics, enterprises want software that automatically configures, provisions and tests network devices. Those network automation features are vital to improving efficiency and reducing human error and operating expenses.
Gartner recently named three small vendors at the forefront of network automation: BeyondEdge, Intentionet and NetYCE.
Machine learning in network management
Moogsoft is using machine learning to reduce the number of events its network monitoring software flags to engineers. Moogsoft does that by identifying and then hiding multiple activities related to the same problem.
"It really helps streamline" network operations, said Terry Slattery, a network consultant at IT adviser NetCraftsmen.
Kentik, on the other hand, uses machine learning to correlate network traffic flow data generated by switches and routers that support the NetFlow protocol, Slattery said. The process can identify sources of malware or other potential security threats.
Moogsoft and Kentik use machine learning to improve specific features in their products. Vendors have yet to deploy it in broader network operations, which would likely require significant changes in network infrastructure.
Today, companies prefer to work on provisioning, monitoring and making hardware changes on a large scale. After that, they might start adding "smarts" to the network, said Jason Edelman, founder and CTO of consultancy Network to Code.
Gartner also named Network to Code as a small vendor that enterprises should consider. The consultancy's client base includes 30 of the Fortune 500. The company specializes in the use of open source software for managing networks with a variety of vendor devices.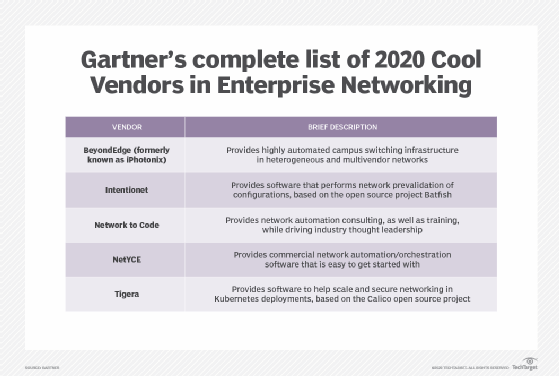 Gartner picks for automation
Among Gartner's other small vendors, BeyondEdge was the only one focused on the campus network, where it competes with behemoths like Cisco and Hewlett Packard Enterprise's Aruba.
BeyondEdge has developed overlay software for Ethernet switching fabrics and passive optical networks. The software lets enterprises create configurations based on business and application policies and then applies them at devices' access points. BeyondEdge sells its vendor-agnostic technology through consumption-based pricing.
BeyondEdge is best suited for organizations that need to provision many ports for different classes of users, Gartner said. Those types of organizations are found in commercial real estate, hospitality, higher education and healthcare.
Intentionet and NetYCE provide tools for data center networks. The former has developed open source-based software that mathematically validates network configurations before deploying them. "This is a new capability in the market and can simultaneously enhance uptime and agility," Gartner said.
NetYCE stands out for developing a straightforward UI that simplifies network configuration change management, network automation and orchestration capabilities, Gartner said.
"It provides a simple way for networking personnel -- who may be novices in automation -- to get up to speed quickly," the analyst firm said.
NetYCE's technology supports hardware from the largest established vendors. The company claims to provide adapters to nonsupported gear within two weeks, Gartner said.