Getty Images
SDI swaps Cisco wired, wireless LAN for Nile NaaS
Supply chain software maker SDI claims it cut LAN costs by a third with Nile. But Gartner says NaaS is unlikely to become a dominant option for on-premises networking.
Tech vendors define their network-as-a-service offerings based on product strategies, creating divergent definitions that confuse tech shoppers hoping to hand off networking responsibilities to someone else for a reasonable price.
Gartner defines NaaS as taking on-premises infrastructure and converting it into an on-demand service that can scale up or down depending on enterprises' needs. That type of service is difficult for vendors to deliver satisfactorily today, Gartner analyst Jonathan Forest said.
"We don't envision that it will be a dominant consumption model for the foreseeable future," he said. "It could at some point way, way in the future -- we don't know. But in the near term, it's one of various consumption models."
During the next two to three years, NaaS will become a viable option for small to midsize companies short on IT staff and resources, according to Gartner. In the meantime, investors are betting that NaaS offered through a monthly subscription will eventually grow into a multibillion-dollar market.
That thinking was behind the recent $175 million investment round for Nile, a startup founded last year by former Cisco CEO John Chambers and former Cisco chief development officer Pankaj Patel. Nile competes with offerings from Cisco and HPE.
"The way we think about Nile is, it's not innovation on networking. It's bringing automation and simplicity into the world of networking," said Sumant Mandal, co-founder and managing partner of March Capital, which led the latest round with Sanabil Investments. "It's almost like you're having electricity delivered."
Nile's customer reference, supply chain software maker SDI, fits Nile's sweet spot: enterprises between 500 and 5,000 employees. A year and a half ago, SDI CTO Neil Clover chose Nile based on the experience of its founders, no longer having to manage the wired and wireless LAN of Cisco Meraki switches, and roughly 20 Aerohive Networks access points.
Clover handed Nile the LAN covering SDI's 31,000-square-foot Bristol, Pa., headquarters with roughly 250 workers. The facility has a kitchen, a small auditorium, offices and cubicles in a restored warehouse with a history in manufacturing, including biplanes in World War I and shipbuilding in World War II. The facility has 30-foot-high ceilings and lots of metal beams.
"It's a very bouncy environment, from a Wi-Fi perspective," Clover said. "It wasn't a simple doctor's office kind of thing."
The first step was a site survey to determine the best location for Nile's 24-port switch and 17 access points to reach the desired quality of service. Nile usually does the network design and the wiring while also configuring and installing the equipment. However, because SDI was one of its first customers, Clover led the installation based on his experience deploying Wi-Fi systems at Merrill Lynch, Citibank and General Motors.
"This was insanely easy," Clover said of the switch to Nile. "It was really simple."
Nile handles network management, while Clover's IT staff monitors the system through a customer portal.
Nile watches for problems through synthetic monitoring. The company plugs into electrical outlet devices that are about half the size of a business card box and simulate people joining and using the network, Clover said.
Nile uses Media Access Control Security to encrypt data traveling on the network, and the Nile Service Block (NSB) provides connectivity-as-a-service within a location. Nile's technology authenticates each device connecting to the NSB, which monitors devices for abnormal behavior.
Clover declined to provide specific numbers but estimated that SDI reduced the total costs of having a wired and wireless LAN by a third. Nile charges a monthly fee for its service, and there are no capital expenditures, Clover said.
NaaS offerings are typically more expensive for enterprises that upgrade networking gear every seven to nine years, a cycle many large enterprises use, Forest said.
Nile doesn't offer a service that would cover SDI's 51 offices with three to 10 employees, Clover said. However, he will switch those locations to Nile if the opportunity arises.
"I'm waiting for Nile to come out with a smaller, tiny footprint," Clover said. "As soon as they do, we're all in on that."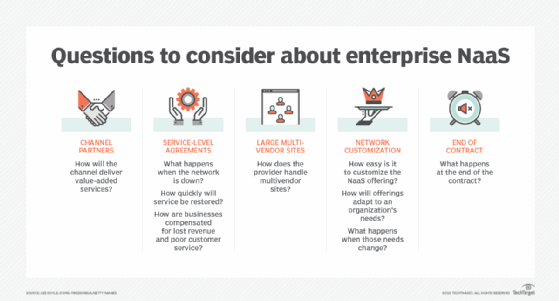 Lumen's new NaaS could complement Nile
The demarcation line between Nile and its customers is the router that a company uses to provide internet access to the LAN. That point is where telecommunications company Lumen Technologies wants companies to use its self-service internet product launched last week.
Lumen calls the offering NaaS, but it doesn't fit Gartner's definition. Instead, it's a product aimed at organizations that want to quickly add internet connectivity to a new office or for software running on colocation facilities from Lumen partners Equinix or Digital Realty Trust.
Organizations use a metro Ethernet port in a network interface device to connect to Lumen's network. They then log into the company's customer portal and choose the ports dedicated to internet access. The service is available minutes after completing the process, Lumen CTO Andrew Dugan said.
"Customers have full control over what they order and how it's configured," he said.
Lumen customers can choose from one of three hourly options: 100 Mbps for 46 cents, 1 Gbps for $1.08, or 10 Gbps for $4.36. At those rates, organizations running the internet connection 24 hours, seven days a week, would pay $4,030, $9,461 and $38,194 per year, respectively.
How that compares with alternatives would depend on speed and services. Lumen aims its offering at organizations that want to pay for only the time connected to the service, with no long-term commitment.
Antone Gonsalves is networking news director for TechTarget Editorial. He has deep and wide experience in tech journalism. Since the mid-1990s, he has worked for UBM's InformationWeek, TechWeb and Computer Reseller News. He has also written for Ziff Davis' PC Week, IDG's CSOonline and IBTMedia's CruxialCIO, and rounded all of that out by covering startups for Bloomberg News. He started his journalism career at United Press International, working as a reporter and editor in California, Texas, Kansas and Florida. Have a news tip? Please drop him an email.
Dig Deeper on Network management and monitoring