Getty Images
Cisco acquisitions target mostly ThousandEyes, Cloud Security
Cisco has made nine acquisitions this year, with all but two focused on improving internet monitor ThousandEyes as well as security manager and policy administrator Security Cloud.
Cisco has made more than one acquisition a month so far this year to improve the capabilities of its cloud-based networking, security and application monitoring software.
The nine acquisitions include three for ThousandEyes, four for Cloud Security, and one each for AppDynamics and the Mobility Services Platform. All the acquisitions were too small to require financial disclosures and filled gaps or expanded the market reach of the various software.
During the past six years, Cisco has built or acquired cloud-based software for networking and security across distributed environments supporting applications and devices. But rather than simplify engineers' work, Cisco's offerings became overly complex for customers like Baptist Health, which switched to Arista Networks.
At this year's Cisco Live, the company promised to simplify its cloud-based offerings for network management by developing a high-level software console that provides access to all its network management platforms while also delivering predictive analytics and visibility across network domains. The console, named Networking Cloud, will take several years to develop, Cisco said.
Today, enterprises seek better network visibility across highly distributed IT environments supporting applications running on private data centers, multiple public clouds and edge locations. TechTarget's Enterprise Strategy Group (ESG) found that 81% of the 339 IT professionals it recently surveyed rated either critical or very important the ability to see the state of all the elements in their network environments.
ThousandEyes acquisitions
Cisco reported three acquisitions -- Code BGP, SamKnows and Accedian -- were intended to add capabilities to its network visibility software ThousandEyes, which maps and monitors infrastructure across the internet to troubleshoot problems reaching applications running on the WAN. Cisco completed the Code BGP purchase and expected to complete the other transactions in the first quarter of the 2024 fiscal year, which started Aug. 1.
Code BGP provides Border Gateway Protocol monitoring through SaaS. CodeBGP's monitoring software detects BGP hijacking, route leaks and Resource Public Key Infrastructure issues. BGP is a protocol essential to keeping the internet working.
Cisco's SamKnows and Accedian acquisitions are for service providers. The former adds broadband monitoring technology to ThousandEyes. The latter adds SaaS-based monitoring platform for communication service providers' cloud and data center networks.
Accedian is the only genuine platform provider of the three, offering packet monitoring and active synthetic monitoring, said Shamus McGillicuddy, an analyst at Enterprise Management Associates. It also had traction among service providers as a network performance management provider.
SamKnows and CodeBGP are niche technologies that Cisco will likely integrate into ThousandEyes, McGillicuddy said.
"Altogether, these point to Cisco's focus on providing a suite of observability solutions that help companies that are trying to manage wide-area networks that are dominated by internet connectivity," he said.
In 2021, Cisco integrated ThousandEyes and its application performance monitor AppDynamics to provide network and application visibility from the wired and wireless LAN to SaaS and cloud applications. Cisco's recent Smartlook acquisition will let AppDynamics analyze user interaction trends across websites, software frameworks, and iOS and Android applications.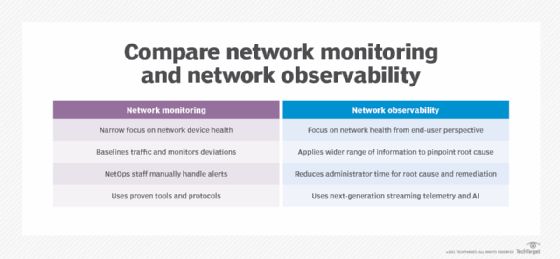 Bolstering Security Cloud
Cisco's acquisitions for Security Cloud included Amorblox, Lightspin Technologies, Oort and Valtix. Cisco has completed all the acquisitions except for Oort, which it expects to finish in the first fiscal quarter.
Introduced in May, Security Cloud provides a cloud-based security management and policy administration platform between employees connecting to the network from anywhere and applications running in the cloud or the data center. Security Cloud provides features like risk-based authentication and zero trust.
Altogether, these point to Cisco's focus on providing a suite of observability solutions that help companies that are trying to manage wide-area networks that are dominated by internet connectivity.

Shamus McGillicuddyAnalyst, Enterprise Management Associates
Cisco plans to incorporate Armorblox's generative AI large language models across Security Cloud to enhance attack prediction, rapid threat detection and policy enforcement. Armorblox brings a natural language interface to cybersecurity. Its first product secured enterprise email.
Armorblox focuses on security, but analysts expect cloud-based AI to eventually play an important role in network automation, monitoring and management, making it possible to fix problems with people less trained than the Cisco-certified engineers used today.
"You need those [Cisco] experts right now as you get comfortable making that transition to leveraging and trusting AI to help you with your network management," said Bob Laliberte, an analyst at ESG.
Oort brings to Security Cloud identity threat detection and response technology for SaaS applications; Lightspin cloud security posture management across cloud-native resources; and Valtix, a control plane that sits on top of the data plane to enforce network policies across its web application firewalls and data loss prevention technologies.
Finally, Cisco's latest acquisition was Working Group Two (WGS) for the Cisco Mobility Services platform. The SaaS product for communications service providers delivers a full-stack cloud-native mobile core for large-scale IoT use cases, such as connected cars.
WG2 provides a cloud-native, programmable mobile services platform that application developers access through APIs. Cisco expects WG2 with Mobility Services to improve its service edge deployment capabilities and bolster its API-first strategy for application development by service providers and large enterprises.
Antone Gonsalves is networking news director for TechTarget Editorial. He has deep and wide experience in tech journalism. Since the mid-1990s, he has worked for UBM's InformationWeek, TechWeb and Computer Reseller News. He has also written for Ziff Davis' PC Week, IDG's CSOonline and IBTMedia's CruxialCIO, and rounded all of that out by covering startups for Bloomberg News. He started his journalism career at United Press International, working as a reporter and editor in California, Texas, Kansas and Florida. Have a news tip? Please drop him an email.