freshidea - Fotolia
ExtraHop intros Addy, machine learning as a service
ExtraHop integrates machine learning and artificial intelligence with Addy, its new machine-learning-as-a-service offering.
ExtraHop Networks is adding artificial intelligence and machine learning to its IT operations analytics platform to give IT managers additional insight into how their networks are performing.
Addy, available in April, uses a cloud-based analytics engine to comb through the wire data collected by ExtraHop's Discover appliance. The machine-learning-as-a-service offering not only reports on network anomalies, but its artificial intelligence component learns to tell the difference between normal network operations and behavior that could signify a potential problem or malware attack. The core algorithm is engineered to reduce the number of false positives to allow users to focus on actual performance issues.
As a result, said Isaac Roybal, ExtraHop's director of product marketing, Addy can alert users to potential problems and security breaches before they become serious.
ExtraHop is the most recent vendor to incorporate artificial intelligence into its offerings. Nyansa, for example, which also tracks network performance through packet capture, last year launched a monitoring service that is also underpinned by cloud-based analytics.
Growth of AI and machine learning as a service
Machine learning and artificial intelligence are increasingly being seen as important tools that can be used to protect organizations from dangerous threats and performance issues, according to Amy Larsen DeCarlo, an analyst at Current Analysis in Sterling, Va. Until recently, the intensive computational requirements needed to support the concepts were seen as roadblocks. But cloud computing and advances in algorithms and heuristics -- knowledge gained by experience -- are weakening those barriers.
Roybal said Addy goes beyond the proactive trigger and alert functions ExtraHop and other monitoring tools already provide. "[With other tools], you still have to understand what you want to look for; Addy is designed to help customers find things they didn't know they were looking for." Alerts are displayed via management tools accessible via a web portal or through ExtraHop's Command appliance.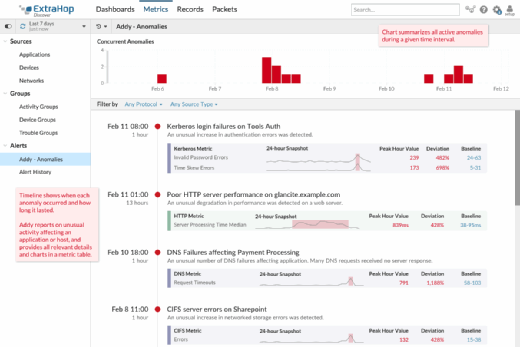 Finding the needle in the haystack
David Johnson, who as a system support specialist beta tested Addy's machine learning as a service for the state of Washington's Department of Employment Security, said Addy's ability to uncover unknown performance and security issues is significant.
"It's like the canary in the coal mine, in that it tells me problems I should be aware of had I been looking. The name of the game is to find the things that are seemingly small but can add up to a large amount of trouble," he said.
The department's network encompasses more than 700 servers and 3,500 workstations, an infrastructure that makes pinpointing performance and security problems difficult.
"I have a great team, but we still have errors, and we need to have them pointed out," Johnson said. "Addy alerts me to issues before users see them."
Addy pricing begins at $2,990 per month.
Next Steps
Boosting security with machines
Big data benefits from artificial intelligence
machine learning takes over software development