kentoh - Fotolia
How COVID-19 will reshape 2021 enterprise network spending
COVID-19 has shifted enterprise network spending. Campus LAN traffic may never be the same, but companies are earmarking funds to better support the remote workforce.
Accelerated digital transformation, network traffic shifts and economic disruption in the wake of the COVID-19 pandemic have combined to alter the landscape of the enterprise networking industry.
Organizations have responded to these market forces by increasingly turning to the cloud for both application delivery and compute. This shift has meant a greater need for direct internet access and a reduction in data center investments. At the same time, the rapid shift to work at home has reshaped traffic patterns away from the campus and the branch toward home internet services.
Although the forces that currently fuel the current economic downturn are uneven in their effect, it's clear that the most affected industries -- among them retail, restaurants, hotels and the travel sector -- will be trimming their IT and network spending.
To better understand how the market is being reshaped, Doyle Research examined enterprise network spending and telecom service provider spending. The analysis largely excluded hyperscale cloud providers, such as AWS and Microsoft Azure, which continue to register strong growth and possess markedly different network requirements from other organizations.
Network spending overview
Each year, enterprise organizations -- both large and small, including government -- spend more than $50 billion on network and network security hardware and software. The largest segment of network spend is Ethernet switching at over $20 billion, followed by network security at more than $14 billion, Wi-Fi at over $5 billion, and routing and software-defined WAN (SD-WAN) at $5 billion.
Cisco is by far the largest provider of network equipment in this sector -- especially outside of China -- followed by HPE/Aruba, Extreme Networks, Juniper Networks and Arista Networks, among others.
Communications service providers (CSPs), such as telco, cable and satellite, annually spend over $80 billion on networking hardware and software, including 4G/5G wireless for both edge and core, optical, routing, switching and network security. Ciena, Cisco, Ericsson, Huawei, Juniper, Samsung, Nokia and ZTE are the largest suppliers.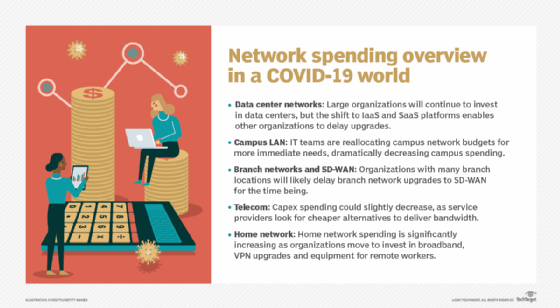 Data center network spending
Data center networks account for approximately 40% of enterprise network spending and have seen significant upgrades in terms of speed -- 10 Gb, 25 Gb, 100 Gb -- over the last several years. Large organizations with legacy and new private cloud applications will continue to invest in this sector, but the shift to IaaS and SaaS cloud platforms will prompt some organizations to table their plans to upgrade their data center networks.
Leading technology drivers in the data center sector are high-speed Ethernet switches and network security. Companies migrating to microservices architectures that run on containers will drive new mesh-type implementations. Leading suppliers for data center networks are Arista, Cisco, Extreme, F5 Networks, HPE/Aruba, Juniper and Palo Alto Networks.
A significant part of the white-collar workforce will continue to work from home for many organizations, so the reduction in traffic on the campus network will become permanent.
Campus LAN spending
Within the enterprise segment, the campus LAN represents a large percentage of Ethernet switch and Wi-Fi spending. The pandemic's effect is likely to be significant in campus LAN spending, as U.S. office occupancy rates remain below 15%. A significant part of the white-collar workforce will continue to work from home for many organizations, at least some of the time, so the reduction in traffic on the campus network will become permanent.
Enterprise network spending will see IT teams reallocate budgets to fund critical and immediate needs, thus deferring upgrades in the campus network. As work becomes more mobile, many companies will find that building dual wired and wireless networks is no longer necessary. As a result, Doyle Research expects campus Ethernet switch spending will decrease significantly, especially in the U.S. over the next two years.
Branch networks and SD-WAN spending
Branch networks have fueled SD-WAN's rapid growth over the last several years. They also account for roughly 20% of Ethernet switch, Wi-Fi and network security revenues. SD-WAN spending remained strong in the first half of 2020, while routing sales dropped correspondingly.
Industries most affected by the pandemic -- among them hospitality, retail and restaurants -- represent a significant number of branches. As a result, some organizations may decide to forgo upgrading their branch IT infrastructure to support SD-WAN. Leading branch network suppliers include Cisco, Extreme, Fortinet, HPE/Aruba/Silver Peak, Palo Alto and VMware.
Telecom and 5G spending
The demand for high-quality home broadband services has generated a 25% increase in core internet traffic. Wireless operators continue to upgrade their networks to 5G, especially in the radio access network (RAN) segment.
Doyle Research anticipates a modest decline in Capex spending in this sector, as many CSPs search for technologies that provide more bandwidth at lower costs than those traditionally charged for telecom equipment. For example, we see a growing interest in OpenRAN, which can accommodate a variety of services running on white box switches and servers. CSPs will also be evaluating new converged optical/routing and software routing approaches, such as those marketed by Volta Networks and DriveNets.
Home network spending
The home network -- relying on Wi-Fi, VPN and broadband services -- has traditionally been a relatively small part of IT, with fewer than 10% of employees working full time at home as recently as 2019. The pandemic ushered in a massive increase in the number of full-time work-at-home employees. This has driven organizations to reallocate their home network investments, earmarking funds to subsidize broadband access, to upgrade VPNs and to purchase PCs, devices and other furnishings to equip workers' offices.
Over time, VPNs will be replaced or augmented by zero-trust network access (ZTNA). Home network spending will permanently increase, spurring additional demand for enterprise-grade Wi-Fi, SD-WAN and ZTNA.
The pandemic has likely permanently altered the corporate network environment as companies shift to remote connectivity and migrate more of their applications to the cloud. Overall enterprise network spending will change as a result. Industry verticals in sectors most affected by COVID-19 -- among them travel and hospitality -- will have to reevaluate their branch and network spending. Doyle Research expects campus network spending to drop significantly while companies invest in technologies designed to make home networks safe and reliable.
This was last published in
October 2020