freshidea - Fotolia
Confusion about features may hinder S/4HANA migration
SAP provides thousands of pages of documentation and online tools to compare ECC and S/4 features, but many customers remain unsure if the next-generation ERP does what they need.
The sticking point in an SAP S/4HANA migration may not be a question of features, for either the on-premises or cloud versions. Rather, experts indicate that one of the big obstacles could be how difficult it is to really know what functionality is and isn't in S/4HANA that was in ERP Central Component (ECC) -- and then how to rework broken business processes to fit with the new software.
Customers are struggling to understand what's in S/4HANA and get at the source of what's different, according to Stuart Browne, founder and managing director of Resulting Ltd., a UK-based consultancy. The information provided by SAP tends to be fragmented and technical, and what comes up with customers is how to create a business case for S/4HANA and what is different from a usability point of view, Browne noted.
SAP provides a 900-page PDF document that details the functional differences between ECC and S/4HANA. "The ironic thing about the 900-page document is that it's called the 'Simplification List,'" said Carl Dubler, SAP's senior director of product marketing for S/4HANA. But what SAP means by "simplification" is the change in the data model. The HANA in-memory database that underpins S/4HANA allows customers to use fewer tables and combine transactions and analytics, he said.
"We don't want anyone to sit down and read a 900-page document when only 10-12 pages will be relevant," Dubler said. SAP does offer tools for customers to use when identifying what they will and won't need from S/4HANA: Business Scenario Recommendations for SAP S/4HANA (BSR) and SAP Innovation and Optimization Pathfinder.
The first tool is designed to build the business case for an S/4HANA migration and matches what customers are using in ECC to what has changed in S/4HANA, which allows them to see what transactions will be affected. The second is more technical and delves into usage and performance data from the customer's current ERP system, which can help identify incompatible third-party software and potential issues with custom code, Dubler said.
Integration problems may plague S/4HANA migration
However, even personalized tools don't necessarily eliminate every problem that could come with an S/4HANA migration. Integration problems could surface as enterprises begin working with hybrid environments and new technologies.
"When everything is on premises, then integration is straightforward," Browne said. However, when organizations engage in hybrid integrations, using both on-premises and cloud-based tools, it becomes a completely different world for them. The first major obstacle is choosing the technology to integrate the two environments. The second obstacle is configuring cloud-based applications, he said.
Cloud-based applications are not the same kind of configurations as on-premises, namely because they can't be customized to the extent of an on-premises application like ECC, for example. SAP customers then have to steer the business to standard best practices to use the functions in something like S/4HANA Cloud -- a tall order, and a change management challenge, Browne noted.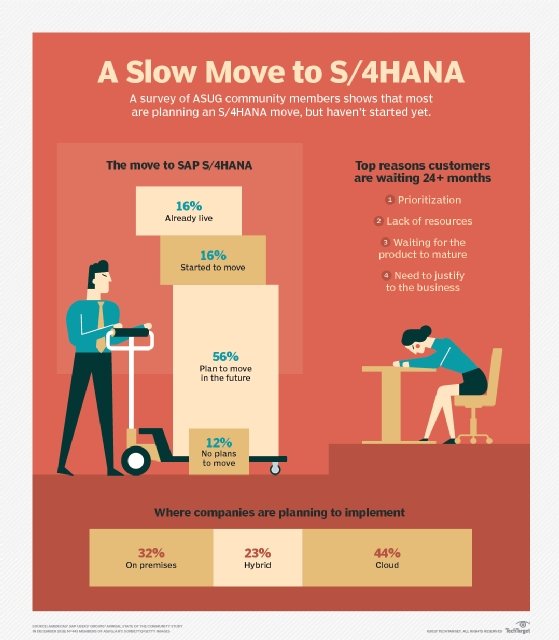 Change management necessary to prevent rejection
Most systems integrators and SAP itself focus on the migration as purely a technical play, and adoption takes a backseat. This becomes problematic, since the business benefits come from user adoption of the new system. Browne compared S/4HANA to a transplant organ. "SAP is a big box of business processes … If the business processes don't make sense, the body rejects the organ," he said.
An S/4HANA migration can be an opportunity to simplify or standardize business processes -- or result in putting the same broken processes on a new platform, according to Browne. "If all you're doing is moving to a new database with a slightly different user interface and big cost, you might as well use the opportunity and investment to improve key business processes," he said, noting that the easiest way to start is to identify commodity processes that should be standardized.
Greenfield deployment may be the best approach
When it comes to simplifying and standardizing processes, organizations that have the luxury of conducting a greenfield S/4HANA implementation will obtain the best outcome, according to Browne. This allows them to jettison what could be 20 years of baggage in the form of convoluted business processes and excessive customizations.
"If you do a greenfield implementation, you have to say what you want as a business," Browne cautioned. Given how the business landscape and technology changes so quickly, the business itself needs to decide how it wants to run in the future.