Bits and Splits - stock.adobe.co
'Master134' malvertising campaign raises questions for online ad firms
Malvertising and adware schemes are a growing concern for enterprises. Our deep investigation into one campaign reveals just how complicated threats can be to stop.
Why were several major online advertising firms selling traffic from compromised WordPress sites to threat actors operating some of the most dangerous exploit kits around?
That was the question at the heart of a 2018 report from Check Point Research detailing the inner workings of an extensive malvertising campaign it calls "Master134," which implicated several online advertising companies. According to the report, titled "A Malvertising Campaign of Secrets and Lies," a threat actor or group had compromised more than 10,000 vulnerable WordPress sites through a remote code execution vulnerability that existed on an older version of the content management system.
Malvertising is a common, persistent problem for the information security industry, thanks to the pervasiveness of digital ads on the internet. Threat actors have become adept at exploiting vulnerable technology and lax oversight in the online ad ecosystem, which allows them to use ads as a delivery mechanism for malware. As a result, many security experts recommend using ad blockers to protect endpoints from malvertising threats.
But Master134 was not a typical malvertising campaign.
A tangled web of redirects
Rather than using banner ads as a vector for malware infection, threat actors relied on a different component of the digital advertising ecosystem: web traffic redirection. In addition to serving digital ads, many ad networks buy and sell traffic, which is then redirected and used to generate impressions on publishers' ads. These traffic purchases are made through what's known as real-time bidding (RTB) platforms, and they are ostensibly marketed as legitimate or "real" users, though experts say a number of nefarious techniques are used to artificially boost impressions and commit ad fraud. These techniques include the use of bots, traffic hijacking and malicious redirection codes.
Threat actors never cease to look for new techniques to spread their attack campaigns, and do not hesitate to utilize legitimate means to do so.

Check Point Research's report, 'A Malvertising Campaign of Secrets and Lies'
According to Check Point Research, part of Check Point Software Technologies, Master134 was an unusually complex operation involving multiple ad networks, RTB platforms and traffic redirection stages. Instead of routing the hijacked WordPress traffic to malicious ads, the threat actors redirected the traffic intended for those sites to a remote server located in Ukraine with the IP address "134.249.116.78," hence the name Master134. (Check Point said a second, smaller source of traffic to the Master134 server was a PUP that redirected traffic intended for victims' homepages.)
Then, the Master134 campaign redirected the WordPress traffic to domains owned by a company known as Adsterra, a Cyprus-based online ad network. Acting as a legitimate publisher, Master134 sold the WordPress traffic to Adsterra's network to other online ad companies, namely ExoClick, EvoLeads, AdventureFeeds and AdKernel.
From there, the redirected WordPress traffic was resold a second time to threat actors operating some of the most well-known malicious sites and campaigns in recent memory, including HookAds, Seamless and Fobos. The traffic was redirected a third and final time to "some of the exploit kit land's biggest players," according to Check Point's report, including the RIG and Magnitude EKs.
The researchers further noted that all of the Master134 traffic ended up in the hands of threat actors and was never purchased by legitimate advertisers. That, according to Check Point, indicated "an extensive collaboration between several malicious parties" and a "manipulation of the entire online advertising supply chain," rather than a series of coincidences.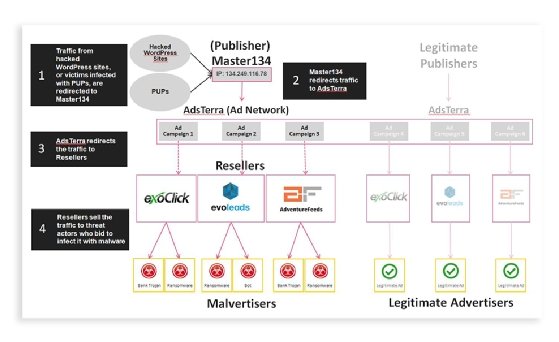 Why would threat actors and ad networks engage in such a complex scheme? Lotem Finkelsteen, Check Point's threat intelligence analysis team leader and one of the contributors to the Master134 report, said the malvertising campaign was a mutually beneficial arrangement. The ad companies generate revenue off the hijacked WordPress traffic by reselling it. The Master134 threat actors, knowing the ad companies have little to no incentive to inspect the traffic, use the ad network platforms as a distribution system to match potential victims with different exploit kits and malicious domains.
"In short, it seems threat actors seeking traffic for their campaigns simply buy ad space from Master134 via several ad-networks and, in turn, Master134 indirectly sells traffic/victims to these campaigns via malvertising," Check Point researchers wrote.
Check Point's report was also a damning indictment of the online ad industry. "Indeed, threat actors never cease to look for new techniques to spread their attack campaigns, and do not hesitate to utilize legitimate means to do so," the report stated. "However, when legitimate online advertising companies are found at the heart of a scheme, connecting threat actors and enabling the distribution of malicious content worldwide, we can't help but wonder -- is the online advertising industry responsible for the public's safety?"
Other security vendors have noted that malvertising and adware schemes are evolving and becoming increasingly concerning for enterprises. Malwarebytes' "Cybercrime Tactics and Techniques" report for Q3 2018, for example, noted that adware detections increased 15% for businesses while dropping 19% for consumers. In addition, the report noted a rise in new techniques such as adware masquerading as legitimate applications and browser extensions for ad blockers and privacy tools, among other things.
The malvertising Catch-22
The situation has left both online ad networks and security vendors in a never-ending game of whack-a-mole. Ad companies frequently find themselves scrutinized by security vendors such as Check Point in reports on malvertising campaigns. The ad companies typically deny any knowledge or direct involvement in the malicious activity while removing the offending advertisements and publishers from their networks. However, many of those same ad networks inevitably end up in later vendor reports with different threat actors and malware, issuing familiar denials and assurances.
Meanwhile, security vendors are left in a bind: If they ban the ad networks' servers and domains in their antimalware or network security products, they effectively block all ads coming from repeat offenders, not just the malicious ones, which hurts legitimate publishers as well as the entire digital advertising ecosystem. But if vendors don't institute such bans, they're left smacking down each new campaign and issuing sternly worded criticisms to the ad networks.
That familiar cycle was on display with Master134; following Check Point's publication of the report on July 30, three of the online ad companies -- Adsterra, ExoClick and AdKernel -- pushed back on the Check Point report and adamantly denied they were involved in the Master134 scheme (EvoLeads and AdventureFeeds did not comment publicly on the Master134 report). The companies claimed they are leading online advertising and traffic generation companies and were not directly involved in any illegitimate or malicious activity.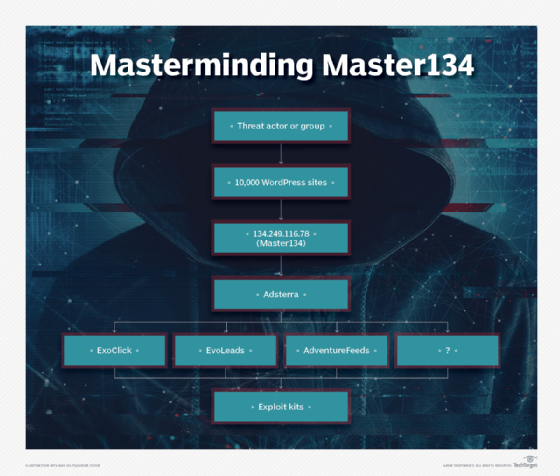 Check Point revised the report on August 1 and removed all references to one of the companies, New York-based AdKernel LLC, which had argued the report contained false information. Check Point's original report incorrectly attributed two key redirection domains -- xml.bikinisgroup.com and xml.junnify.com -- to the online ad company. As a result, several media outlets, including SearchSecurity, revised or updated their articles on Master134 to clarify or completely remove references to AdKernel.
But questions about the Master134 campaign remained. Who was behind the bikinisgroup and junnify domains? What was AdKernel's role in the matter? And most importantly: How were threat actors able to coordinate substantial amounts of hijacked WordPress traffic through several different networks and layers of the online ad ecosystem and ensure that it always ended up on a select group of exploit kit sites?
A seven-month investigation into the campaign revealed patterns of suspicious activity and questionable conduct among several ad networks, including AdKernel. SearchSecurity also found information that implicates other online advertising companies, demonstrating how persistent and pervasive malvertising threats are in the internet ecosystem.
Read part two of our six-part series on the Master134 campaign and malvertising threats.
Next Steps
This six-part series examines the recent Master134 malvertising campaign and the role online ad networks played in the malicious activity.
Part one: 'Master134' malvertising campaign raises questions for online ad firms
Part two: Adsterra's history shows red flags, abuses
Part three: More ad networks tied to 'Master134' campaign
Part four: ExoClick tied to previous malvertising campaigns
Part five: Propeller Ads connected to malvertising campaign
Part six: Ad networks' 'blind eye' threatens enterprises