maxkabakov - Fotolia
Flash vendors tap admin experience features to stand out
Customers evaluating storage platforms are looking for a little something extra from vendors -- and it isn't necessarily the latest flash development.
Flash vendors, under pressure to differentiate, are looking to stand out through consumption models, management-experience features and software.
The various flavors of NAND flash -- the still-evolving alphabet soup of SLC (single-level cell), MLC (multi-level cell), TLC (triple-level cell), QLC (quad-level cell) and PLC (penta-level cell) memory -- provide one way to sort the different technologies. But that distinction is sometimes lost on IT buyers more concerned with meeting business requirements than the number of bits in a memory cell.
Scott Sinclair, senior analyst at Enterprise Strategy Group, a market research firm in Milford, Mass., said he contends that flash offers tremendous value and the technology's differing capacities, capabilities and price points are indeed consequential. But those differences might only interest buyers with the most demanding workloads.
"The challenge is, outside the very high end, it's difficult to create differentiation," Sinclair said. "One of the things I hear more and more from IT storage buyers is all the boxes seem about the same. If it's for a general-purpose workload, chances are you can pretty much bring in a box from any of the major providers and it will probably give you pretty good performance."
Channel partners that help clients evaluate storage technology view the business context for technology adoption as more important than the details of a given technology -- at least, during the initial phase of a project.
"Performance and feature sets can be very similar across the vendor landscape," said Scott Webb, global storage practice manager of storage at World Wide Technology (WWT), a technology product and service provider based in St. Louis. He said his discussions with customers start with understanding how they're going to use a technology and the desired business outcomes.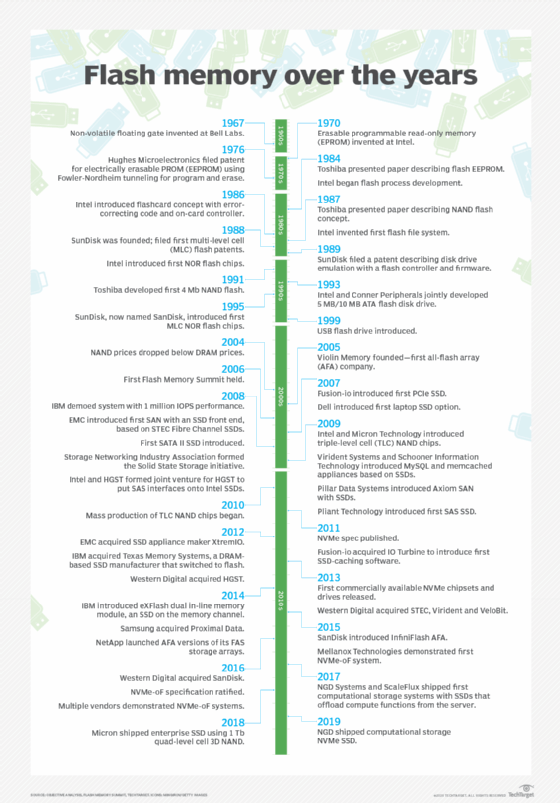 Flash vendor directions
The task for a provider is to find a way to stand apart from its rivals. Sinclair framed the question for flash vendors this way: "How do we create something that helps our customers in a way that differentiates us from competitors?"
Differentiation looks a bit different in the current environment. The secret sauce is now often found in programs that aim to improve the management experience, rather than in traditional product features. The general idea: simplify the operation and ongoing upkeep of storage arrays to make it easier for administrators to run data centers.
The adoption of subscription-driven, usage-based consumption models is one such direction. Sinclair pointed to Pure Storage and its Evergreen Storage and Pure as-a-Service offerings as an example. The Evergreen program includes subscriptions covering storage array software and storage controllers. A software subscription lets Pure FlashArray and FlashBlade customers access updated software functionality as the company releases new features. A controller subscription, meanwhile, covers controller upgrades.
The challenge is, outside the very high end, it is difficult to create differentiation.

Scott SinclairSenior analyst, Enterprise Strategy Group
Entire Pure arrays, meanwhile, can be acquired in a utility model through the Pure as-a-Service option. Customers purchase a subscription, rather than buying or leasing an array, and are billed according to consumption.
Sinclair said he views these moves as a way for vendors like Pure to capitalize on flash storage, while turning the on-premises storage experience into something resembling the public cloud. Customers can also take advantage of simplified technology refreshment cycles.
"I don't have to worry about, 'Now I have to do an upgrade,'" he said of storage managers. "I know it's going to be covered. I will get the benefit of a faster controller. It's going to be an easy upgrade."
Differentiating through software
IBM FlashSystem arrays, models 7200, 9200 and 9200R, released earlier this year, offer differentiation through software, Sinclair noted. He called the new IBM offerings an "intelligent hybrid cloud storage virtualization/orchestration layer in a flash array package."
Key elements include the integration of IBM Spectrum Virtualize, which permits data movement across the FlashSystem line, other IBM storage offerings, other vendors' storage gear and the IBM Cloud and AWS public cloud platforms.
Developments of this sort move vendors beyond the flash category. "This isn't a system of flash," Sinclair said. "This is a heterogenous data storage platform."
The IBM Storage Insights cloud management software included in the IBM arrays generates data that can be used to automatically resolve system issues. Telemetry data, combined with the hybrid cloud feature, aim to simplify storage management at time when IT skills are in short supply, Sinclair said.
Focus on management experience
Other storage vendors also are on the management simplification track. Sinclair cited Hewlett Packard Enterprise's intelligent data platform and Dell EMC's CloudIQ storage monitoring software among others. Such companies are "simplifying and changing the paradigm of what infrastructure management looks like," he said.
WWT's Webb cited cloud data management as among the most common features customers are focusing on. They might have data stored on premises, in one or many public clouds, and in colocation facilities. "Customers need that management experience to be seamless and simple," he said.
As buyers focus on ease-of-management features rather than the intricacies of flash technology, vendors are compelled to rethink their added value. A decade ago, Thin provisioning or certain ways of performing replication were the types of capabilities vendors emphasized, Sinclair said. A maturing market and customers struggling to maintain complex IT environments are changing the traditional storage formula, however.
"It's like we are hitting the law of diminishing returns, and storage vendors are finding new ways to innovate," Sinclair said.
Disk tech looks to endure
As flash vendors look to differentiate among themselves, HDD technology continues on its own innovation path.
HDD makers' development trajectories aim to ensure a continuing role for the technology despite the age of flash. In addition, HDDs enjoy a price edge with respect to SSDs: 10 TB to 12 TB SATA drives are running $25 to $30 per terabyte, while 2 TB to 4 TB 2.5-inch and M.2 SSDs sell for around $100 to $150 per terabyte, according to IT consultant Kurt Marko.
Flash technology has been closing that price gap with HDDs, but Doc D'Errico, vice president and CMO at storage vendor Infinidat, said he believes the delta will endure. He cited HDD technology developments that will boost areal density. Enterprise HDD trends such as shingled magnetic recording, microwave-assisted magnetic recording (MAMR) and heat-assisted magnetic recording are expected to lower cost per gigabyte, as well.
For instance, 20 TB MAMR tech is expected to provide a price per capacity improvement to a threshold approaching 1.7 cents per GB.
Infinidat's InfiniBox storage systems use dynamic RAM for most storage chores, placing cold data on spinning disks. They also incorporate flash. But for D'Errico, it's software that provides the differentiation in storage.
"This is not a media vs. media argument; it's a software vs. media argument," he said.