chris - Fotolia
Partners weigh in on enterprise flash advances
Enterprise flash is on a trajectory for performance, capacity and price improvements, but partners believe factors beyond technology drive storage infrastructure buys.
Flash storage technology is moving in the general direction of lower cost, higher speed and greater capacity, but IT service providers said customers typically make infrastructure decisions in a broader context in which flash, despite its advances, doesn't play the leading role.
Once an expensive oddity, flash technology has become increasingly common in the enterprise. All-flash arrays entered the market around 15 years ago and the technology has been making inroads even since. And although flash still offers its higher performance for a higher price point, the cost difference between flash solid-state drives (SSDs) and traditional hard disk drives (HDD) is narrowing. That makes enterprise flash a candidate for a broader range of workloads. On the performance side, the NVMe over Fabrics standard is speeding up SSDs and an offshoot of that protocol, NVMe, is extending that edge to storage networks. 3D NAND technology, meanwhile, is adding layers to flash storage, boosting its density.
That said, enterprise HDD, which is following its own innovation trajectory, continues to represent the bulk of storage in many a data center.
US Signal Co., a cloud and colocation services provider based in Grand Rapids, Mich., provides a case in point. The company's data centers heavily use Infinidat storage systems, which rely on dynamic RAM (DRAM) and disk for the lion's share of storage chores. Infinidat's InfiniBox products handle most I/O traffic via DRAM and store cold data on spinning disk. Flash represents a small percentage of an InfiniBox's overall storage media complement and is used to accelerate reads and writes.
Marc Creviere, principal systems engineer at US Signal, estimated that over 90% of customers' storage consumption is on InfiniBox. He said US Signal houses many petabytes of data on InfiniBox systems, noting all-flash technology is "not required for the vast majority of workloads that are out there."
US Signal, however, does offer a flash tier for customers who must have a guarantee that all reads are coming out of flash, Creviere noted.
Matt VanderZwaag, executive director of product at US Signal, said the company's deployment of flash is "actually quite low" when considering the flash-to-disk ratio across its data centers. "We have the option for flash, as needed," he added.
Not top of mind
IT service providers buy storage for their own data centers and they provide advice to customers assembling their storage infrastructure. Those discussions -- at least, initially -- don't revolve around enterprise flash -- or other specific technologies, for that matter.
Scott Webb, global practice manager of storage at World Wide Technology (WWT), a technology product and service provider based in St. Louis, said the first step is gaining an understanding of a customer's use cases and business objectives.
"We will always start with a customer briefing to determine their current state and desired state," he said. "This involves discussing use cases as a focal point."
He said the WWT Advanced Technology Center, which performs product benchmarking, architectural design validation and other lab services, constantly looks at different customer use cases and works with clients to "determine what makes the most sense for their specific needs and environment."
Sean McGrath, vice president of technology and field CTO at InterVision Systems, an IT services provider with headquarters in Santa Clara, Calif. and St. Louis, said storage choices typically rest on features such as data management, data protection and hybrid cloud strategy, rather than flash.
Nevertheless, the march of flash continues as the technology moves beyond its initial enterprise use cases. Databases, virtual desktop infrastructure and latency-sensitive applications were a few of the early flash storage workloads in the data center. Declining cost has opened flash to more general-purpose workloads and business applications, industry executives said.
Enterprise flash advances
The performance attributes that got enterprises' interest in the first place are on track for continued improvement. Capacity will also get a lift as prices decline.
Flash will continue to get cheaper, faster and more dense -- higher capacity.

Scott WebbGlobal practice manager of storage, World Wide Technology
"Flash will continue to get cheaper, faster and more dense -- higher capacity," Webb noted.
3D NAND offers an example. This flash technology is based on stacking memory cells vertically in a series of layers. The approach provides greater density and, thus, higher storage capacity. Vendors now aim to boost the number of 3D NAND flash layers in their products.
"More layers of flash embedded within a specific device will give more density," McGrath said.
NVMe drives, NVMe-oF and storage class memory (SCM), meanwhile, are also providing a performance boost.
"We continue to see an interest in NVMe and [SCM] for workloads that require the highest performance," Webb said.
"NVME-oF usage, adoption and architecture may increase upon market demand," McGrath noted.
Addressing shifting bottlenecks
Technologies such as NVMe and NVMe-oF will help remove past performance bottlenecks affecting storage media and networking. But they might also reveal new ones.
"Bottlenecks are relative and move based on other parts of the infrastructure and when they are upgraded," Webb said.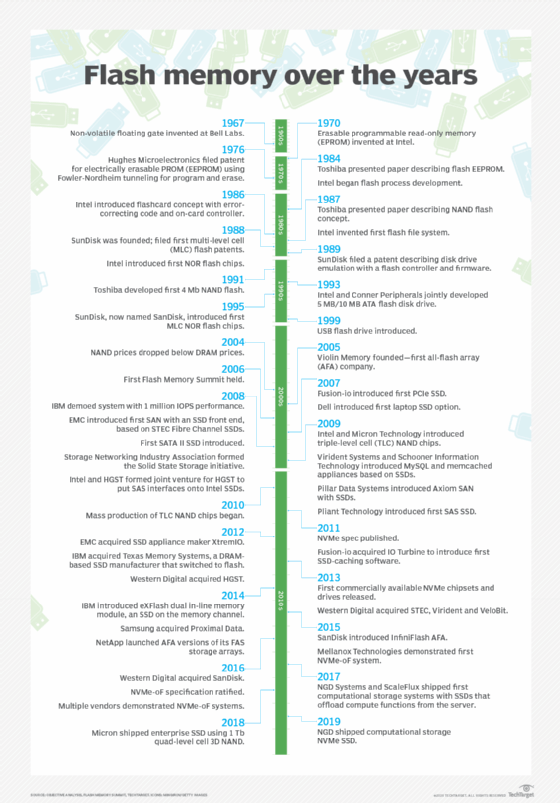 The chokepoint might eventually move to applications, which might need to be tweaked to take advantage of faster storage infrastructure.
"Flash has always been seen as a quick fix for underperforming applications," Webb said. "Once all the performance has been squeezed out of the infrastructure -- computer, storage, networking -- the application must be optimized."
"Bottlenecks can exist anywhere within an infrastructure technology stack," according to McGrath. He said steps such as adjusting the host bus adapter queue depth, use of proper Multipath I/O software and load balancing, jumbo frame utilization and 40 GbE and 100 GbE networking "can increase the ingest rate throughout the stack."
Those moves might not address CPU wait time or machine backplane or bus bottlenecks, McGrath said. But once the entire stack has been adjusted and tuned for a particular workload, the focus can shift to applications that must be tuned, he noted.
The way applications are being designed today is another consideration, McGrath added. Although traditional monolithic applications still exist, he said, it's important to note the design and use of microservices in a hybrid-cloud strategy.