Getty Images/iStockphoto
Infinidat offers all-flash within a hybrid array
Infinidat places a virtual all-flash array in its hybrid storage system while doubling the capacity of InfiniBox SSA and carving it up for easier consumption.
Customers looking to combine mission critical and production workloads on the same storage system now have an option from Infinidat.
SSA Express Software lets users run an all-flash array within the hybrid, unified InfiniBox storage system without purchasing more hardware for different kinds of workloads.
The new software will be available in the fourth quarter of 2023. The vendor's all-flash InfiniBox SSA II array is also getting an upgrade, providing twice the capacity in the same footprint, with the ability to purchase partially populated models as needed.
Consolidating different kinds of workloads is a demand among high-end storage customers, according to Scott Sinclair, an analyst at TechTarget's Enterprise Strategy Group. Infinidat is taking a different route by adding more capacity to its all-flash product and providing an all-flash option within existing hybrid arrays.
"Infinidat offers the consolidation features of mission critical enterprise arrays more cost-effectively with hybrid arrays and now the option of all-flash within that system," Sinclair said.
Array within an array
SSA Express Software gives applications that require low latency, such as SQL server, and workloads access to the flash layer in a hybrid InfiniBox. The application operates as though it is on an all-flash array, avoiding issues such as latency spikes that the HDDs may cause in a hybrid storage environment. The application is also near Infinidat's Neural Cache, which uses machine learning to increase performance and lower latency by optimizing data placement and making adjustments as needed.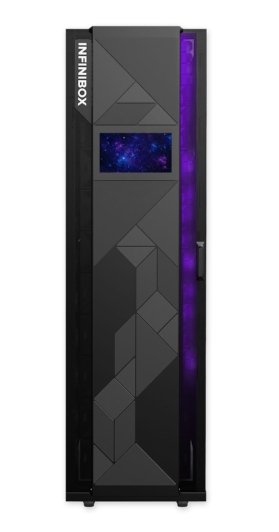 The SSA Express Software enables Infinidat to compete with smaller all-flash arrays by letting its three high-capacity offerings be fit for purpose, according to Sinclair. Competitors in the high-end performance market, such as Dell, have often provided separate, smaller all-flash arrays products, he said.
"Within [Infinidat's] hybrid array, they have a virtual all-flash array for dedicated workloads," he said.
Historically, hybrid arrays have let users pin workloads only on flash, according to Randy Kerns, an analyst at Futurum Group. While the idea of combining workloads into a single system isn't new, Infidiat's implementation is because it lets applications take advantage of Infinidat's caching abilities.
"Infinidat has DRAM, SSA and spinning disk all using their Neural Cache," he said. "This is more advanced than the earlier implementations [from other vendors]."
Aside from a different implementation, adding other appliances creates higher costs in both administrative overhead and in the size of its footprint, which requires more energy to run and cool, Kerns said. Creating an all-flash array within an InfiniBox would be easier to manage and more cost-effective than adding another all-flash array, even if it was smaller in capacity, he added.
Larger with storage slices
The latest version of InfiniBox SSA II doubles maximum usable capacity to 6.635 petabytes per rack, according to the vendor. By upping a rack's capacity, customers can lower their overall footprint, cooling and energy costs, Infinidat said.
Within [Infinidat's] hybrid array, they have a virtual all-flash array for dedicated workloads.

Scott SinclairAnalyst, Enterprise Strategy Group
The vendor introduced a denser, scale-up architecture in arrays in a pay-as-you-grow model. Instead of coming fully populated with flash storage, customers can choose between 60%, 80% or 100% populated options. This new portfolio adds a bigger and a smaller version of the SSA II to Infinidat's offerings, according to Marc Staimer, founder and president of Dragon Slayer Consulting, an IT analyst firm in Beaverton, Ore.
"The SSA II overall is higher capacity, but users can now purchase it in tranches," he said.
This is a way for Infinidat to go after a smaller market by carving up its existing product instead of creating a new product, Staimer said.
Kerns said partially populated arrays add less costly entry points overall when considering SSD costs as well as power and cooling needs. This is ideal for customers that had previously gotten a larger InfiniBox and didn't need all the capacity and costs associated with it.
Adam Armstrong is a TechTarget Editorial news writer covering file and block storage hardware, and private clouds. He previously worked at StorageReview.com.