Sergey Nivens - Fotolia
Performance counts when buying a solid-state storage device
More than half of our surveyed companies are using flash now, with plans to use it for more than just mission-critical apps.
Let's face it -- the "conserves power," "runs cool" and "saves space" arguments for buying solid-state storage take a back seat to the one thing storage pros can never get enough of: performance.
In our latest survey on solid-state storage adoption and use cases, 52% of respondents say they're currently using some form of flash in storage shops today. Hybrid arrays, with a mix of solid-state and conventional spinning disk media, are still the preferred implementation, with 59% saying that's one of the ways they're using flash now; 54% plan to purchase a hybrid array over the course of the next year. The second most popular deployment model is installing solid-state directly in servers -- but that beat out all-flash arrays (AFAs) by a super-slim one percentage point. And respondents' purchase plans underscore the sizzling-hot AFA market, with 41% saying they plan to buy an all-solid state system.
The average amount of already-installed flash capacity is a whopping 97 TB -- the biggest number we've ever seen on any of our solid-state surveys. Underscoring those burgeoning capacity numbers, our respondents reported plans to buy an additional 95 TB of flash this year. With the price of solid-state continuing its downward slide to near parity with hard disk drive technology, we expect the installed and plan to purchase numbers to continue to climb.
That said, most flash purchases are still on the modest side, capacity-wise: 41% said they plan to buy less than 10 TB of solid-state storage, while another 25% expect their purchases to be somewhere in the range of 10 TB to 49 TB.
We compared how companies plan to use the new flash they acquire to the responses to the same question asked nine months ago. The top use case -- then and now with 52% on both surveys -- is for database applications. The biggest changes we saw were a five-point rise in VDI deployments (from 27% to 32%) and a four-point hike for online transaction processing applications (21% to 25%). What's clear is that flash is being seen as the storage of choice for use beyond just serving up performance for companies' mission-critical applications.
But let's not kid ourselves -- when it comes to flash, performance is the name of the game. Forty-five percent of respondents said the perking up the performance of existing applications was the reason they took the solid-state plunge. But along with zippy performance, our users want whatever they buy to fit into their existing environment and be compatible with what's already there.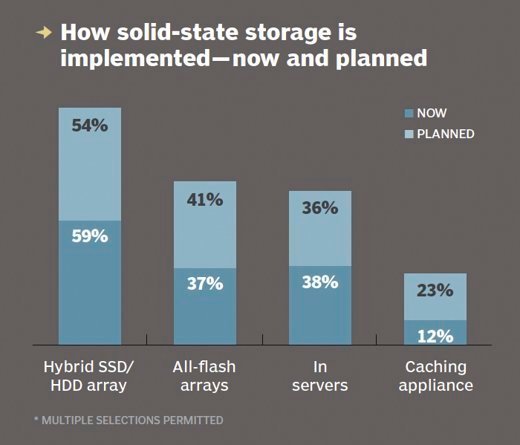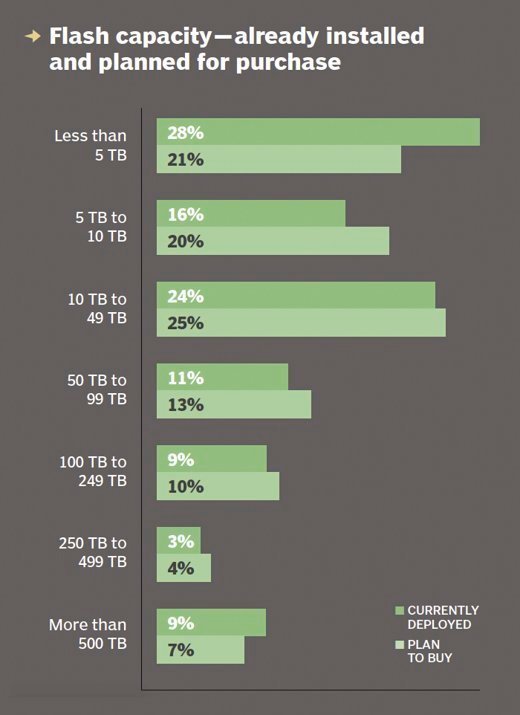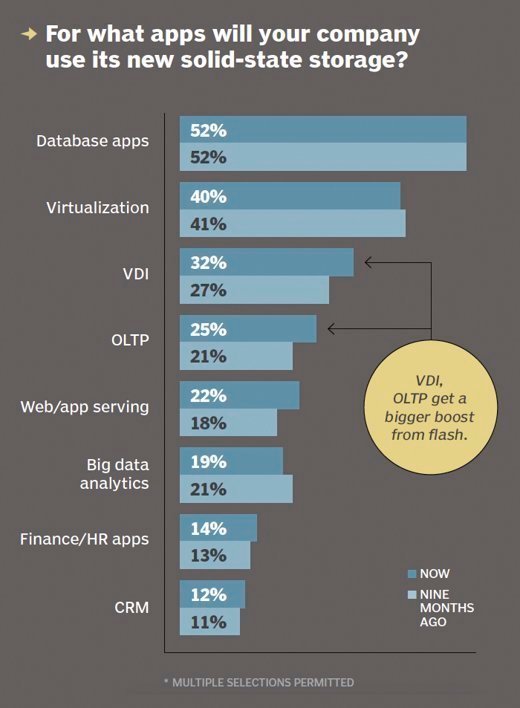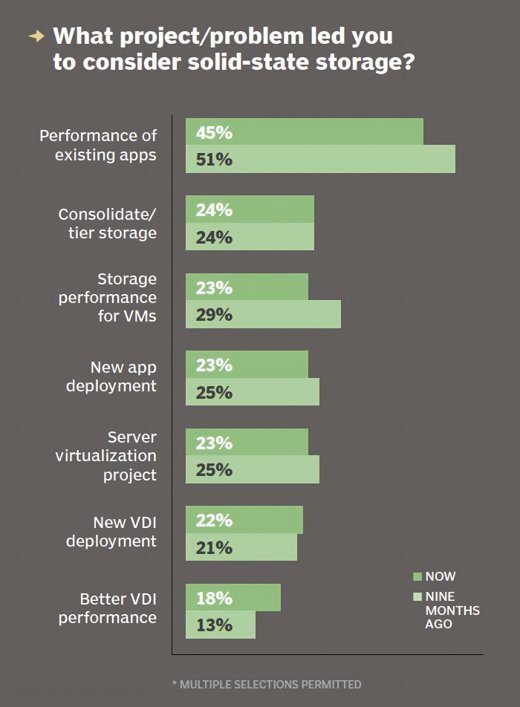 Next Steps
Where should you install solid-state storage?
Essential guide to solid state implementation choices
Solid state storage use a mile wide, an inch deep