everythingpossible - Fotolia
Panzura storage adds Private Secure Site Mode feature
The Panzura Freedom 7.1 cloud storage software release features Private Secure Site Mode to let security-focused IT organizations disable external communications.
Panzura added Private Secure Site Mode functionality with the new 7.1 release of its cloud-based Freedom storage software for organizations that need to restrict external communications.
Panzura storage products are designed to help enterprises shift from legacy file-based storage to object storage in public and private clouds. The Panzura CloudFS file system underpins the Freedom storage portfolio, which includes NAS, archive and collaboration components.
The vendor's Private Secure Site Mode adds an internal software-based firewall to private cloud deployments, so organizations can disable attempts to communicate with external resources. The Panzura storage software's installation wizard asks the user if the deployment is a private, secure network space. If so, the product effectively configures the firewall when the system boots, according to Rich Weber, chief product officer at Panzura, based in Campbell, Calif.
"From a penetration-testing standpoint, even if you put a sniffer onto the system, you would see no attempt to communicate outside," Weber said.
Panzura storage competition
Panzura's competition includes Ctera, Microsoft's Avere and Nasuni, Weber said. He claimed a major distinguishing characteristic enabling the Private Secure Site Mode in the Panzura storage architecture is its peer-to-peer distributed communication.
"Some of the locking services and capabilities in competitors require talking to a central cloud component, and that cloud component is often hosted in [Microsoft] Azure or AWS," Weber said. "So, even when deployed to a local object store, it still needs to communicate to that service in order to provide either central management or locking capabilities. Ours does that locally on a distributed peer-to-peer basis. And, therefore, it requires no external communication."
Panzura's new Private Secure Site Mode feature should appeal particularly to government agencies, financial institutions and healthcare providers that need to comply with strict security requirements.
Customers typically have a primary hardware-based firewall, controlled by software policy, and Panzura's software-defined firewall offers a second tier of protection, Weber said. The Panzura software runs on hardware appliances or in virtual machines, and its firewall governs only the software on the Panzura device.
Private Secure Site Mode complements additional security features that have been available in prior versions of Panzura storage products. Secure Erase enables users to completely remove all versions of files and folders and any associated objects, including metadata, in the cloud.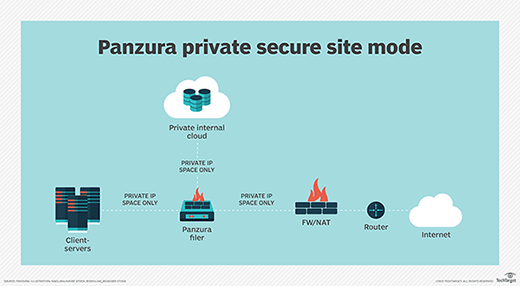 Other Panzura security features include encryption of data in flight and at rest, customer-controlled encryption keys, data deduplication and compression, Federal Information Processing Standards 140-2 security compliance and standards-based authentication for file access.
Private Secure Site Mode is generally available as part of the Panzura Freedom 7.1 upgrade at no additional licensing cost to customers. The product update is the first since last summer's Freedom 7.0 release.
Scott Sinclair, a senior analyst at Enterprise Strategy Group (ESG) in Milford, Mass., said Panzura's Private Secure Site Mode represents an extension of the company's "response to the demand that we're seeing in IT today for more innovation and greater improvements in data security."
In ESG's 2018 IT spending intentions survey, 36% of the 651 respondents listed improving data security and risk management as the top justification for IT investment, Sinclair said. Rounding out the top three were increasing employee productivity (31%) and improving customer satisfaction (29%). Return on investment placed fourth.
Sinclair noted that ESG's research showed 41% of organizations have moved some workloads back from off-premises clouds to their on-premises environments. Security is an important part of the conversation, as they try to figure out which workloads to run on and off premises, he said. And given that, he added, the Private Secure Site Mode feature would open up for Panzura more conversations at a "thought-leadership level" around digital security.