Petya Petrova - Fotolia
Quantum F-Series line expands with entry-level NVMe flash
New Quantum F-Series model is aimed at media customers who need NVMe in a smaller footprint. F-1000 server scales to 77 TB of useable capacity with Quantum StorNext file system.
Quantum Corp. expanded its F-Series line of NVMe flash arrays this week with an entry-level option for businesses that maintain large media and entertainment files.
The F-1000 is the second array in the Quantum F-Series product family, following the 2019 launch of its F-2000 NAS. The F-Series servers run Quantum StorNext file system software in a scale-out file storage cluster for unstructured data.
For the F-1000, Quantum said it reworked commodity server hardware to create a lower-cost option, reducing the amount of memory needed to compute RAID. The 1U server contains a single controller and supports up to 10 NVMe SSDs, with RAID 10. By comparison, the 2U F-2000 has two controllers and takes 24 dual-ported NVMe SSDs.
Quantum F-1000 is offered in two capacity models: 39 TB and 77 TB, with 32G Fibre Channel and 100 Gigabit Ethernet via iSCSI extensions for remote direct memory access.
"This innovation stems directly from Quantum's strategy of focusing on video data. They have tailored a cost-optimized offering for a specific solution, rather than trying to sell you a general-purpose NVMe storage server," as other storage vendors have done, said Scott Sinclair, a storage analyst at Enterprise Strategy Group (ESG).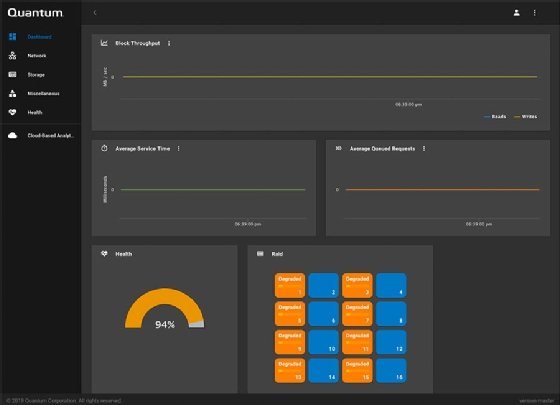 Quantum F-Series takes software-defined approach
Nonvolatile flash memory (NVMe) transmits data across PCI Express lanes instead hopping of between network components. NVMe provides faster data access and high parallelization, making it attractive for high-resolution video rendering and streaming media. NVMe flash media also comes with premium pricing, putting it beyond the reach of many organizations.
The Quantum F-Series marks the NAS vendor's intention to adopt a software-defined storage approach, said Eric Bassier, a Quantum senior director of technical marketing. Quantum F-Series customers include major movie studios, government agencies and private corporations that need to capture, edit and store data for visual effects and computer-generated imagery.
This innovation stems directly from Quantum's strategy of focusing on video data.

Scott SinclairStorage analyst, Enterprise Strategy Group
Quantum targets the F-1000 for IT teams that need NVMe flash performance, but with moderate density. "It's pretty cool to be able to port the same [StorNext] software to bring F-1000 server to market so quickly" after its debut in April, Bassier said.
Storage for unstructured data still growing
Organizations are dealing with a surge in newly created data, much of it unstructured data. Media content, particularly image and video, is a prime contributor. According to an ESG report on storage trends, nearly one-quarter of organizations cite digital media as a top driver of projected on-premises storage growth over the next several years.
"The idea that the data center is dying because of the cloud is not the case," Sinclair said.
Quantum bills the F-1000 as a lower-cost alternative for dense media. It did not disclose pricing, but Bassier said Quantum F-1000 NVMe storage will cost roughly the same as its hybrid SAS arrays.
"We believe SAS SSDs are going to become obsolete rather quickly," Bassier said.
In addition to StorNext-powered storage, Quantum sells ActiveScale object storage, DXi backup appliances, R-Series storage for in-vehicle storage, VS-Series video surveillance systems and Scalar tape storage systems.
The F-1000 is Quantum's first product launch since resolving a dispute with the U.S. Securities and Exchange Commission. Quantum in December agreed to a $1 million settlement related to a series of earnings misstatements dating to February 2018. The SEC found that former Quantum executives booked revenue from multiyear contracts, but failed to disclose the revenue in financial reports. Quantum had previously agreed to pay $8 million to settle shareholder lawsuits arising from the probe.