IBM
Quantum backup appliance portfolio grows by two
The Quantum backup appliance lineup gets refreshed with the addition of the DXi4800 and DXi9000 series. But the vendor is staying away from integrated appliances at the moment.
Quantum Corp. is staying off the converged secondary storage bandwagon for now.
The vendor upgraded its DXi disk library with new enterprise and midrange models. It modified the hardware to increase density, mostly through the addition of 12 TB hard disk drives. The new systems still include the DXi data deduplication software, but as traditional backup appliances they rely on third-party backup software.
Quantum DXi competes mainly with other traditional backup targets such as Dell EMC Data Domain, Veritas NetBackup and Hewlett Packard Enterprise StoreOnce appliances. But the industry trend is toward converged secondary storage appliances that include software needed for backup, archiving, copy data management and, in some cases, cloud data management. Cohesity and Rubrik have led the converged charge, but traditional vendors such as Veritas, Commvault and Dell EMC have also added these types of products.
Eric Bassier, Quantum senior director of product marketing and corporate communications, said the vendor is running into Rubrik and Cohesity in deals and is considering working with a software partner on a converged appliance. But for now, he said the Quantum backup appliance strategy is to win deals on the strength of the DXi data deduplication engine.
"Should we build something like that?" Bassier said. "Maybe build something with Veeam? There are some plays like that to consider, and we're looking at our options now. But we feel our dedupe algorithm is a couple of generations ahead of the converged secondary storage guys."
Quantum backup appliance upgrade demonstrates vendor's 'evolving'
We feel our dedupe algorithm is a couple of generations ahead of the converged secondary storage guys.

Eric Bassiersenior director of product marketing and corporate communications, Quantum
Vinny Choinski, senior lab analyst at Enterprise Strategy Group, said dedupe ratios and speed aren't ultimately as important as addressing customers' specific challenges. He said it's important for Quantum to keep up with the leading hardware as well as support for a wide range of backup applications.
Quantum generates most of its revenue from tape systems, and its CEO Jamie Lerner points to its StorNext file system storage for rich media as the company's future. But the DXi upgrade shows Quantum wants to stay relevant in disk backup.
"I would say they're all on a fairly level playing field," Choinski said of disk backup targets. "However, you don't want to slip behind, so the fact that they're continuing development, continuing new releases, means they're not going extinct. They're evolving."
The upgraded Quantum backup appliance lineup includes newer model Dell servers and Intel processors with changes to the software to increase performance, Bassier said.
The DXi9000 targets the enterprise market, scaling from 51 TB to 1 petabyte of useable capacity. The 12 TB hard drives allow for more storage using less physical space. The DXi9000 will replace the DXi6900 that supported 8 TB drives.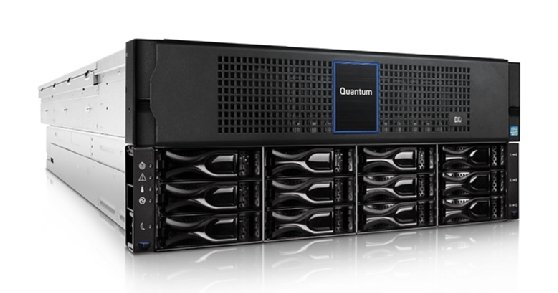 The DXi4800 is a smaller-scale appliance targeting midmarket organizations and remote sites. This series starts at 8 TB and scales up to 171 TB.
Quantum will no longer sell new DXi6900 systems, but will continue to push out upgrades for the next two years and support existing DXi6900 products for the next five years.
Pricing for the DXi4800 Quantum backup appliance starts at $17,000 for an 8 TB configuration, and the DXi9000 starts at $318,000 for a 51 TB configuration.